Use this easy custard recipe to make delicious thick custard at home with basic store cupboard ingredients - you'll never want to buy it again.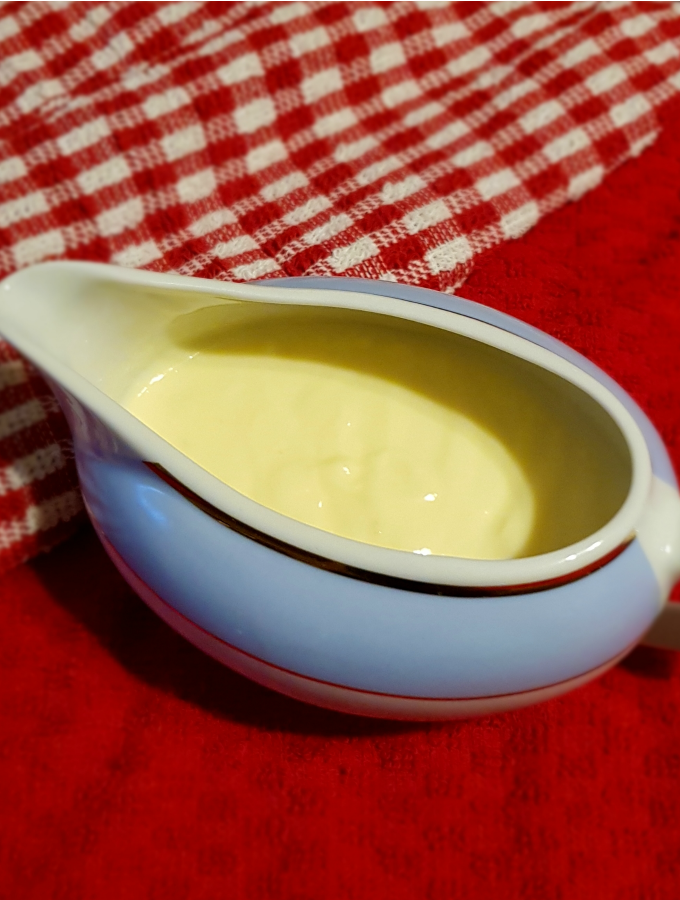 Until you make custard from scratch at home, you'll never realise how easy it is.
When you've got it mastered, you'll never want to buy it from the shop again!
This recipe will give you a thick custard that is perfect warm over a pudding, although you may just want to eat it from the pan with a spoon!
It's also great cooled down if you want to eat it cold.
Easy custard recipe
Making your own custard at home is easy.
You just need to be aware in advance that things could go wrong, so take your time and read through the instructions.
Because you're working with eggs and warm cream/milk, the eggs could start to scramble if you add things together too quickly. You can easily avoid this by taking your time and cooking the custard over low heat.
Remember - just keep stirring and the custard will be lovely and thick 🙂
You need to allow yourself the 15 minutes uninterrupted to make it. If you know they'll be a knock at the door or the kids will want you to do something else, look to make your custard another time.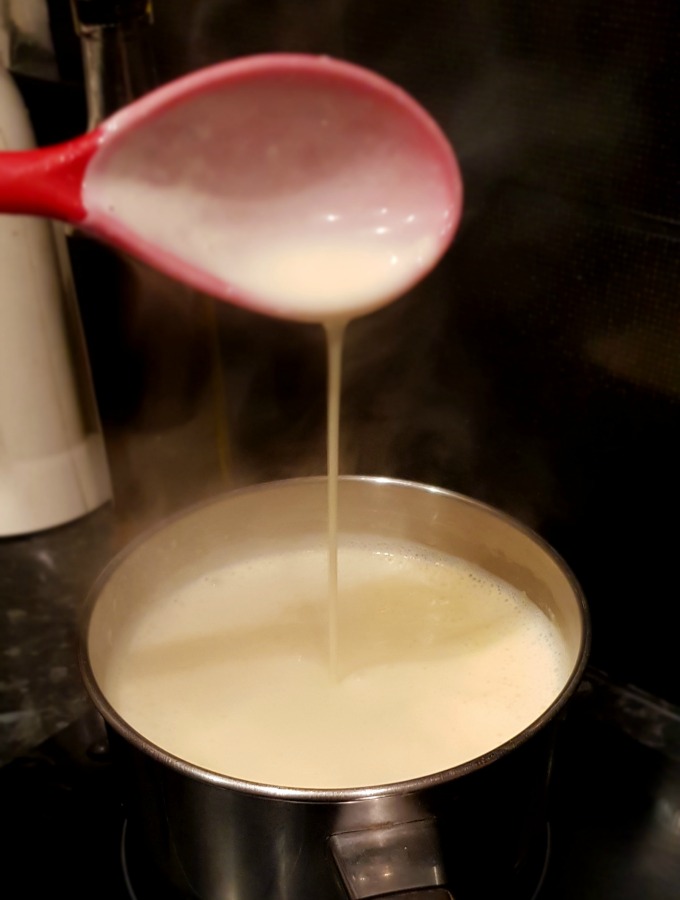 Custard ingredients
It's simple to grab a tin of custard or a packet of custard powder to heat up at home, but custard uses store cupboard ingredients that you'll likely already have in.
You only need to use the yolks of the eggs so, to avoid waste, look to make an egg white omelette, for Meringues, as a glaze for bread or pastries or in a mouse.
Can custard be frozen?
Custard can store ok in the fridge for a few days. If you want to reheat it, pop it in the microwave for 30 seconds at a time, stirring between each interval. Alternatively, heat it on the hob, remember to stir all the time to prevent a skin forming on tip.
Custard does not store well in the freezer, as the custard ingredients separate.
If you're not going to get round to eating all the custard, you may want to consider making custard ice cream to avoid food waste.
WANNA SAVE MORE MONEY ON YOUR SUPERMARKET FOOD BILL?
Who doesn't?!
Come and join our Facebook community, Reduce Your Supermarket Spend.
Come and join thousands of people who share their best tips and real-life ideas to keep your costs down.
This is now the biggest supermarket community on Facebook!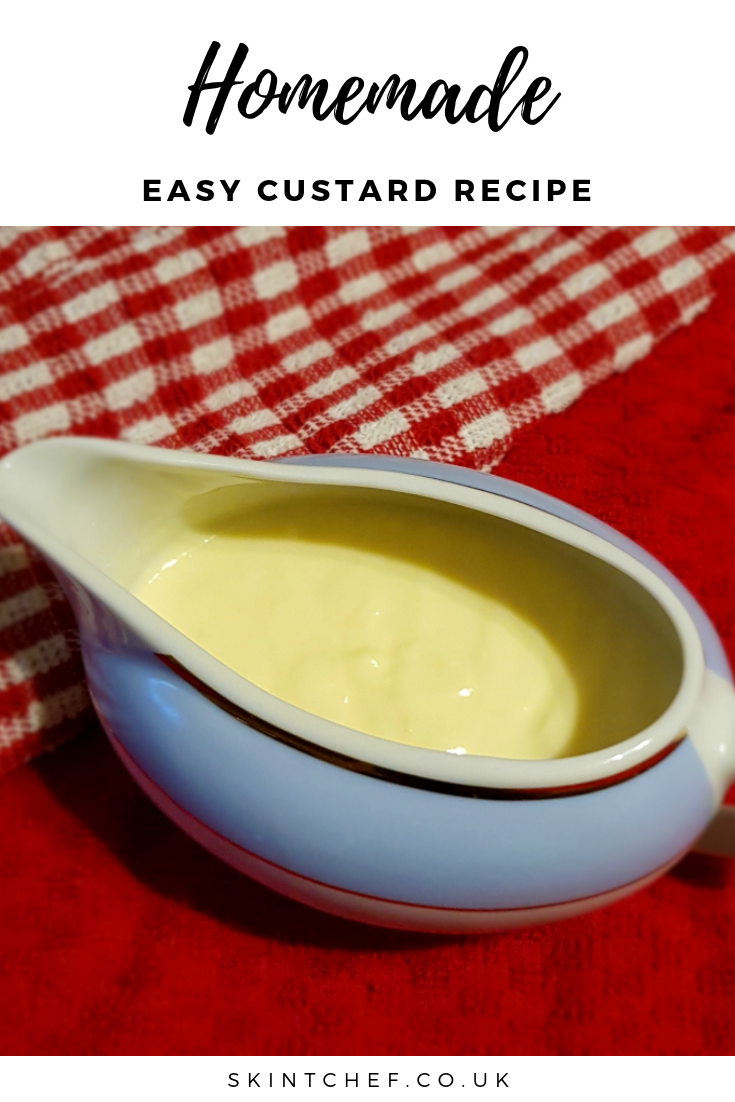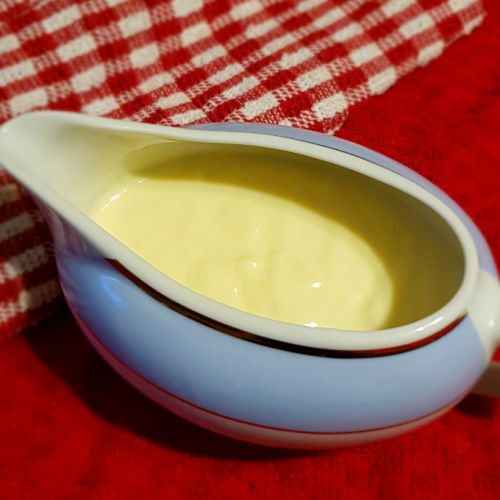 Easy Custard Recipe - 23p per serving
Use this easy custard recipe to make delicious thick custard at home with basic store cupboard ingredients - you'll never want to buy it again.
Print
Pin
Rate
Ingredients
200

ml

double cream

64p, 32p/100ml

700

ml

whole milk

28p, 44p/l

4

egg yolks

52p, 13p each

1 ½

tablespoon

cornflour

6p, 26p/100g

100

g

caster sugar

16p, 16p/100g

1

teaspoon

vanilla extract

16p, £3.17/100g
Instructions
Whisk together the egg yolks, cornflour, sugar and vanilla in a bowl.

Put the cream and milk in a large pan and gently heat so it's just below boiling. Pour hot milk mixture into the egg mix, constantly whisking.

Quickly clean the saucepan and pour the mixture back into the saucepan. Heat gently until the custard starts to thicken - don't overcook or it will go lumpy!

Serve immediately (can be cooled and eaten cold too!)
Notes
Total cost £1.82, 23p per serving
Figures are correct at the time of calculation. Prices are based on a generic, mid price range supermarket, choosing their own value brand.