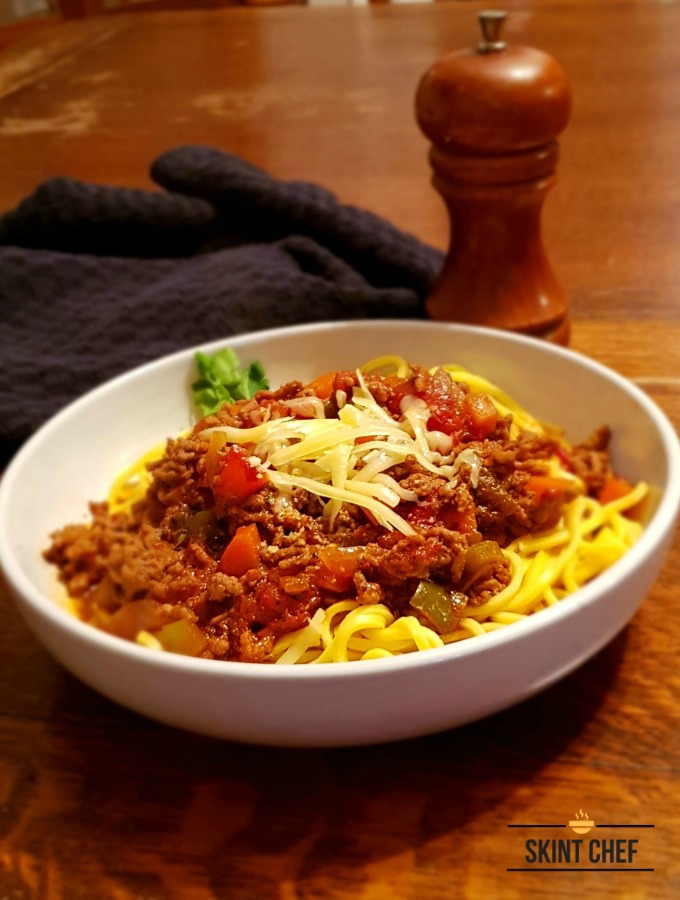 This is a low-cost spaghetti Bolognese recipe that will feed all the fussy eaters in your home.
It's a perfect dish to cook up for an easy dinner, but somehow can also be amazing if you're having people over and want to cook something a little more special.
I'm not quite sure how the Bolognese is so versatile, but I love it!
Why spaghetti Bolognese is a cheap option
This Bolognese sauce is incredibly easy to make. Plus, as you're making it all from scratch there are no additives or preservatives.
All the ingredients are cheap and cupboard staples like tinned tomatoes and herbs for flavour. Then you can add in loads of healthy veg and minced meat, which is a cheaper cut.
As an added bonus, Bolognese sauce is easy to freeze
You're able to cook it up in advance and freeze it for another time. This is great if you want to double up on the ingredients as you can cook dinner for another week, saving you time in the future.
When you've made the Bolognese sauce, leave it to cool completely and put it in freezer-safe containers. Make sure to label and date the container (so you don't end up with freezer surprise) and it'll keep well for up to two months.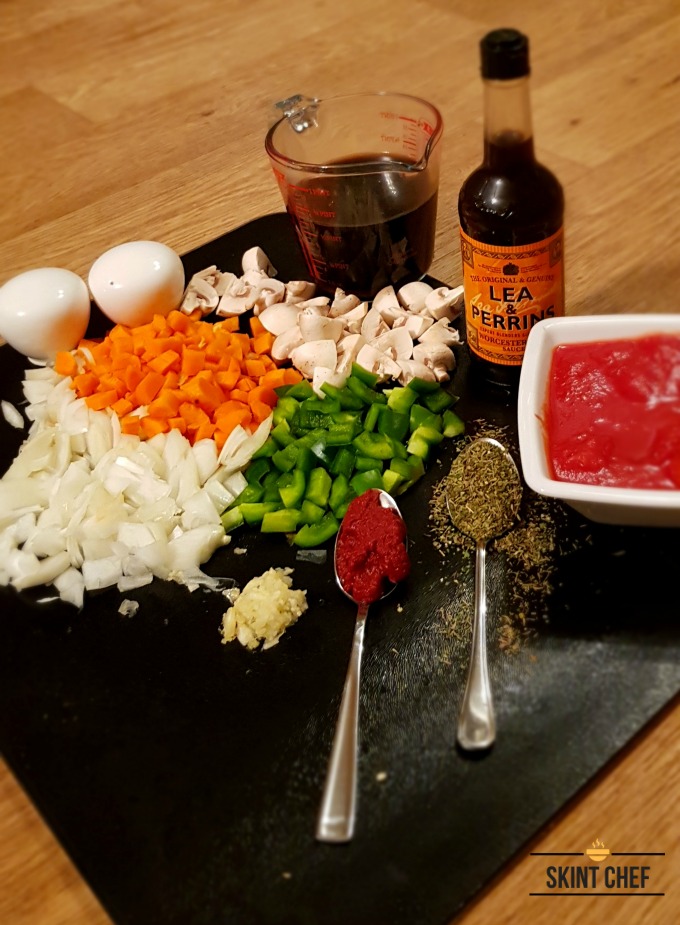 What can I serve with spaghetti Bolognese?
Bolognese sauce is easy to gobble up on its own, without any spaghetti 🙂 but it's easy to stretch the dish out to make it last longer.
You can serve spaghetti Bolognese with a side salad, or maybe some cooked broccoli which also goes really well.
Perhaps you're a garlic fan? Some homemade garlic bread would be delicious on the side too.
Can I bulk spaghetti Bolognese out more?
Unexpectedly have more people turn up for dinner?
Really skint and need your dinner to stretch out for tomorrow's lunch?
If you want to stretch out your spaghetti Bolognese as far as possible, there are some easy tricks.
As well as serving the Bolognese with a side dish, you can add extra ingredients to the sauce to make it go further.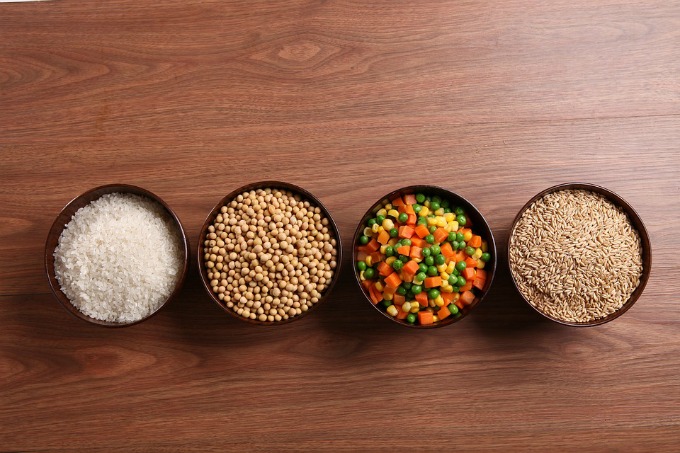 Try adding:
oats (yep, really!)
lentils
chopped vegetables

extra carrots
celery
courgette
You'll be surprised how much further you can make your Bolognese last!
How to make spaghetti bolognese
There is no reason to make spaghetti bolognese with ready made sauce. You can just leave that jar in the supermarket aisle!
Bolognese sauce is so easy and it doesn't take a lot of effort to make.
After you've chopped up all your ingredients, it's just a matter of adding them into a pan to cook.
Then, once the tomatoes go in, you can just leave the Bolognese bubbling away to reduce to a delicious thick sauce (it's making me hungry just thinking about it!). It allows you time to get on with everything else while dinner makes itself.
Just set an alarm and try to give it a stir every now and then so it won't stick.
Once it's all ready you just need to decide: do you prefer to mix your Bolognese sauce into the spaghetti or have a good helping on top?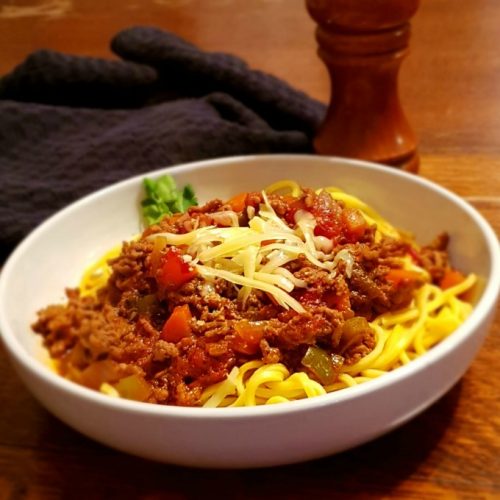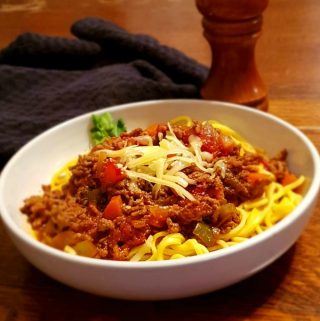 Spaghetti Bolognese
This is a low-cost Spaghetti Bolognese recipe that will feed all the fussy eaters in your home.
Print
Pin
Rate
Ingredients
1

tablespoon

olive oil

or whatever is available

3

medium onions

chopped

2

garlic cloves

crushed

750

g

beef mince

150

g

mushrooms

chopped

3

carrots

peeled and chopped

1

green pepper

chopped

1

tablespoon

mixed herbs

400

g

tinned tomatoes

400

ml

beef stock

1½

tablespoon

tomato puree

2

tablespoon

Worcester Sauce

Salt and ground black pepper to taste

500

g

spaghetti

Freshly grated parmesan or cheddar
Instructions
Put oil in large pan and fry the onion on a high heat for around 5 minutes.

Add the garlic and mince and cook until brown. Add carrots, mushrooms, peppers and mixed herbs and cook for a further 3-4 minutes

Slowly stir in the tomatoes, tomato puree, beef stock and Worcester sauce and bring to the boil. Add salt and ground pepper to taste and cook on a medium heat for approximately 30-40 minutes, stirring occasionally.

Cook the spaghetti in a large pan of boiling water with a pinch of salt and a dash of oil (to prevent spaghetti sticking). Boil until the spaghetti is soft (about 10 -15 minutes).

Serve with the parmesan or grated cheddar and a large glass of red wine (optional, of course!)
Notes
Why not mix things up and use turkey mince for a healthier option (it's also cheaper than beef mince).