Try this crispy halloumi fries recipe, and you'll never want to eat halloumi another way. So simple to make, these oven baked halloumi fries are so moreish!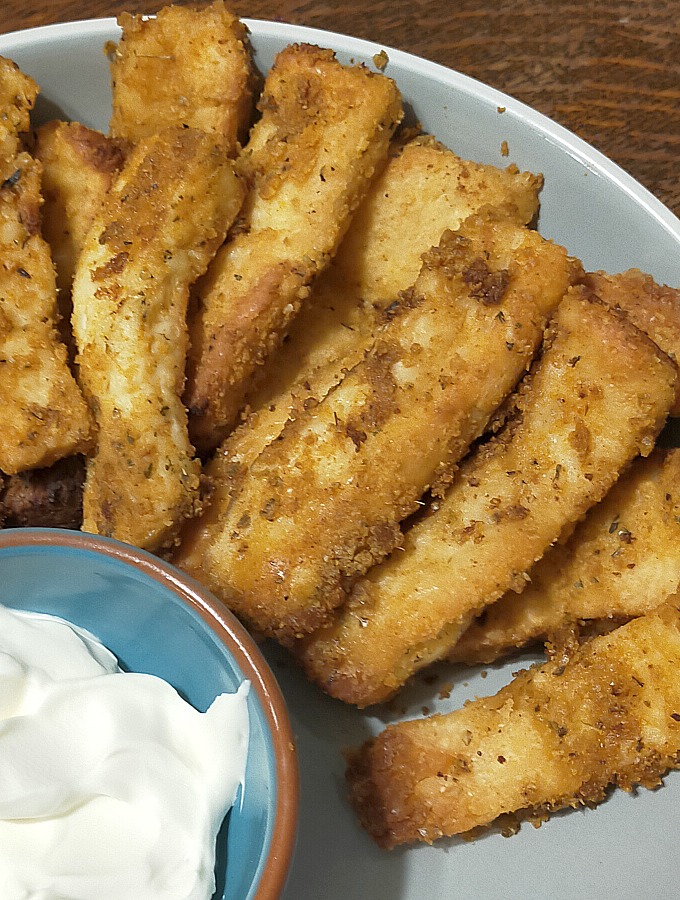 Potato chips (or fries as they're also known) are delicious. Whether you fry or bake them, they are the perfect side to pretty much any dish or are lovely to eat on their own as a snack.
Trouble is potato - your days are numbered as there's a new kid in town - halloumi is the new chip, and is Ah-May-Zing!
Halloumi fries
Halloumi (or hellim, if you ever get a chance to eat at a Greek or Turkish restaurant) is a type of cheese from Cyprus.
It is a white cheese, made from a mixture of goat and sheep milk. It has a similar consistency to mozzarella, but is more rubbery, and is salty and slightly tangy to taste.
Halloumi also has a high melting point, so it means it can be fried, grilled or baked without making a big mess. That's also why halloumi is perfect for making fries.
The UK has been the biggest consumer of halloumi cheese for years, and it doesn't look like its popularity will let up soon.
So, if you've not tried them before, join in with the craze!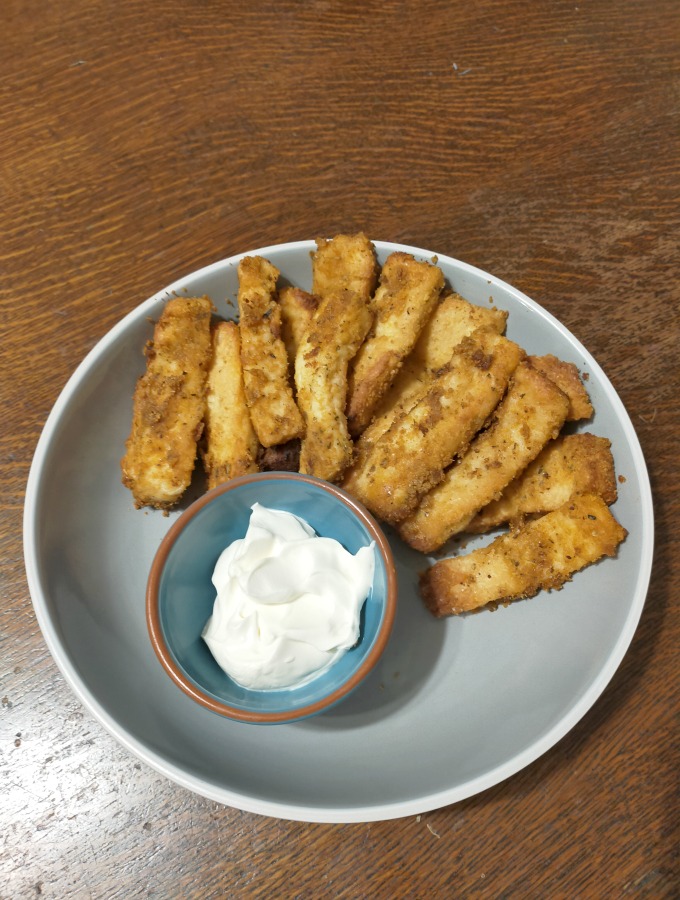 How to make halloumi fries
You're able just to fry stripes of halloumi, but you can make it taste even better.
Battered halloumi baked in the oven is very simple to do and tastes divine!
---
For the full list of ingredients and printable instructions, please see the recipe card at the end of this post. But, before you scroll straight there, take a look at the useful info just below.
---
Halloumi comes in blocks and is very easy to slice.
When you slice it, it splits slightly through the middle. Make sure to cut thick slices, then cut the slices to make sticks.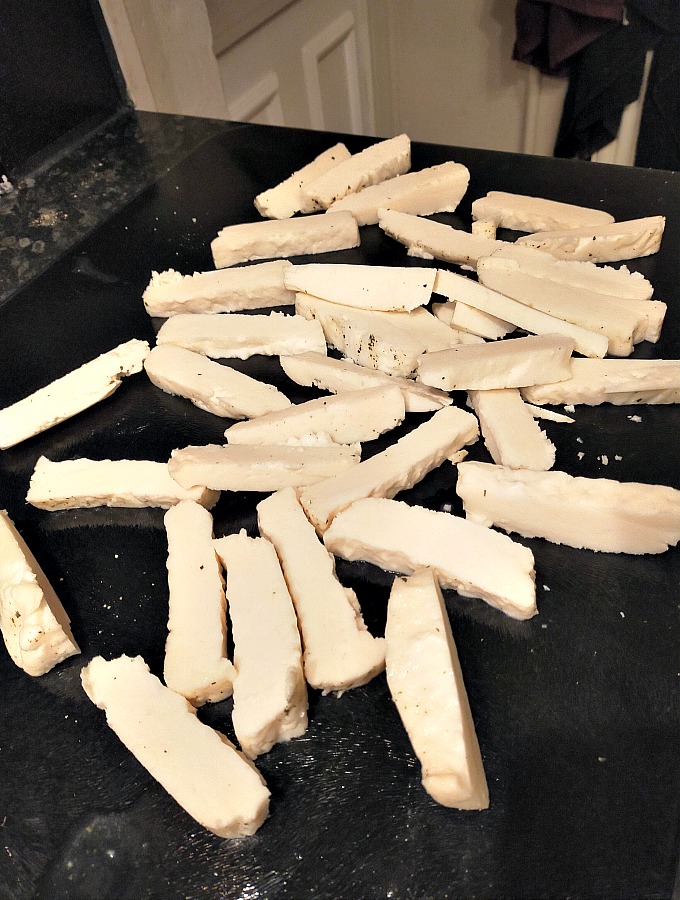 Battered halloumi
You then need to prepare your batter for the halloumi.
The batter is a simple spice mix.
Simply combine flour, paprika, chilli flakes, and a pinch of salt and pepper in a bowl.
Then, dip each stick of halloumi chip until they're fully coated in the seasoning.
You won't need any egg on the halloumi as it's already wet and the seasoning sticks to it well.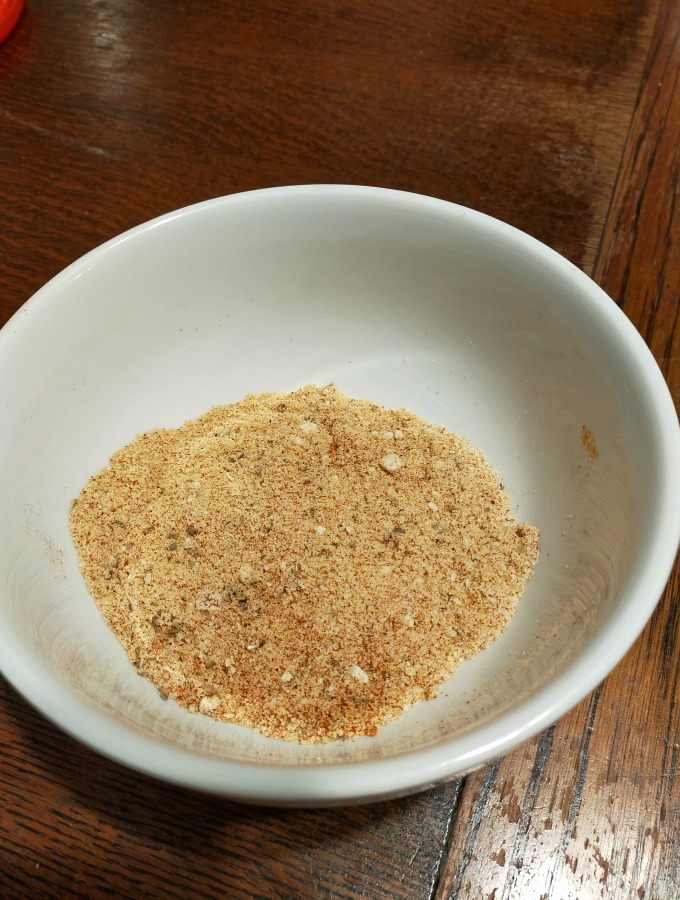 You need to heat a little oil in an oven tray (like when you roast potatoes).
When the oil is hot, arrange the halloumi fries and bake in the oven.
Be sure to turn then halfway through cooking to make sure they all evenly brown.
Don't worry - halloumi is not like other cheese, and it won't melt all over the place.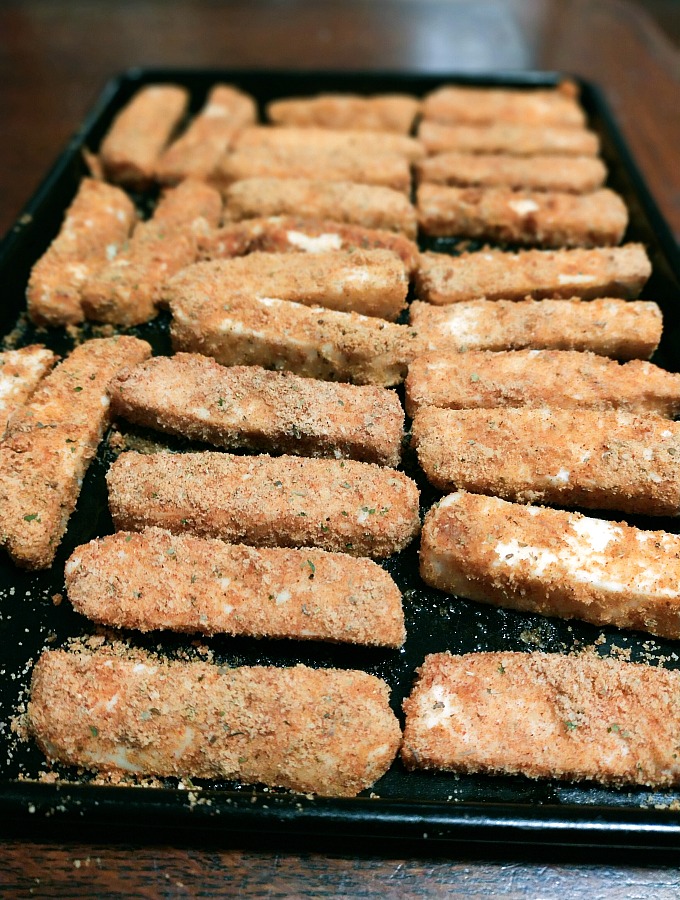 I'm not going to lie - they are not healthy, but it's nice for a treat every now and then!
As for dips: if you want to have a dip alongside your halloumi fries, it goes well with sour cream, greek yoghurt or sweet chilli sauce.
WANNA SAVE MORE MONEY ON YOUR SUPERMARKET FOOD BILL?
Who doesn't?!
Come and join our Facebook community, Reduce Your Supermarket Spend.
Join thousands of people who share their best tips and real-life ideas to keep your costs down.
This is now the biggest supermarket community on Facebook!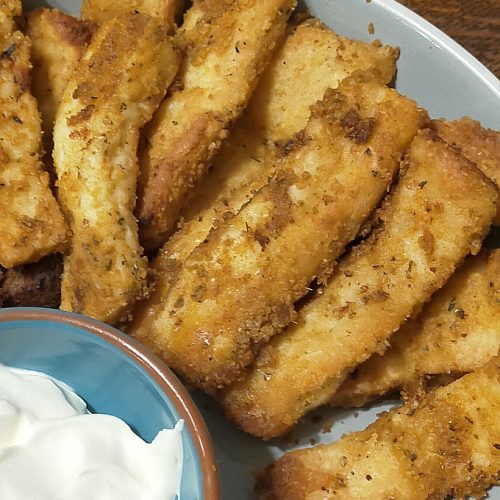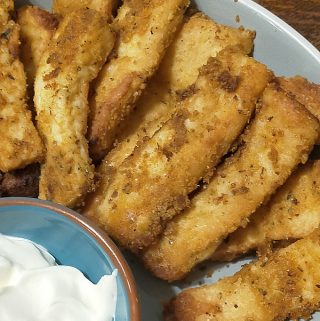 Halloumi Fries Recipe
Try this crispy halloumi fries recipe and you'll never want to eat halloumi another way. So simple to make, these oven baked halloumi fries are so moreish!
Print
Pin
Rate
Ingredients
450

g

halloumi

£2.98

2

teaspoon

paprika

8p

1

teaspoon

chilli flakes

15p

Salt and pepper

50

g

plain flour

1p

1

tablespoon

sunflower oil

2p
Instructions
Cut the halloumi into sticks.

In a bowl, place the flour, paprika, chilli flakes, salt and pepper and add the halloumi chips and fully coat in the seasoning.

In an ovenproof dish heat the oil in the oven and then add the chips, cooking for 20 minutes at 180°C, turning halfway to ensure even cooking on each side.
Notes
Total cost £3.24, 32p per fry
Figures are correct at the time of calculation. Prices are based on a generic, mid-price range supermarket, choosing their own value brand.
Nutrition data provided is provided as an estimate only. It is the reader's responsibility to calculate the nutritional information with the actual ingredients you use in your recipe if you need to follow a particular diet or for medical purposes.
Does your oven have different temperature settings? Use this Oven Temperature Conversion Chart to find out how hot you should be cooking.
Calories:
190
kcal
|
Carbohydrates:
5
g
|
Protein:
12
g
|
Fat:
14
g
|
Saturated Fat:
9
g
|
Sodium:
604
mg
|
Potassium:
18
mg
|
Fiber:
1
g
|
Sugar:
1
g
|
Vitamin A:
256
IU
|
Calcium:
500
mg
|
Iron:
1
mg