This is a very simple toad in the hole recipe that is pure family comfort food! With a light batter and at just 45p a serving, it'll make your bank balance happy too.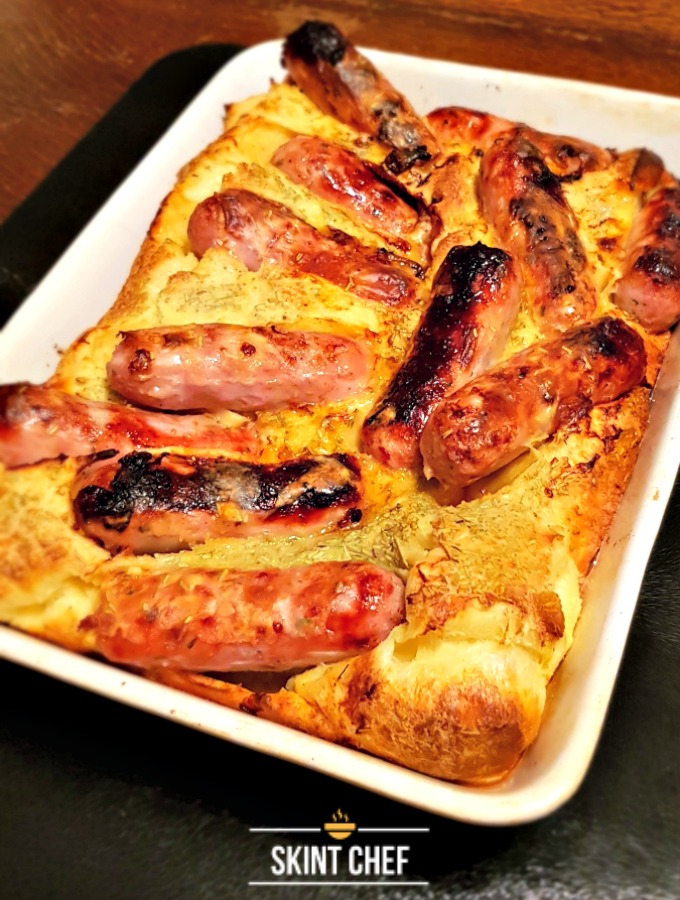 It's warming.
And it's delicious!
It's toad in the hole.
Anywhere other than the UK, you get a strange look if you say you're having toad in the hole for dinner (who even knows why it's called that?!)
But who cares when it's so good!
It's just a simple recipe of sausages baked in a Yorkshire pudding batter.
Toad in the hole is pure comfort food, perfect for a cold winter's evening, especially when you cover it in gravy.
It's easy for the whole family to enjoy!
As you're using basic store cupboard ingredients, this toad in the hole recipe is also super cheap.
It's an excellent family meal if you're cooking on a budget.
---
For the full list of ingredients and printable instructions, please see the recipe card at the end of this post. But, before you scroll straight there, take a look at the more detailed "how to" just below.
---
How do you stop toad in the hole sticking?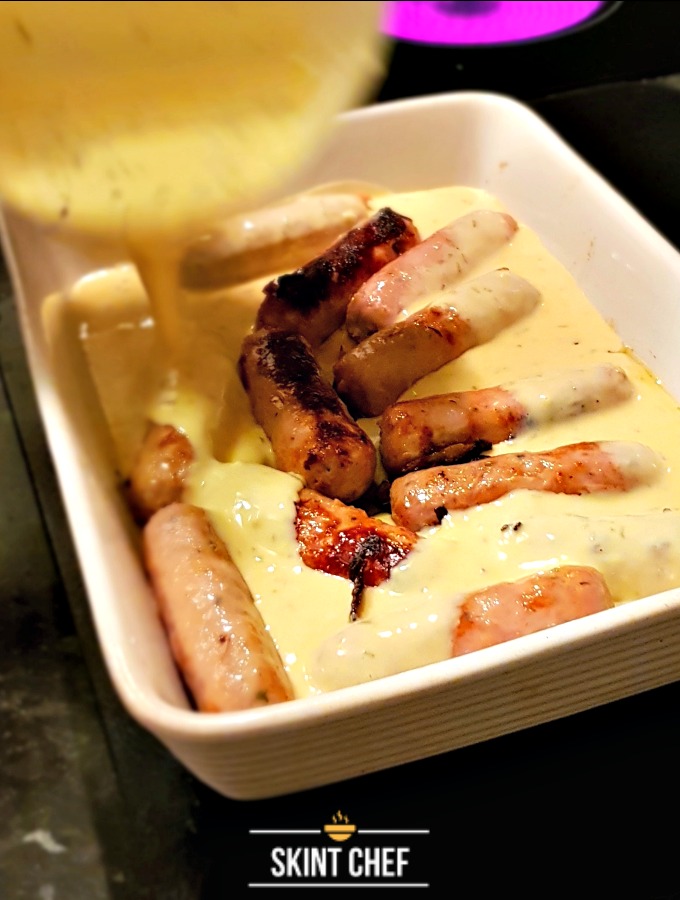 Washing up after dinner is my least favourite time of the day.
It's even worse when you've got baked-on food that just won't budge.
But before you even worry about cleaning it off, trying to serve up a traditional toad in the hole, without the batter sticking to the bottom or the sides, can be a nightmare if you don't get the recipe right.
You don't need to worry about greasing the dish though.
Making sure your toad in the hole doesn't stick is all about getting the heat right (just like making the perfect Yorkshire puddings).
You need to get the oil in your dish smoking hot.
Don't use olive oil; you want to use a cheaper sunflower oil that smokes when heated.
This means when the batter goes into the dish, it will already start to cook before it reaches the oven.
Also, once it's finished cooking, remove your toad in the hold from the oven and leave for a few minutes to cool down before you start cutting it into portions.
How do you make toad in the hole?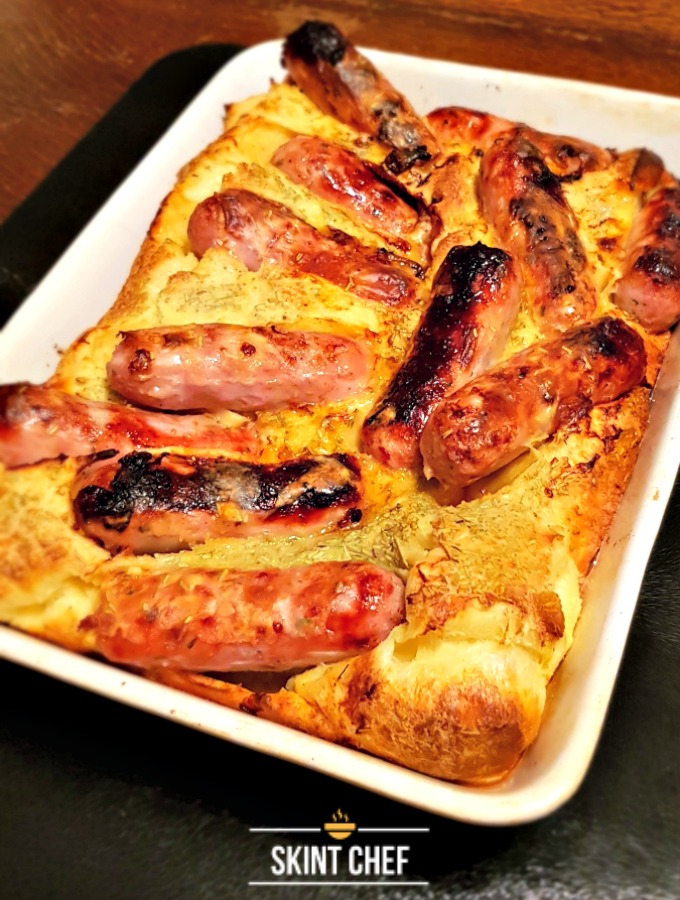 First up, you need to get your oven hot, and you can start cooking your sausages.
This post contains affiliate links. Find out what this means.
Cooking them in an oven-proof ceramic dish, like this one on Amazon, allows the fat to release from the sausages naturally.
The fat from the sausages gives a base of fat to cook the Yorkshire pudding batter.
It also means you don't need a separate frying pan to wash up.
Essentially, you're just looking to brown the sausages and get the oil really hot.
While this is happening, you can prepare the batter. This also allows the batter to rest for a few minutes before you use it.
Letting a batter rest before you cook them means you'll have a better texture and it will rise well.
Jazz it up
You may think it's just one of those dinners you can eat as a family but it's easy to make it into a show stopper.
If you're having friends round, but you've got a tight budget, look to cook the toad in the hole in individual ceramic post.
Just divide the sausages into each of the mini ovenproof dishes, like these ones on Amazon, and cook as usual, then add the batter in and cook again.
The smaller, individual toad in the holes will look amazing.
What do you serve toad in the hole with?
Toad in the hole is best served with creamy mash potato.
To mix things up, try adding a sweet potato when boiling your potatoes.
Boil or steam your favourite veggies and don't forget lots of gorgeous beef gravy!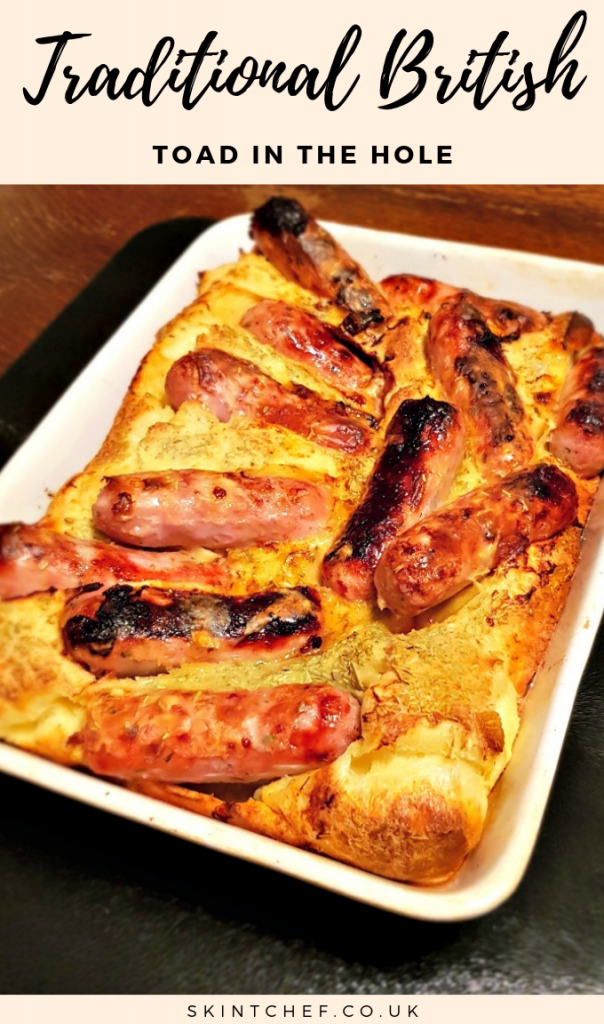 WANNA SAVE MORE MONEY ON YOUR SUPERMARKET FOOD BILL?
Who doesn't?!
Come and join our Facebook community, Reduce Your Supermarket Spend.
Come and join thousands of people who share their best tips and real-life ideas to keep your costs down.
This is now the biggest supermarket community on Facebook!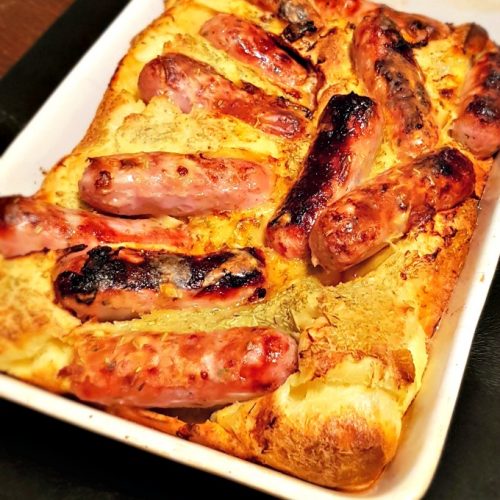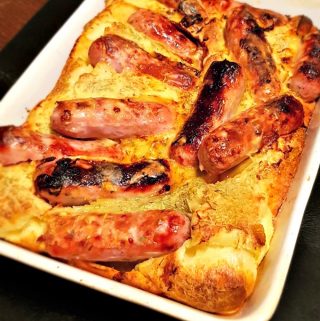 Toad in the Hole Recipe
This is a very simple toad in the hole recipe that is pure family comfort food! With a light batter and at just 45p a serving it'll make your bank balance happy too.
Print
Pin
Rate
Ingredients
150

g

plain flour

5p, 45p/1.5kg

3

eggs

39p, 13p (free range) each

pinch of

salt

1p

200

ml

milk

9p, 44p/L

12

sausages

£1.09/12

2

onions, finely sliced

16p each

1

tablespoon

oil

2p, 10p/100ml
Instructions
Place the sausages into an oven proof dish with the sliced onion and cook in the oven for 20 minutes.

In the meantime, make the batter mix by sieving the flour into to a bowl then add the eggs, salt and mix the milk in slowly. Once all the milk is added, whisk the batter until smooth.

Remove the dish from the oven and pour the batter mix around the sausages. Cook for approximately 40 minutes until the Yorkshire batter is golden and crisp.
Notes
Total cost £1.81, 45p per serving
Figures are correct at the time of calculation. Prices are based on a generic, mid price range supermarket, choosing their own value brand.
-
Calories:
1211
kcal
|
Carbohydrates:
48
g
|
Protein:
60
g
|
Fat:
84
g
|
Saturated Fat:
31
g
|
Cholesterol:
355
mg
|
Sodium:
1863
mg
|
Potassium:
1383
mg
|
Fiber:
1
g
|
Sugar:
19
g
|
Vitamin A:
835
IU
|
Vitamin C:
6.1
mg
|
Calcium:
503
mg
|
Iron:
5.4
mg