Making toffee apples is fun to do in autumn and are a great treat for munching at Halloween. We slice the apples so it's easier for little ones to eat.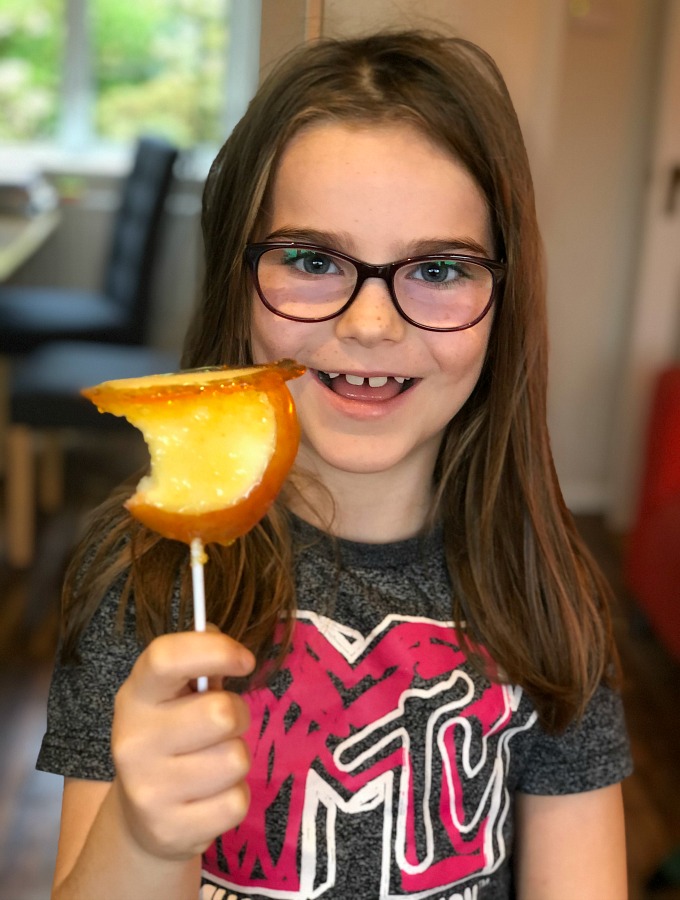 There is something about toffee apples that gets me every time.
You get the juicy sweet crisp of the apple, and it's matched with the mega crunchy toffee coating.
I always love eating them in autumn, and they are a real treat when we get together for Halloween or fireworks night.
How we make toffee apples
You can make them as whole toffee apples, but we prefer to cut our apples into slices.
I've found having an entire apple is difficult for the kids to bite around, especially with the hard toffee around the outside too.
In the past, I would find half a toffee apple left behind, so this makes sure the whole thing is eaten - and there's less waste.
Having smaller slices makes it far easier for little mouths to eat them.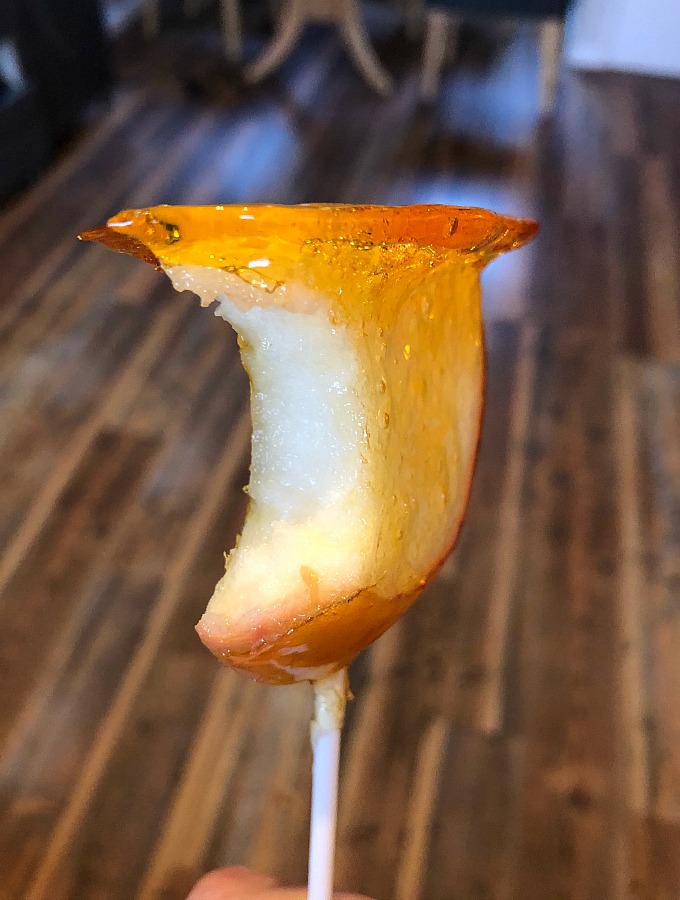 Toffee apple recipe
In about 10 minutes, you can have delicious crispy, crunchy toffee apples at home.
We like to get our kids involved with as much cooking as possible, as we know how useful it will be to them when they're older. Not to mention, it's loads of fun for them.
However, this is not a recipe to do with kids as it gets very hot!
---
For the full list of ingredients and printable instructions, please see the recipe card at the end of this post. But, before you scroll straight there, take a look at the useful info just below.
---
Get your apples prepared first so when the toffee is ready to use you can get straight on with getting the apples covered.
Core the apple and slice the apple thickly.
This post contains affiliate links. Find out what this means.
Use wooden skewers, ice lolly sticks or even chopsticks (if you've got them) into the apple.
The apple slice will likely fall over, so I chop a small amount off from the other end so it can stand up.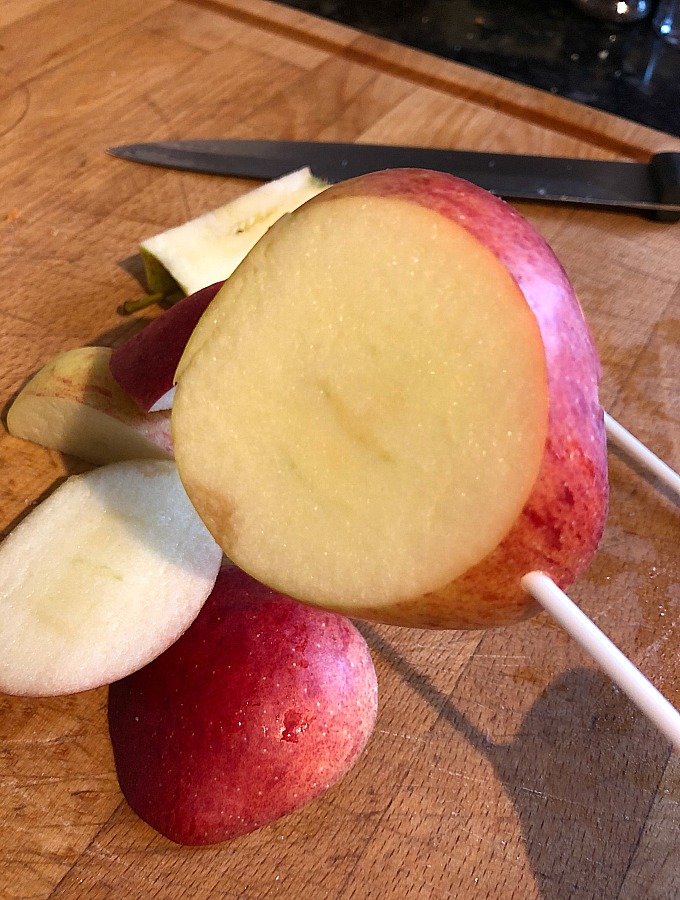 In a heavy-based pan, you need to melt the sugar and water.
There's no need to stir it, but gently move the pan so the sugar can fully dissolve.
Next, add in the golden syrup.
You want this to get very hot, so it's worthwhile having a sugar thermometer (like this one on Amazon) to test the temperature.
You're aiming for around 150C which is known as the "hard crack" stage.
If you don't have a thermometer, you can test the toffee is hot enough by dropping a small amount off a teaspoon into cold water. You're looking for it to harden instantly, and it'll be brittle when you take it out of the water.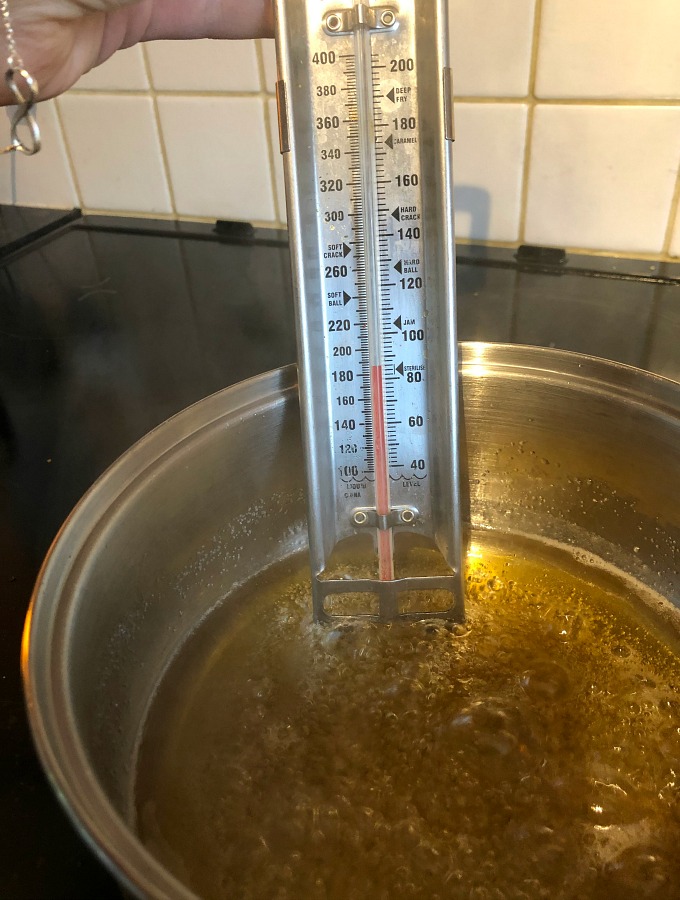 As soon as you've got the right temperature, remove the toffee from the heat.
Don't keep it on the heat for any longer as you will start to burn the toffee which, honestly, tastes awful!
As soon as you can, dip the apples in straight away.
You may need to hold the pan to one side so you can coat all the apple.
The toffee will harden over the apple very quickly, but it's worth holding it over the pan to drip off any excess before placing the toffee apple on baking paper.
What kind of sugar do you need to use?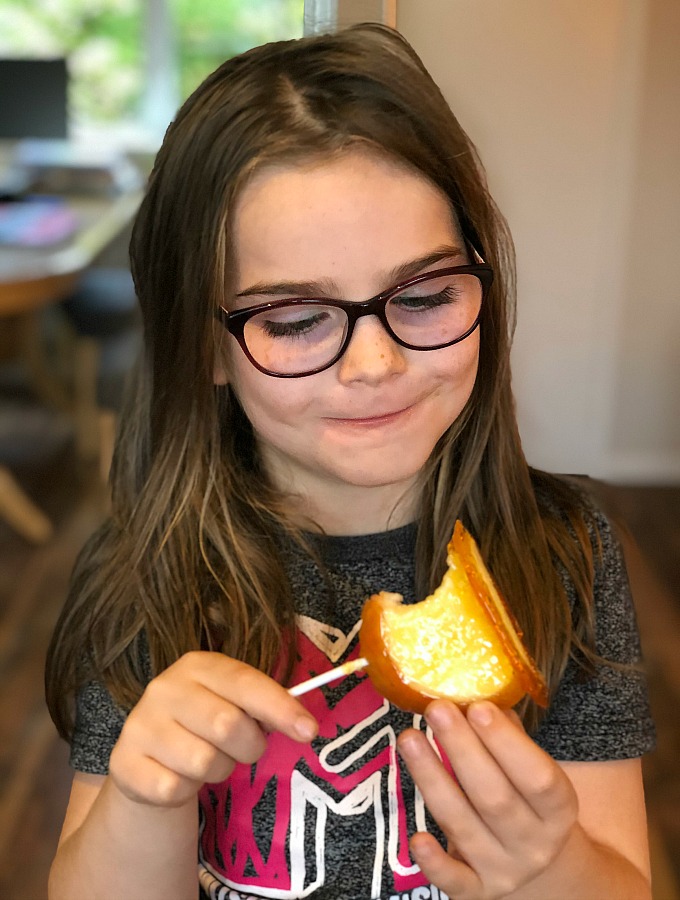 You need to use a very fine sugar in a toffee apple recipe, so it's best to use caster sugar.
We don't always have caster sugar in, but always have granulated sugar, which is far cheaper.
Don't worry though as you can make your own fine sugar, just like caster sugar really easily.
Just put normal white sugar in a food processor and blitz it. Stir it occasionally and pulse the blender and you will see the sugar becoming finer.
Your homemade caster sugar can be kept in an airtight container in your store cupboard, and you can use it as you need.
Should you put food colouring in a toffee apple recipe?
Adding food colouring in a toffee apple recipe is about personal choice.
As it's usually for Halloween, a few drops of red food colouring mixed in when the toffee has reached the right temperature will give a ghoulish-blood look.
The recipe is already full of sugar, so I don't see the need to add colouring too. (But, hey - it's a treat right?!)
How long do homemade toffee apples last?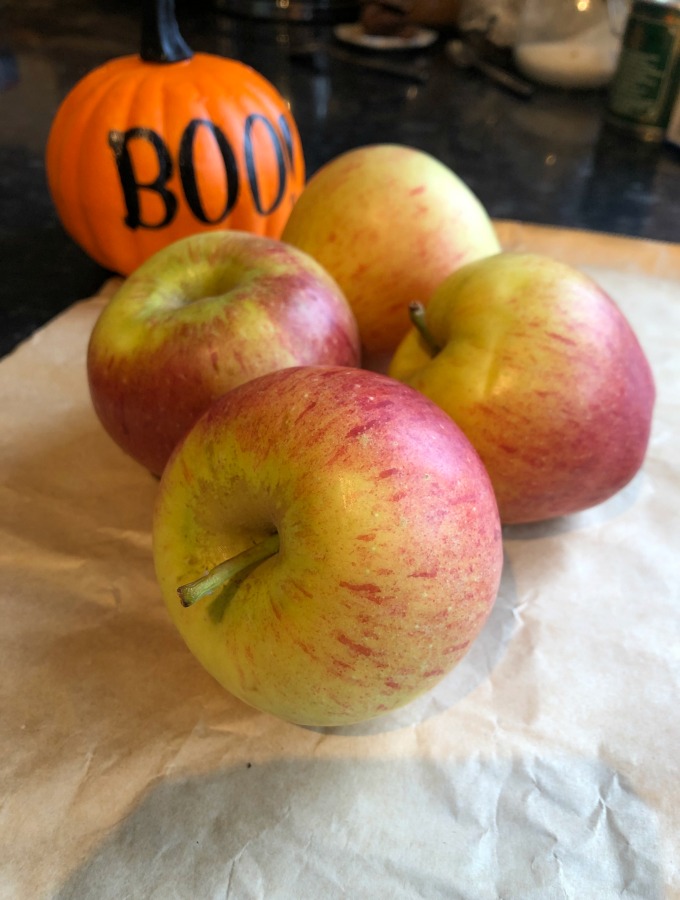 Toffee apples don't last very long (and not only because they get gobbled up!).
They are best eaten on the same day they're made and be kept in an airtight container in the fridge (or a cool place).
Leaving them in the warm will break down the toffee, and they start to soften.
Not only the toffee, but the apples won't last more than a day or so after they've been skewered.
Don't panic - how to wash up after making toffee!
I must confess - I am one of those people who test out the fire alarm a bit too often!! So, I am also quite good at getting things scrubbed and cleaned.
It is quite easy to sort out a pan after you've made very hot toffee.
When you've finished with the toffee, add in hot water from the tap with a little washing up liquid and bring it to the boil on your stove.
The heat from the boiling water will bring away any stuck on toffee with ease.
Tip the water into the sink, and it'll pretty much all be gone. When it comes to washing up, you will then just need to wipe it over, rather than scrubbing hardened toffee off.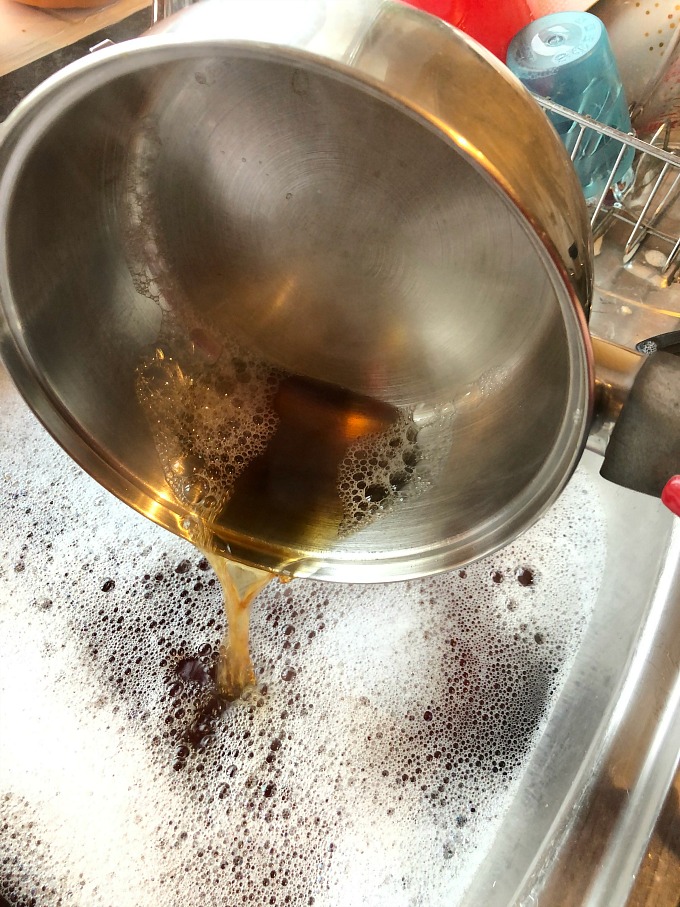 WANNA SAVE MORE MONEY ON YOUR SUPERMARKET FOOD BILL?
Who doesn't?!
Come and join our Facebook community, Reduce Your Supermarket Spend.
Join thousands of people who share their best tips and real-life ideas to keep your costs down.
This is now the biggest supermarket community on Facebook!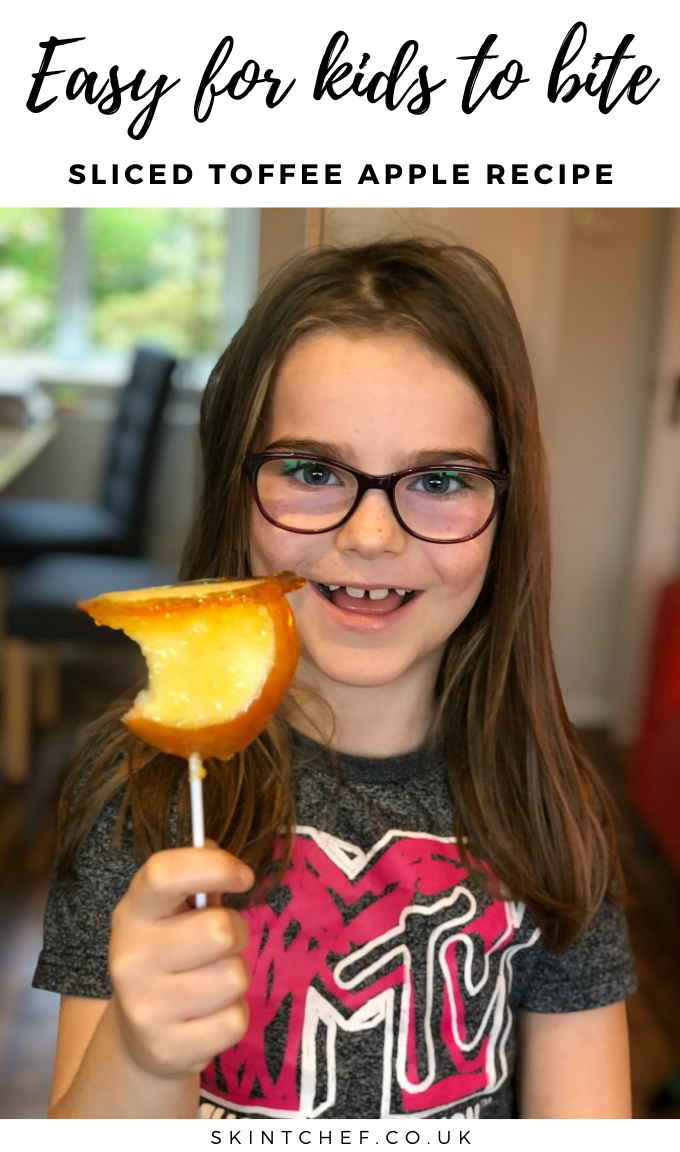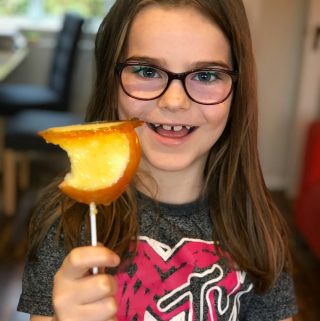 Easy Toffee Apple Recipe - 34p Each
Making toffee apples is fun to do in autumn and are a great treat for munching at Halloween. We slice the apples so it's easier for little ones to eat.
Print
Pin
Rate
Ingredients
4

apples

£1.16

200

g

sugar

14p

50

ml

water

2

tablespoon

golden syrup

6p
Instructions
Prepare apple slices by coring them and cutting into thick slices. Add an ice lolly stick or chop stick in one side. Cut a little off one side of the apple so it will stand up.

Add the sugar and water to a pan and heat to dissolve the sugar.

Once dissolved, add the syrup and check with a sugar thermometer for the temperature to reach 150°C, then remove the toffee from the heat.

Dip the apple into the toffee so it's fully covered and rest on baking paper to cool.
Notes
Total cost £1.36, 34p per serving
Figures are correct at the time of calculation. Prices are based on a generic, mid-price range supermarket, choosing their own value brand.
Nutrition data provided is provided as an estimate only. It is the reader's responsibility to calculate the nutritional information with the actual ingredients you use in your recipe if you need to follow a particular diet or for medical purposes.
Calories:
323.34
kcal
|
Carbohydrates:
83.84
g
|
Protein:
0.47
g
|
Fat:
0.31
g
|
Saturated Fat:
0.05
g
|
Sodium:
2.95
mg
|
Potassium:
194.74
mg
|
Fiber:
4.37
g
|
Sugar:
77.52
g
|
Vitamin A:
98.28
IU
|
Vitamin C:
8.37
mg
|
Calcium:
10.92
mg
|
Iron:
0.22
mg