This is a very quick homemade Tzatziki recipe to make a classic dip using Greek yoghurt, cucumber, garlic and mint - a perfect sauce for BBQs, kebabs or as a party dip.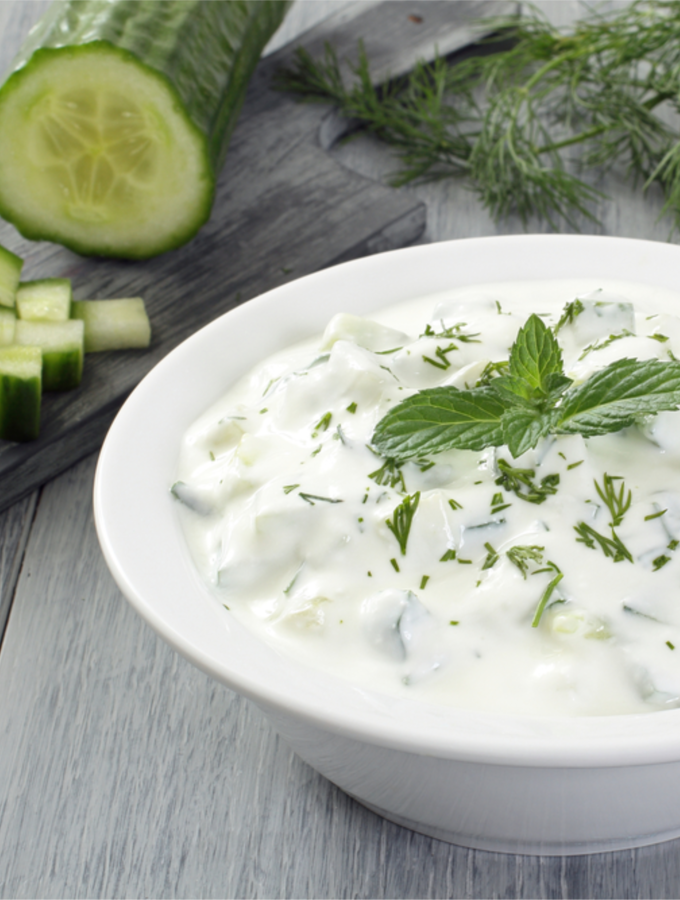 Homemade Tzatziki Dip Recipe
Tzatziki is basically a yoghurt and mint sauce you'll usually find at Greek restaurants.
It's really refreshing and goes lovely as an accompaniment to BBQ foods, kebabs, grilled vegetables, falafels, or is great as a dip on its own.
It's a very quick recipe, and the only thing you really need to take a little time over is draining the cucumber.
As the cucumber is moist, it will water down the sauce, so try to remove as much of the liquid from the cucumber before mixing it in.
After finely chopping or grating the cucumber, place it in a sieve over the sink to let the moisture drip away.
Ingredients
200 g Greek yoghurt
½ cucumber finely chopped
Bunch fresh mint (you can use freeze-dried) roughly chopped
1 garlic clove, finely chopped or minced
1 tablespoon lemon juice
¾ teaspoon oregano
Salt and pepper
Method
It couldn't be easier.
Put all the ingredients into a small bowl and mix thoroughly.
You might want to taste-test the Tzatziki Dip as you are mixing.
Some Greek yoghurts can be sour so adjust the dip by adding more lemon or salt and pepper as required.
Leave the Tzatziki in the fridge until ready to serve.
Tip: If you leave the dip overnight it allows the cucumber and mint to flavour the yoghurt more.
WANNA SAVE MORE MONEY ON YOUR SUPERMARKET FOOD BILL?
Who doesn't?!
Come and join our Facebook community, Reduce Your Supermarket Spend.
Join thousands of people who share their best tips and real-life ideas to keep your costs down.
This is now the biggest supermarket community on Facebook!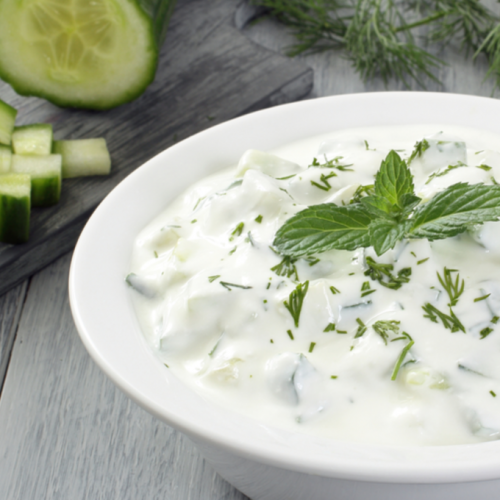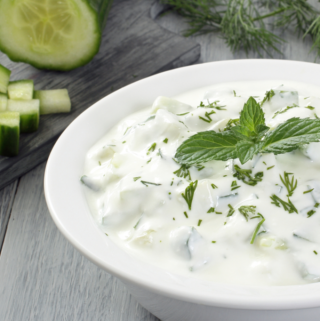 Ingredients
200

g

Greek yoghurt

36p

½

cucumber, finely chopped/grated

30p

Bunch fresh mint

10p

1

garlic clove, finely chopped or minced

1p

1

tablespoon

lemon juice

5p

¾

teaspoon

oregano

8p

Salt and pepper
Instructions
Put all the ingredients into a small bowl and mix thoroughly.
Notes
Total cost 90p, 11p per serving
Figures are correct at the time of calculation. Prices are based on a generic, mid-price range supermarket, choosing their own value brand.
Nutrition data provided is provided as an estimate only. It is the reader's responsibility to calculate the nutritional information with the actual ingredients you use in your recipe if you need to follow a particular diet or for medical purposes.
Calories:
23
kcal
|
Carbohydrates:
2
g
|
Protein:
3
g
|
Fat:
1
g
|
Saturated Fat:
1
g
|
Cholesterol:
1
mg
|
Sodium:
11
mg
|
Potassium:
26
mg
|
Fiber:
1
g
|
Sugar:
1
g
|
Vitamin A:
28
IU
|
Vitamin C:
1
mg
|
Calcium:
35
mg
|
Iron:
1
mg