Birds Eye is urgently recalling packs of Chicken Nuggets as they may contain small pieces of clear plastic which makes them unsafe to eat.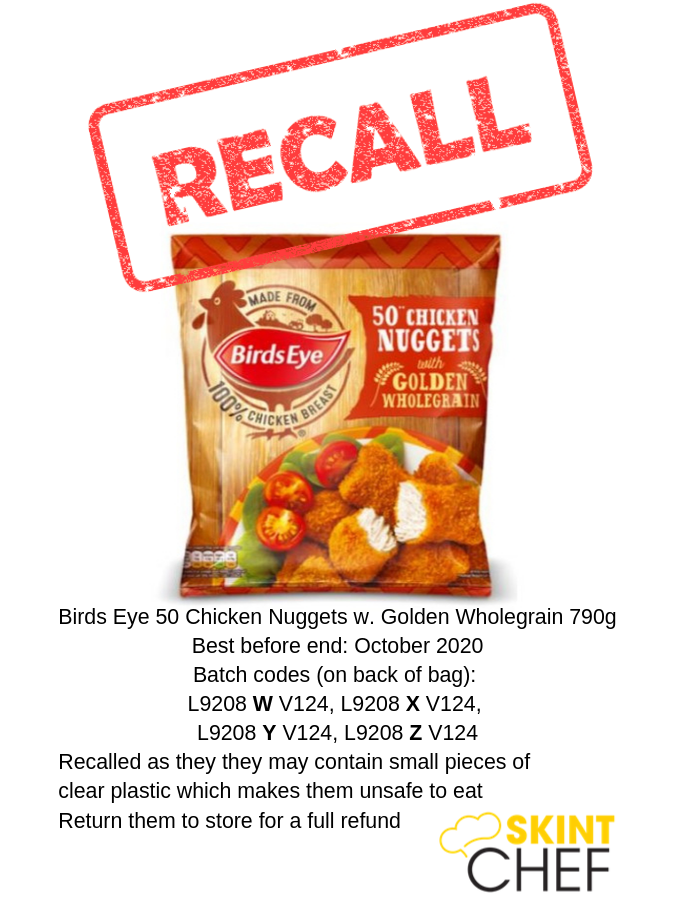 It's time to check your freezer for chicken nuggets!
It's not all packs of Birds Eye Chicken Nuggets, but it's specific ones you need to check for as they are unsafe to eat.
Check Birds Eye packs of 50 Chicken Nuggets with Golden Wholegrain as they may contain small pieces of clear plastic.
You're looking for packs with the following batch codes:
L9208 W V124
L9208 X V124
L9208 Y V124
L9208 Z V124
The batch code will be printed next to the Best Before date in the coding field at the back of the bag.
They will all have the best before end date of 16th October 2020 (2020-10-16).
Birds Eye hasn't said how many packs are affected, but have shared that "a small number of packs produced over a short period may contain small pieces of clear plastic".
No other Birds Eye products are known to be affected.
What happens if I've got a pack?
If you've got a pack of the affected chicken nuggets, you're advised not to eat them as it's unsafe.
Instead, return them to the retailer where you'll get a full refund.
Even if you've opened the pack and had a few, it's fine to return whatever you've got left.
Alternatively, Birds Eye has said you can return the pack to them for a full refund.
They've asked that you cut out the packaging that shows the batch code and post it with your contact details to:
Birds Eye Limited Freepost
ADM3939
London
SW1A 1YS
Notices will also be displayed in retail stores who sold the product to explain why they are being recalled.
WANNA SAVE MORE MONEY ON YOUR SUPERMARKET FOOD BILL?
Who doesn't?!
Come and join our Facebook community, Reduce Your Supermarket Spend.
Join thousands of people who share their best tips and real-life ideas to keep your costs down.
This is now the biggest supermarket community on Facebook!