Curry isn't complete without naan bread! Use our step by step guide to make this delicious, fluffy, and sweet Peshwari naan recipe.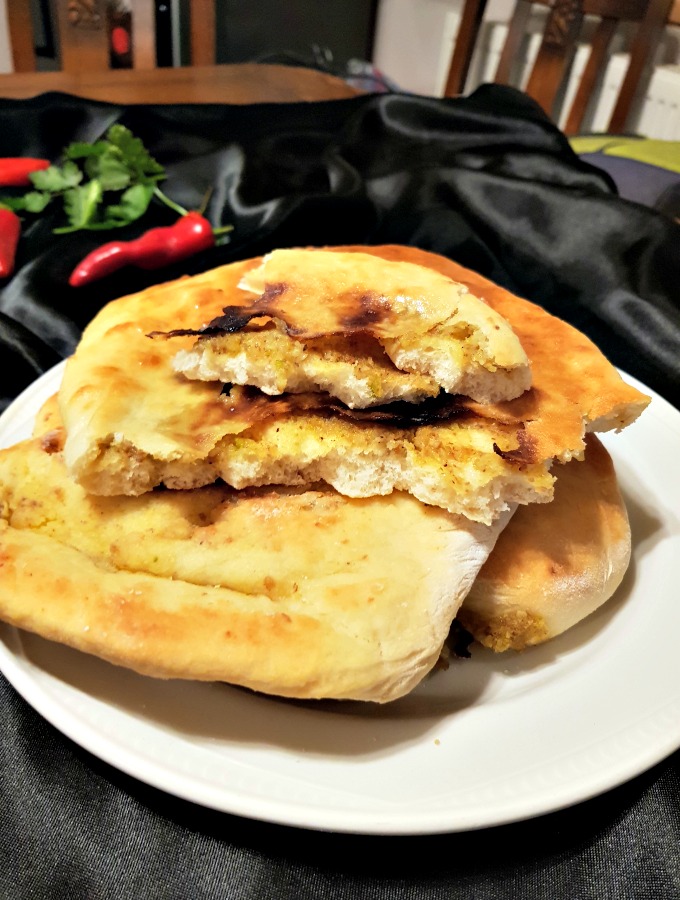 ---
For the full list of ingredients and printable instructions, please see the recipe card at the end of this post. But, before you scroll straight there, take a look at the useful info just below.
---
How to make Peshwari naans
Here's how to make them...
Add flour, yeast, sugar, baking powder and salt in a bowl and slowly mix in water and milk.
You want to stir in a little at a time to the flour mix.
Once it's all mixed in, add yoghurt, which will give you naan dough a lovely texture.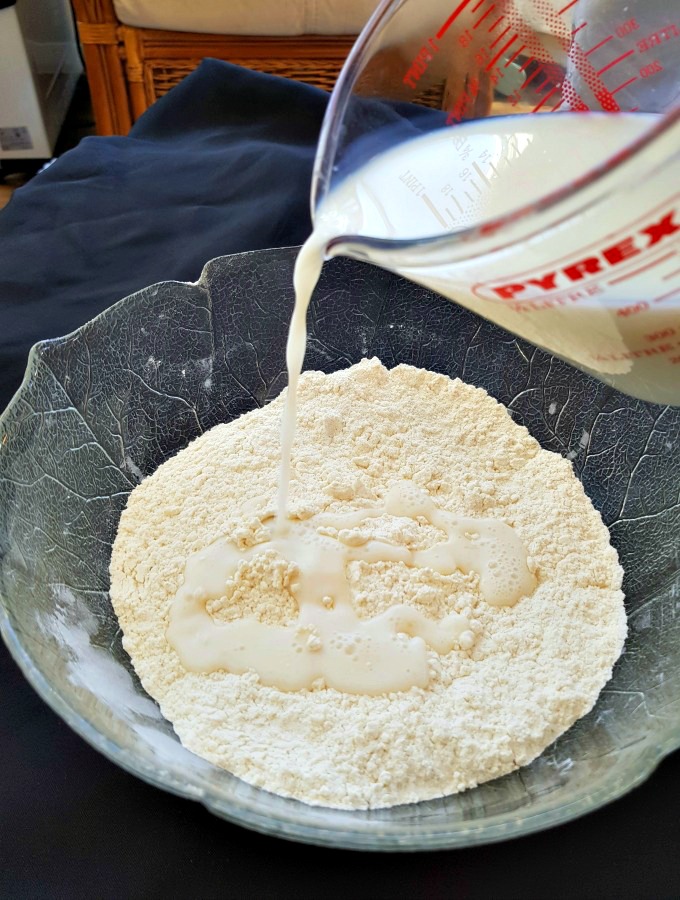 It's now time for some kneading.
After you've mixed the dough, it will have quite a hard consistency.
Knead it well for 5-10 minutes and the dough will start to become smoother.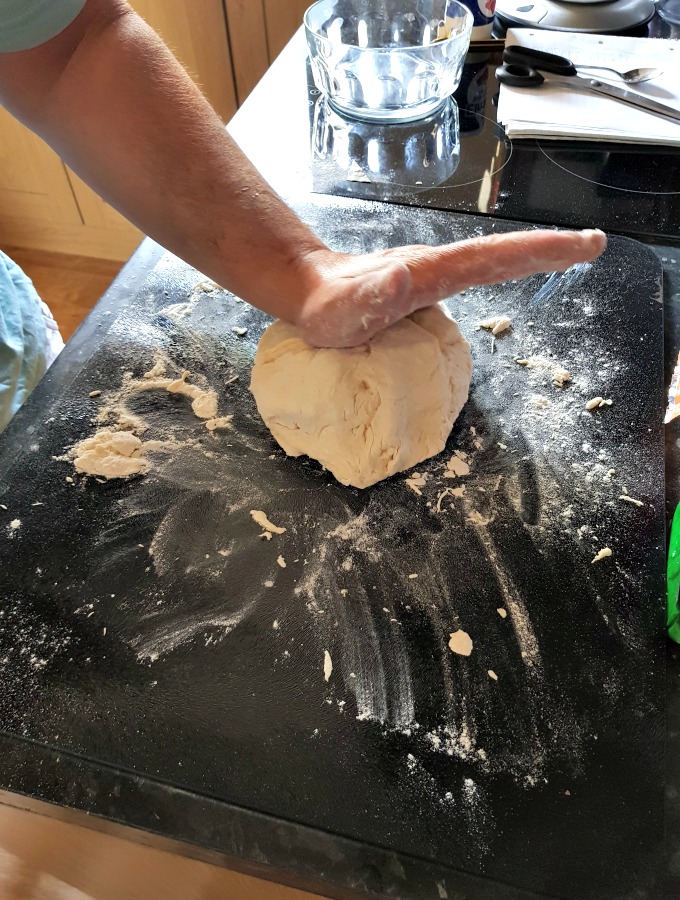 You then need to let the naan dough sit and prove.
Pop a tea towel over the top and leave it in a warm place.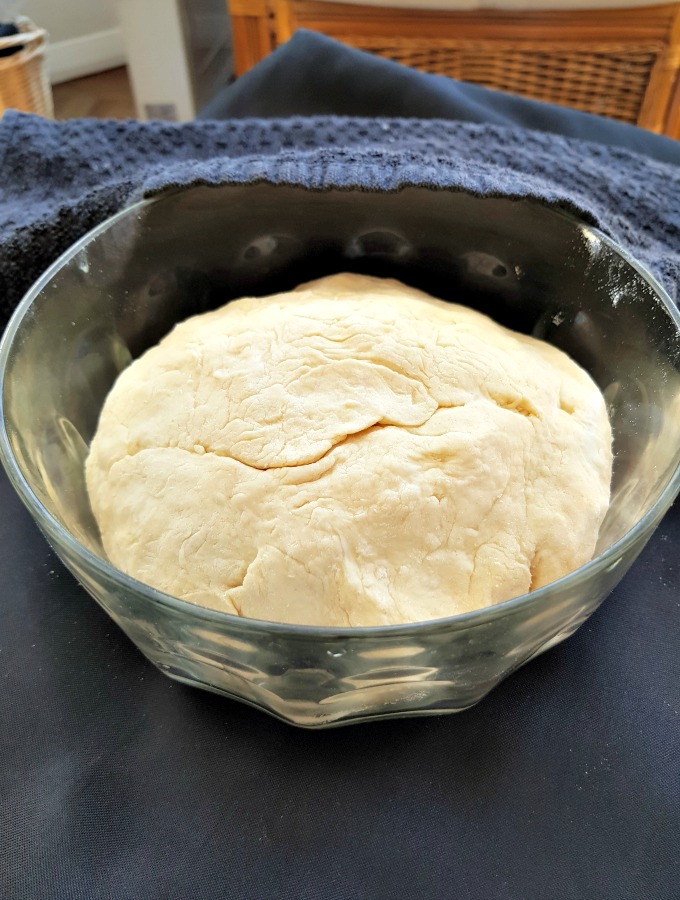 In the meantime, you can start to create the delicious, sweet Peshwari filling.
The filling for the naan is made up of fruit and nuts, including sultanas, pistachios, almonds (start with flaked almonds as it's easier) and coconut.
We use a little cream to bind the filling together. If you prefer a dry mix, leave the cream out.
You can use a knife to chop everything, but a small blender may be easier.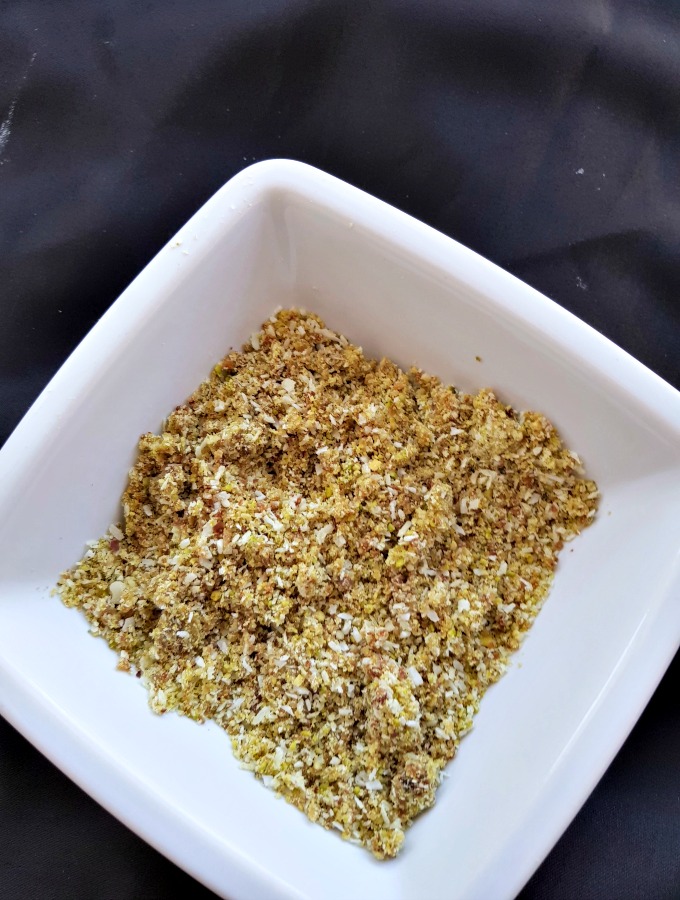 After being set aside for a few hours, your naan dough should have doubled in size.
Perfect!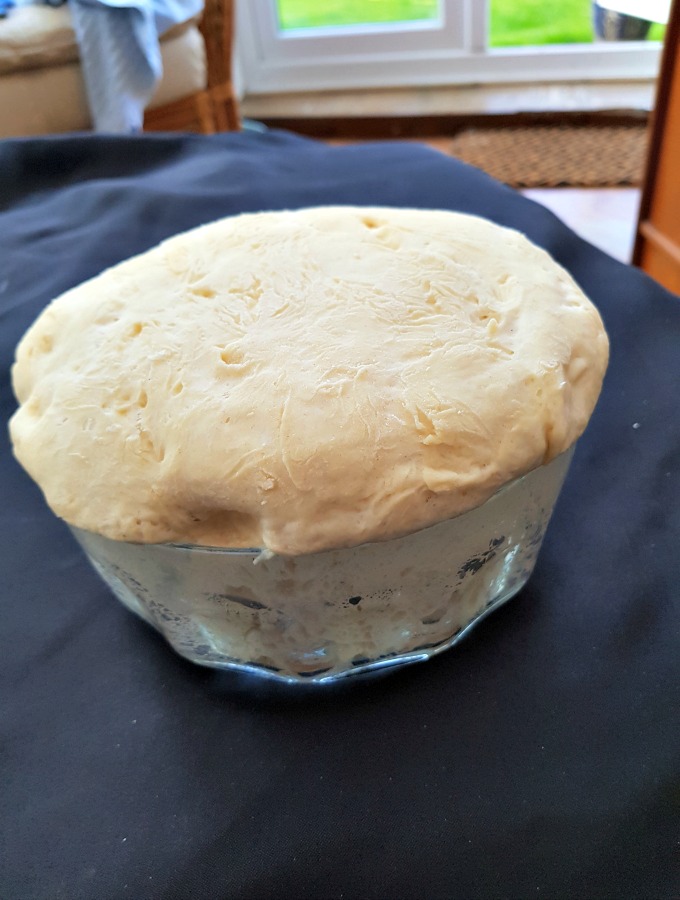 You can then separate your dough into balls.
It may be easier to cut the dough with a knife so you can get the balls an even size.
We made four large sharing naans.
However, if you wanted smaller naans, then you can stretch them to 8.
Roll out the dough until it's about 1cm thick.
It's now time to add the filling.
Being generous, but not over-generous, add the Peshwari filling to one half of the naan.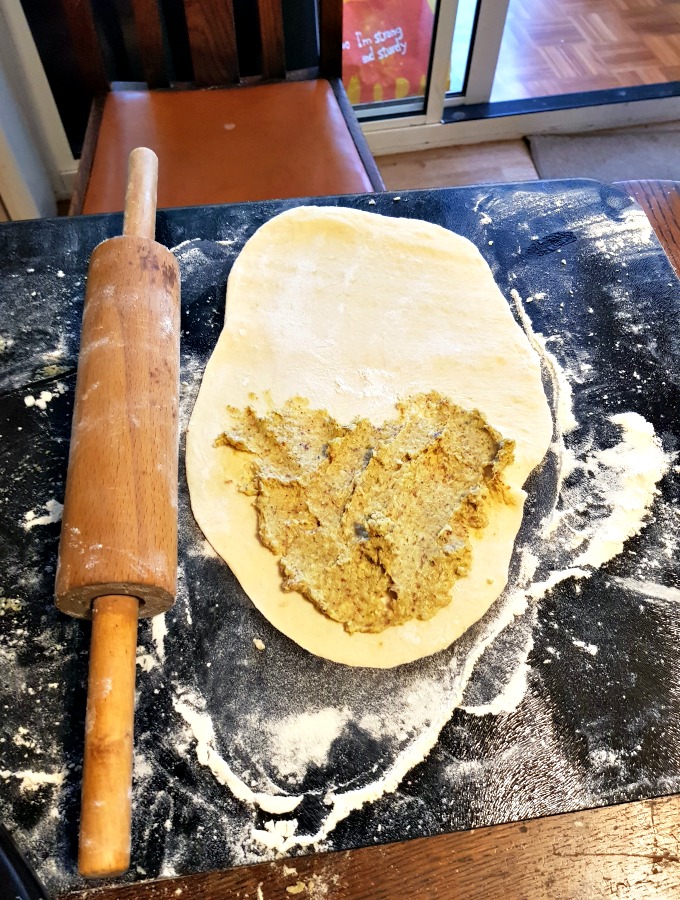 Fold the dough over and pinch the edges.
Roll the dough out gently again.
Don't overdo it do your naan filling may split your dough.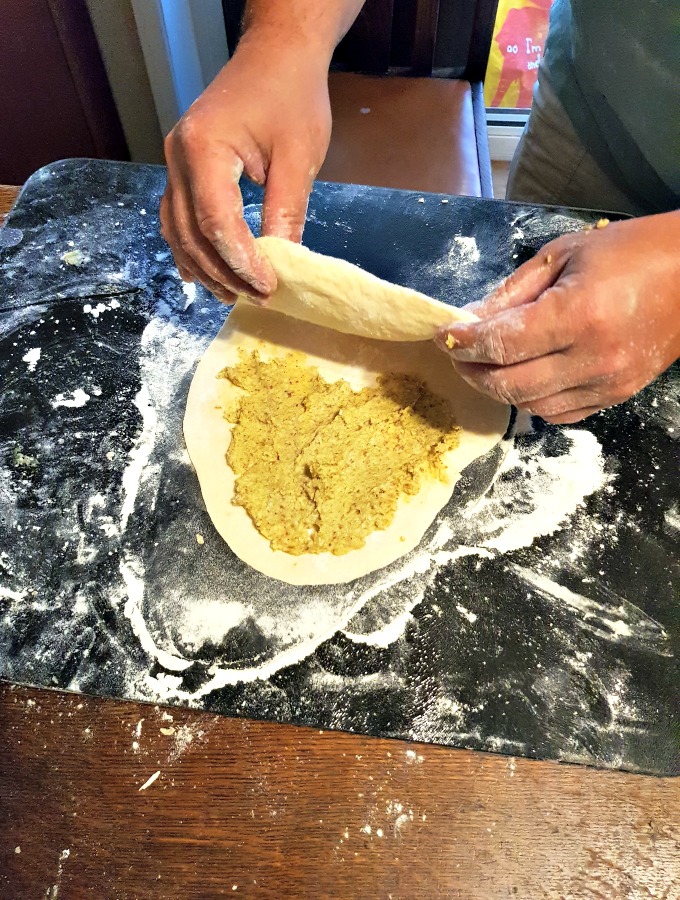 Some people prefer to make a ball, push a small hole in the middle and fill this. Then, roll that ball out into a naan. However, you may find the fruit and nut mixture moves into the naan, rather than stays in the middle.
Once you've used up all your naan dough, they will now be ready to cook.
Cooking naan bread at home will likely mean you don't have a tandoor oven. But that's fine; they cook beautifully under the grill.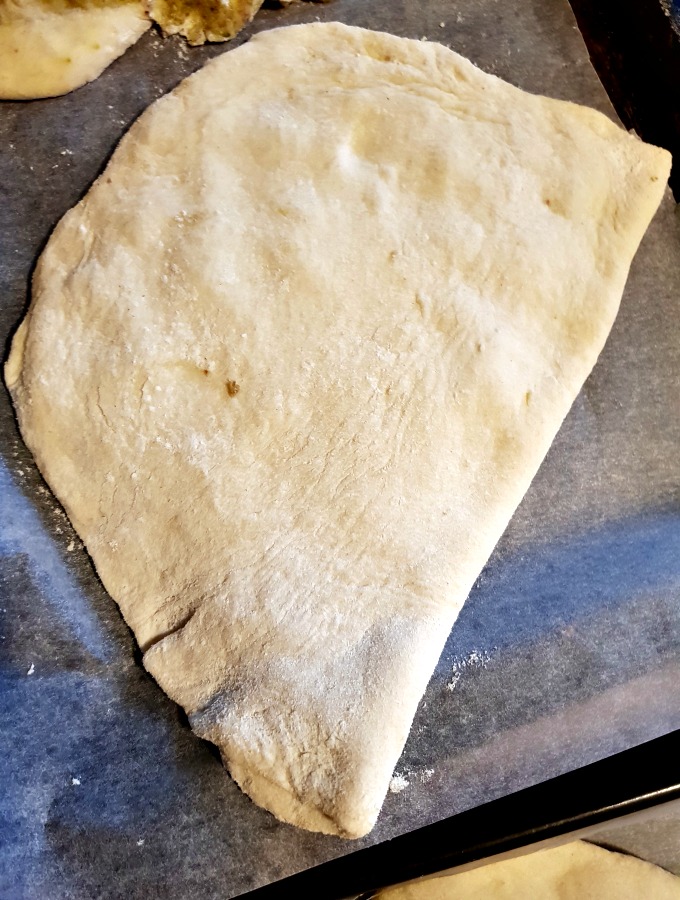 How long does naan bread last?
In my house? They last as long as they're cooked!
But, I get that not everyone can eat them as fast as us.
Kept fresh, naan bread will last a maximum of 3 days.
Any leftover naan should be stored in an airtight container in a cool dry place or even in the fridge. You can reheat it in the oven for about 5 minutes until it's warmed through.
It's worth splashing the naan on both sides with a little bit of water which will stop it drying out when it's reheated.
Can you freeze Peshwari naan?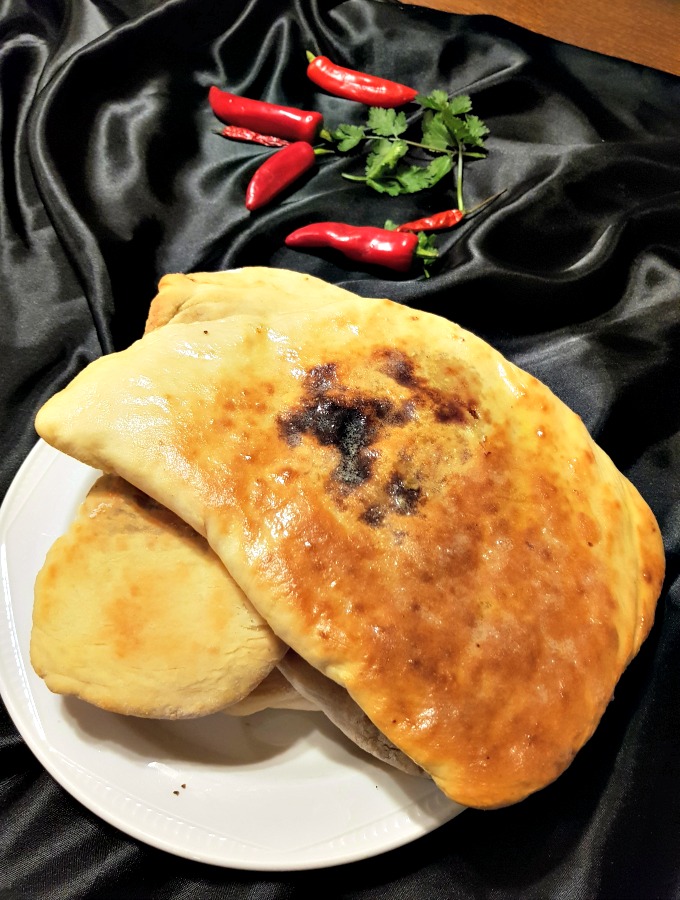 Peshwari naans are delicious eaten as soon as they are cooked, but that doesn't mean you can't make them ahead of time.
If you're not planning to eat them straight away, or you want to save yourself time in the future, they do freeze ok.
Once you've cooked them, allow the naans to cool and place them between baking sheets, then wrap them all in foil.
You don't want the bread to touch, or they'll stick together, and you want to wrap them well to prevent freezer burn.
They will be ok in the freezer for up to 3 months.
When you're ready to eat them, defrost them slowly, splatter each side with a little water and bake in the oven on a low heat for 4-6 minutes.
Can you defrost naan bread in the microwave?
If you're in a rush or forget to take your naans out of the oven and your curry is nearly ready, then your microwave may be your saviour.
Unwrap them, and place one frozen naan at a time in the microwave.
Cook for 10 seconds at a time and turn over before you cook again.
They're ready when they are steaming and can be gently folded.
If you cook them for too long they'll be chewy and soggy, so don't overdo it.
WANNA SAVE MORE MONEY ON YOUR SUPERMARKET FOOD BILL?
Who doesn't?!
Come and join our Facebook community, Reduce Your Supermarket Spend.
Join thousands of people who share their best tips and real-life ideas to keep your costs down.
This is now the biggest supermarket community on Facebook!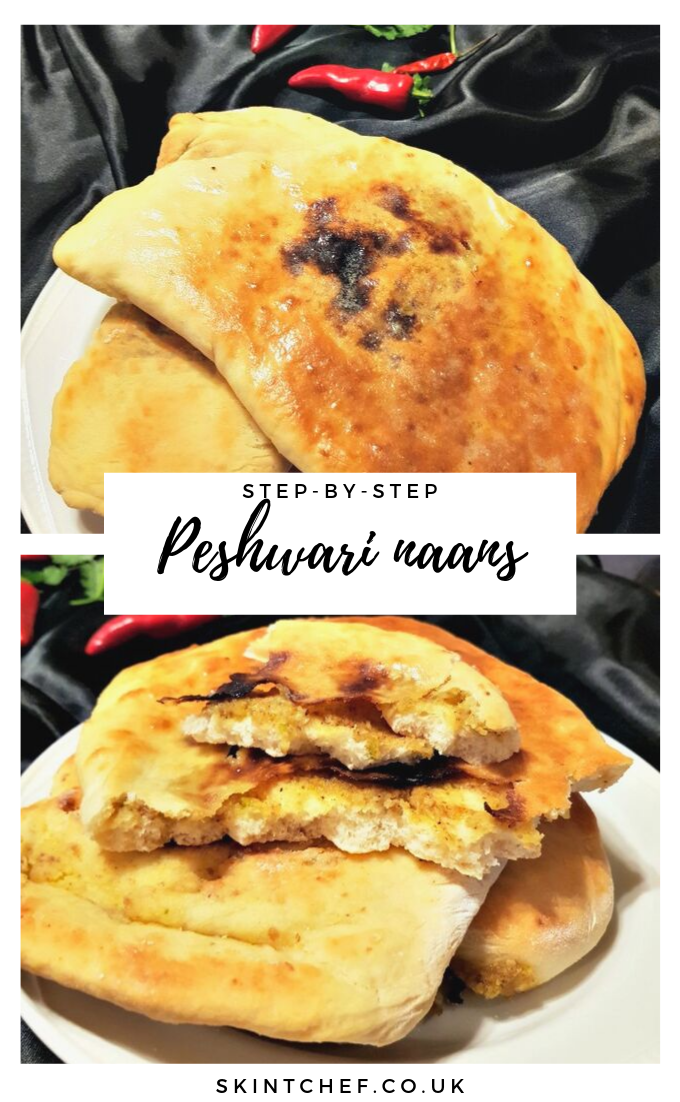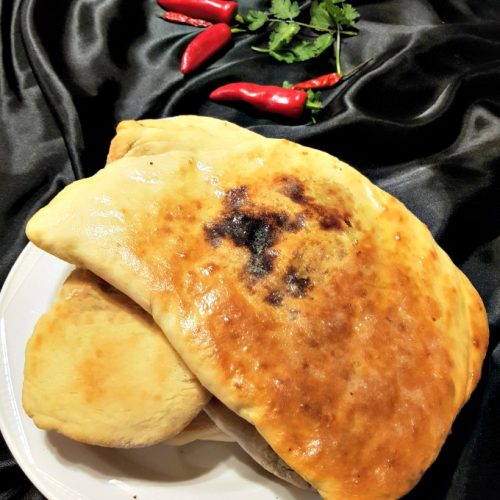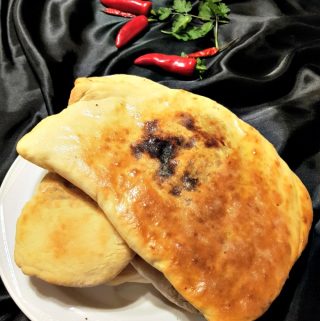 Peshwari Naan Recipe
Curry isn't complete without naan bread! Use our step by step guide to make this delicious, fluffy, and sweet Peshwari naan recipe.
Print
Pin
Rate
Servings:
4
sharing naans
Ingredients
For the naans
350

g

plain flour

11p

1

teaspoon

fast-action dried yeast (or 1 sachet)

11p

½

teaspoon

baking powder

2p

1

teaspoon

sugar

1p

1

teaspoon

salt

1p

2

tablespoon

natural yoghurt

6p

100

ml

hot water

100

mls

milk

4p

1

teaspoon

butter

3p
For the Peshwari filling
40

g

sultanas

8p

40

g

desiccated coconut

16p

40

g

almonds

50p

40

g

pistachio

51p

1

tablespoon

single cream

5p
Instructions
Place the flour, yeast, sugar, baking powder and salt in a bowl. Mix the hot water and milk then slowly add to the flour mix, adding a bit at a time then mixing before adding more.

When all the milk and water has been added mix in the yoghurt then take the dough from the bowl and place on a well floured surface. Knead the dough for approximately 5-10 minutes then place in a lightly oiled bowl, cover with a tea towel and leave in a warm place for 1-2 hours.

Blend the pistachios, almonds, sultanas and desiccated coconut until very finely chopped then mix in the cream to make a paste. If you would rather a dry mix you don't have to add the cream.

When the dough is risen remove from the bowl and split into equal parts depending on how many naans you wish to make.

Roll the dough out to about 1cm thickness, then add some of your nut mix to one half of the dough. Fold the dough in half to cover the nut mix and pinch the edges to seal them. Then roll out carefully into a thin oval shape approximately 1 cm thick. If you like your naans quite doughy then leave them a little thicker. Repeat for all your dough.

Grill the naans on a non-stick baking tray for approximately 3 minutes each side until it slightly starts to colour then remove from the heat. Brush a little butter over the top and use to mop up your favourite curry.
Notes
We made 4 large sharing naans but you could easily get 8 small individual naans from the mixture.
Total cost £1.69, 42p per serving
Figures are correct at the time of calculation. Prices are based on a generic, mid-price range supermarket, choosing their own value brand.
Nutrition data provided is provided as an estimate only. It is the reader's responsibility to calculate the nutritional information with the actual ingredients you use in your recipe if you need to follow a particular diet or for medical purposes.
Calories:
580
kcal
|
Carbohydrates:
86
g
|
Protein:
16
g
|
Fat:
20
g
|
Saturated Fat:
9
g
|
Cholesterol:
12
mg
|
Sodium:
616
mg
|
Potassium:
517
mg
|
Fiber:
7
g
|
Sugar:
11
g
|
Vitamin A:
168
IU
|
Vitamin C:
1
mg
|
Calcium:
125
mg
|
Iron:
5
mg