Our Goan curry with lamb is packed with flavour, is not too spicy as the coconut balances out the heat, and is an easy curry to cook from scratch.
Goan Lamb Curry
There's always a worry that curries can be too hot, but that's not an issue when you're in charge.
In this curry recipe, the coconut mellows the spice from the chillis.
Depending on how spicy you like it, you can choose to add less or more chillis.
Three small chillis will make your curry hotter and choose two chillis if you want a more medium curry.
How to make it cheaper
It's far cheaper to make a Goan curry fakeaway at home than reaching for your phone or online delivery service.
However, you can, of course, make it cheaper.
We used fresh lamb to make this curry...this time.
However, it'd be fine to use leftovers from your Sunday roast if you've cooked a whole leg of lamb.
T0 get the costs down more, look to cook with frozen diced lamb instead.
You will need to adjust the cooking time; however, I've found that most packs of frozen lamb allow you to cook from frozen.
Alternatively, if you're not a fan of lamb, this Goan curry is very versatile. Instead, use chicken, fish or vegetables in your curry.
Cooking from scratch may seem a bit daunting (and very expensive) when you first start. If this is your first fakeaway, you'll likely be worrying that there are a lot of spices you don't have poking about in the back of your cupboard.
Don't worry though, the more you cook, the more you'll use them, and your pots of spices will get used in all sorts of different tasty dishes.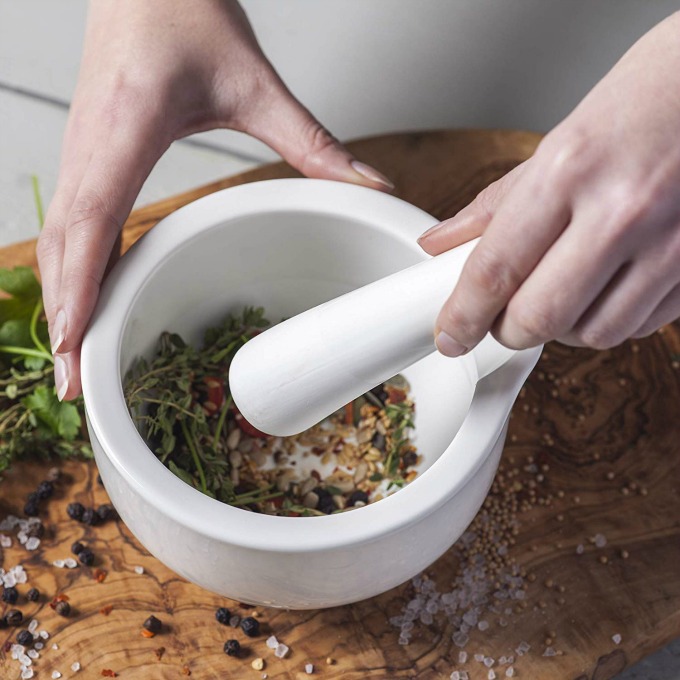 This post contains affiliate links. Find out what this means.
Also, this recipe calls for a mortar and pestle.
If you don't have a set, put it on your Christmas list as they're super-useful and look great on your kitchen counter!
However, if you don't have one to hand and don't want to buy one, you may have a coffee grinder (be sure to give it a VERY good clean out before and after), a food blender, or do it by hand and crush the spices with a rolling pin.
WANNA SAVE MORE MONEY ON YOUR SUPERMARKET FOOD BILL?
Who doesn't?!
Come and join our Facebook community, Reduce Your Supermarket Spend.
Join thousands of people who share their best tips and real-life ideas to keep your costs down.
This is now the biggest supermarket community on Facebook!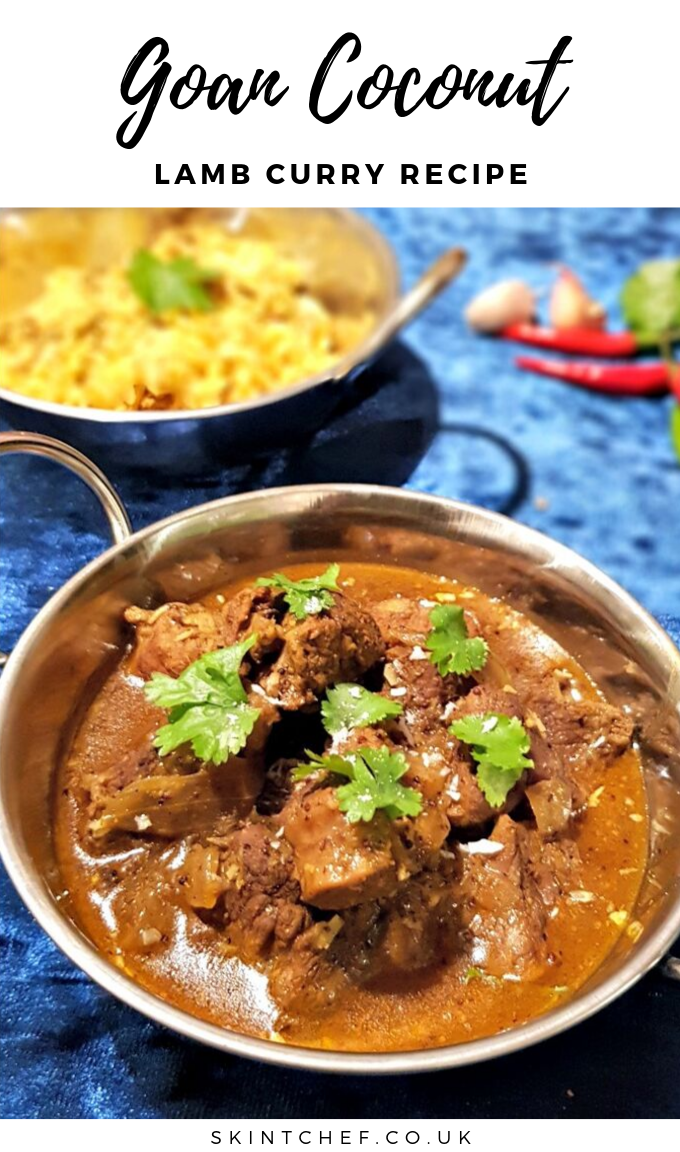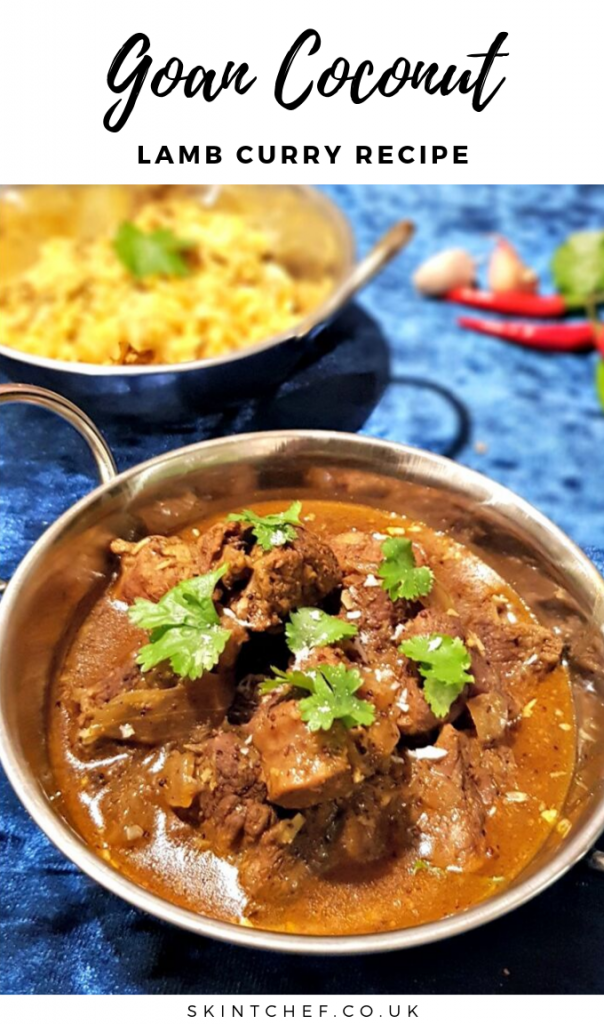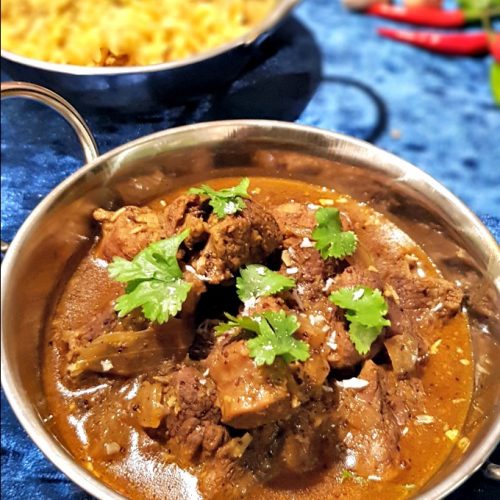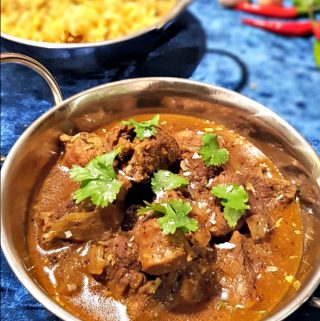 Ingredients
700

g

lamb

£8

1

onion

10p

4

garlic cloves

4p

1

inch

fresh ginger

2p

1

teaspoon

garam masala

13p

1

teaspoon

coriander seeds

19p

1

teaspoon

mustard seeds

7p

1

teaspoon

turmeric

10p

400

ml

lamb stock

19p

2-3

small fresh chillies

40p

400

ml

coconut milk

90p

1

tablespoon

desiccated coconut

6p

2

teaspoon

mango chutney

4p

1

tablespoon

oil

2p

1

tablespoon

lime juice

5p

Salt and pepper

1p
Instructions
Crush the mustard and coriander seeds together in a pestle, then transfer to a dry hot non-stick pan and cook until spices have infused (about 2 minutes).

Add the chopped onion, garlic, chillies and ginger with a little oil and cook for 5-6 minutes on a medium heat.

Then, add the lamb and cook for a further 5 minutes until the lamb is slightly brown.

Add the rest of the dry spices (turmeric, garam masala) and cook for another 2 minutes.

Then add the stock, lime juice, mango chutney, and salt and pepper to taste, and cook on a medium heat for approximately 30 minutes until the meat is tender (cooking time dependant on the cut of lamb used).

Finally add the coconut milk and desiccated coconut, cook for another 30 minutes to allow the flavours to infuse.
Notes
Serve with homemade naans and rice.
Total cost £10.32, £2.58 per serving
Figures are correct at the time of calculation. Prices are based on a generic, mid-price range supermarket, choosing their own value brand.
Nutrition data provided is provided as an estimate only. It is the reader's responsibility to calculate the nutritional information with the actual ingredients you use in your recipe if you need to follow a particular diet or for medical purposes.
Calories:
759
kcal
|
Carbohydrates:
13
g
|
Protein:
35
g
|
Fat:
64
g
|
Saturated Fat:
38
g
|
Cholesterol:
128
mg
|
Sodium:
271
mg
|
Potassium:
747
mg
|
Fiber:
2
g
|
Sugar:
4
g
|
Vitamin A:
214
IU
|
Vitamin C:
38
mg
|
Calcium:
64
mg
|
Iron:
7
mg