On a cold day, get cosy with a big warm bowl of Broccoli and Stilton Soup. It's an easy soup to batch cook, and save for another day.
A little bit like Marmite, there are two clear groups of people who either hate or love blue cheese like Stilton.
If you're one of the haters, please look away or perhaps go and check out this Chicken and Sweetcorn Chinese Style Soup instead.
...
And, if you're still with me, let's get on with the delicious recipe.
Broccoli and Stilton soup
Broccoli and Stilton soup is a perfect way to use up leftovers.
Cheese won't last forever, and veg goes limp after a while, so a bowl of soup is a great warming way to keep your tummy full.
It doesn't take a long time to cook either.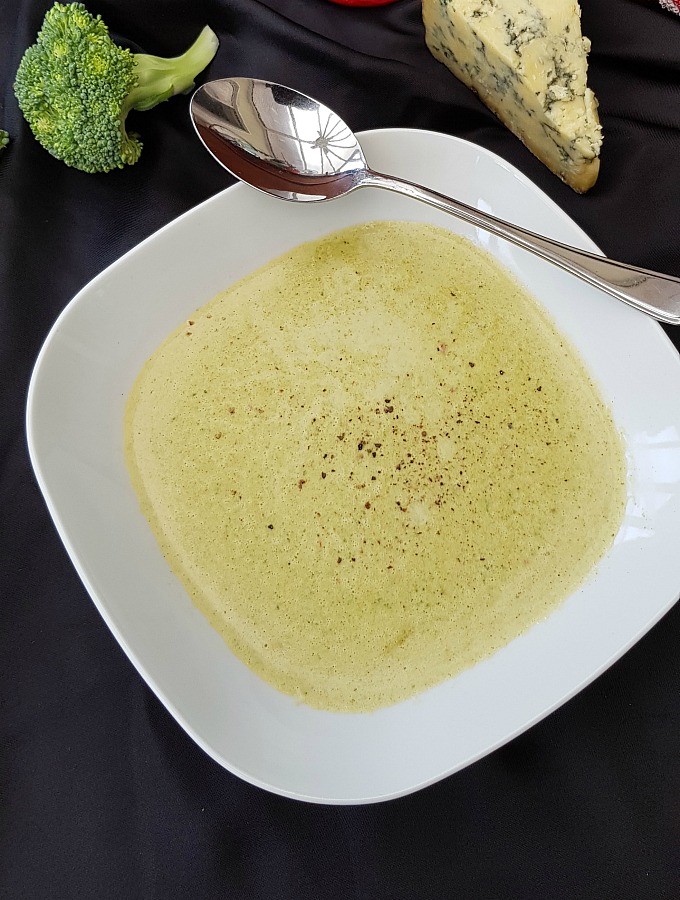 Instead of reaching for a tin can in the supermarket, get cooking and have a lovely lunch in next to no time.
From a waste point of view, don't just use the florets.
You can use the whole stalk of the broccoli to get even more flavour.
Also, if you don't have Stilton, using any other blue cheese should work out fine.
How to cook Broccoli and Stilton soup
Rather than boiling your broccoli on the hob, use your microwave.
It's quicker to cook, keeps more nutrients in, and is cheaper to run than using a cooker.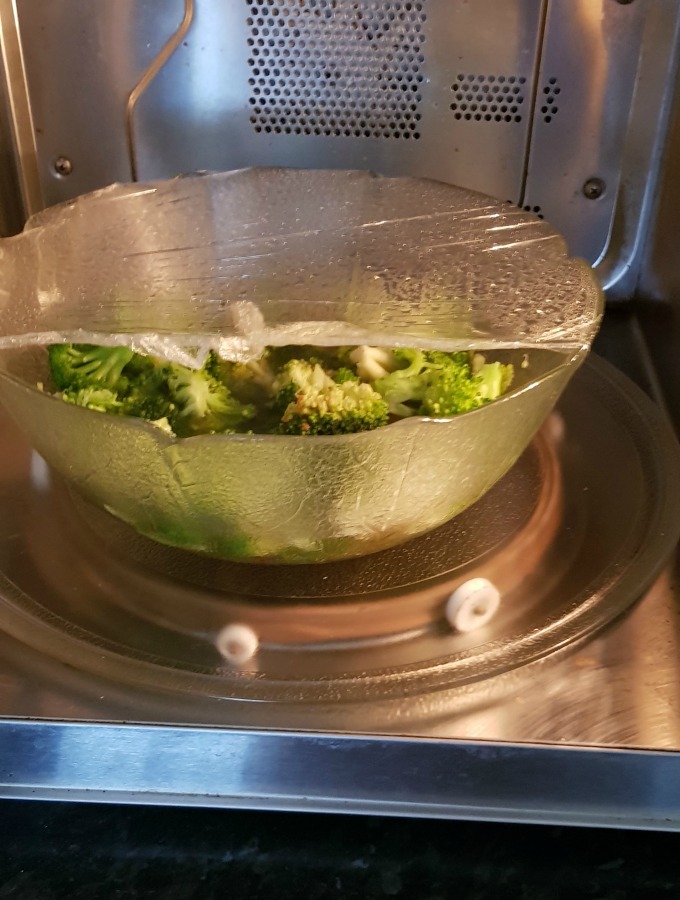 In the meantime, soften your onions in a pan.
These add extra flavour to your soup.
We find spring onions better than a brown onion as it gives a lighter taste.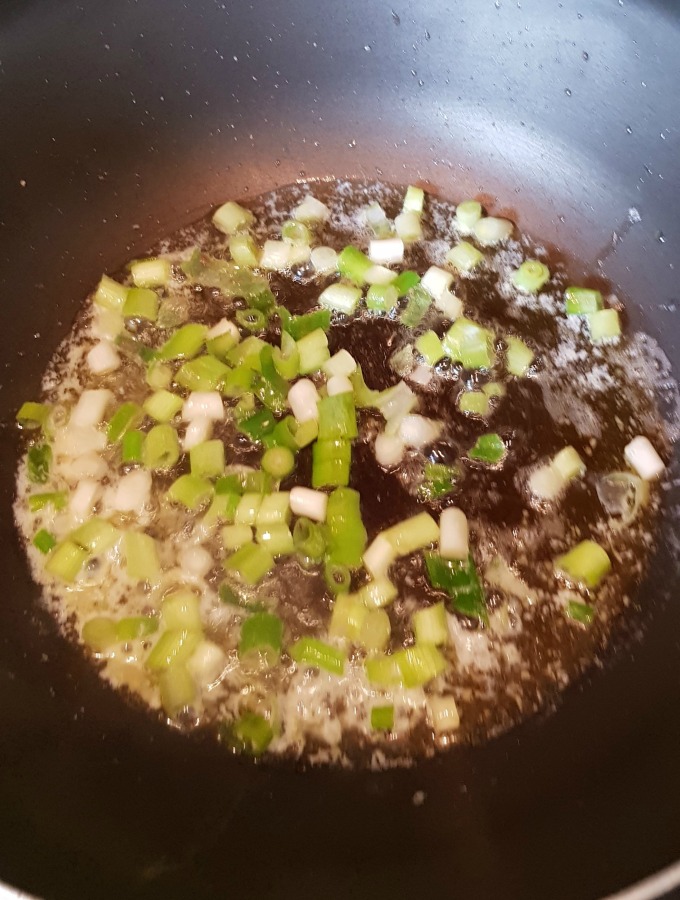 Once you've cooked the broccoli, add it to a blender with everything else and blitz it.
Then it's just a matter of getting your soup back on the hob and making sure it's thoroughly heated.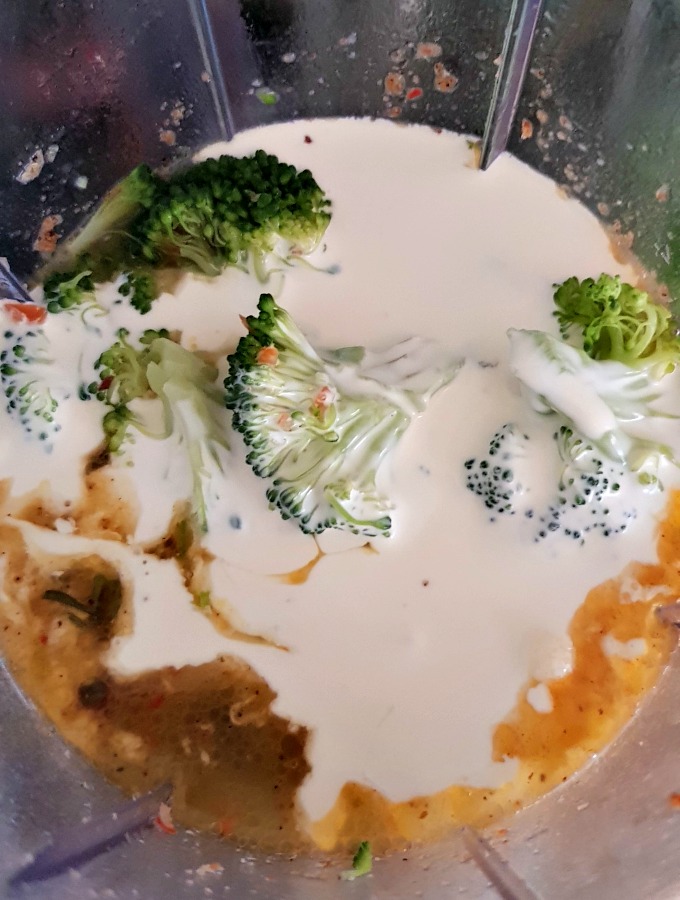 Make sure you've got some crusty bread to dip in your soup and enjoy!
Can you freeze broccoli and blue cheese soup?
If you're planning to store it, make sure to fully cool the soup down and keep it in an airtight container or a tightly sealable freezer bag.
You need to give some space in whatever you store the soup in as it will expand when it freezes. If you don't leave the room, then you may well have soup everywhere.
The soup should be ok to freeze for three months and fine in the fridge for up to three days.
When it comes to reheating your soup, make sure to defrost it in the fridge overnight first.
Heat it on the hob over medium-low heat and stir regularly.
You may find the soup has become a little thick because of the cream, but that's ok. Look to add a little milk or cream as you're heating it until you get the consistency you want.
WANNA SAVE MORE MONEY ON YOUR SUPERMARKET FOOD BILL?
Who doesn't?!
Come and join our Facebook community, Reduce Your Supermarket Spend.
Join thousands of people who share their best tips and real-life ideas to keep your costs down.
This is now the biggest supermarket community on Facebook!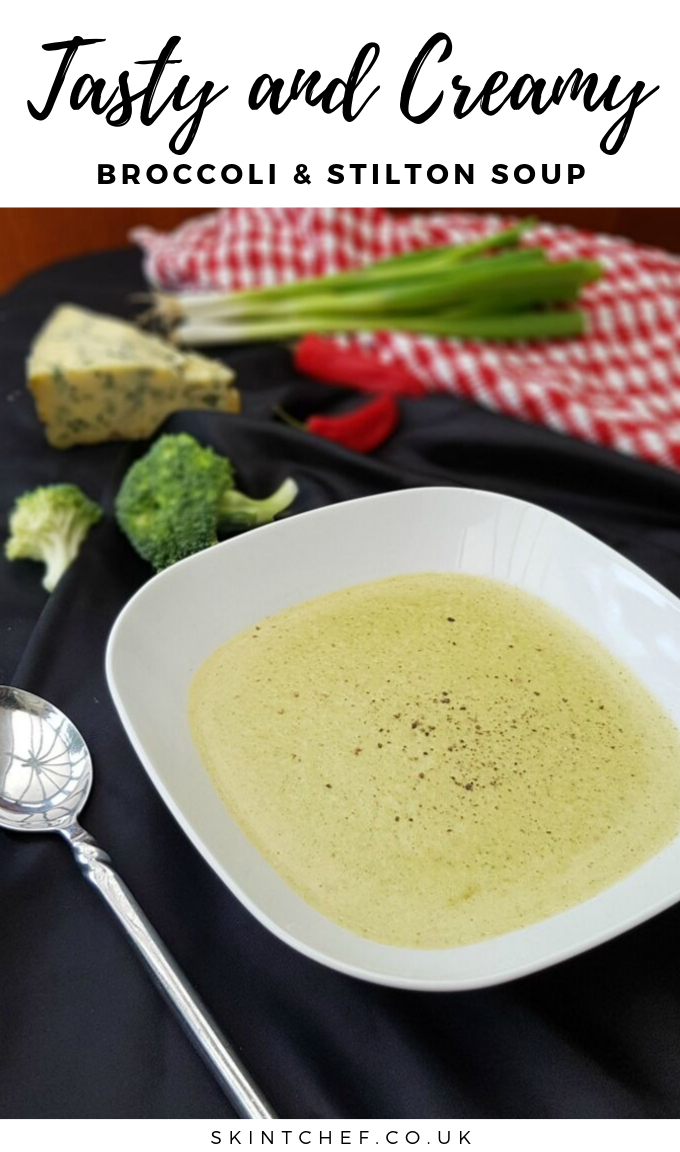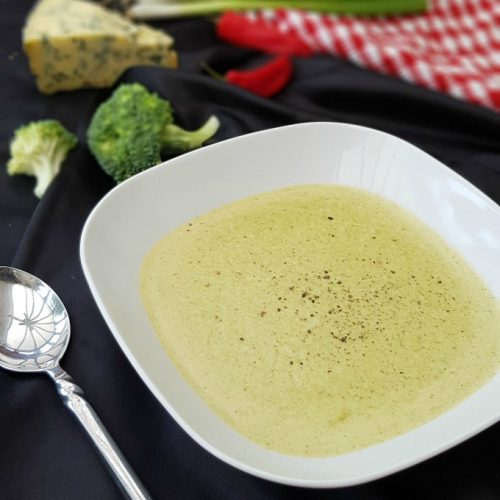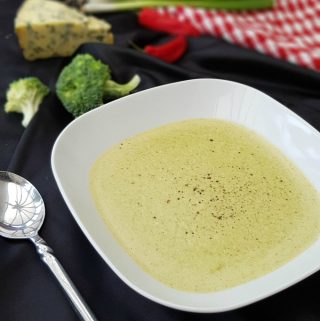 Broccoli and Stilton Soup Recipe - 65p per serving
On a cold day, get cosy with a big warm bowl of Broccoli and Stilton Soup. It's an easy soup to batch cook, and save for another day.
Print
Pin
Rate
Ingredients
1

large piece of broccoli

65p

500

ml

vegetable stock

5p

1

tablespoon

margarine/spread

2p

5

spring onions

30p

1

chilli (optional)

20p

1

teaspoon

garlic salt

8p

120

g

stilton

93p

120

ml

double cream

38p
Instructions
Cut the broccoli into small pieces, place into a microwavable bowl and pour vegetable stock over the top. Place cling film over the top, pierce a couple of holes and place in the microwave 5 - 8 minutes until the broccoli is soft.

In a deep non-stick frying pan melt the margarine, add the spring onions and chilli (if using) and cook for 2 minutes on a high heat. Then add the garlic cook for a further minute, and transfer into a blender.

Add the broccoli and stock into the blender, along with the stilton and cream, and blitz to a smooth consistency.

Transfer back into the non-stick pan, add salt and pepper to taste, bring to boil.
Notes
Serve with crusty bread.
If you're not a fan of chilli, do leave it out and save 20p.
Total cost £2.61, 65p per serving
Figures are correct at the time of calculation. Prices are based on a generic, mid-price range supermarket, choosing their own value brand.
Nutrition data provided is provided as an estimate only. It is the reader's responsibility to calculate the nutritional information with the actual ingredients you use in your recipe if you need to follow a particular diet or for medical purposes.
Calories:
302
kcal
|
Carbohydrates:
15
g
|
Protein:
12
g
|
Fat:
23
g
|
Saturated Fat:
13
g
|
Cholesterol:
64
mg
|
Sodium:
1598
mg
|
Potassium:
657
mg
|
Fiber:
5
g
|
Sugar:
5
g
|
Vitamin A:
2265
IU
|
Vitamin C:
155
mg
|
Calcium:
260
mg
|
Iron:
2
mg