Not your average burger! These Pork and Chorizo Burgers are a must have for the BBQ and are delicious, with the Chorizo adding so much flavour.
I'm a big fan of BBQs and, at pretty much any chance we get, we fire up the coals and get grilling.
Maybe it's the eating outside, or that we turn it into an occasion and try to get friends and family round at the same time; a BBQ turns into an event.
However, there's no reason not to have a BBQ at any point, but it can be hard to keep the coals burning when it's raining outside (and that happens a LOT in the UK).
So, there is nothing wrong with preparing BBQ food and cooking it under the grill instead.
Pork and Chorizo burger recipe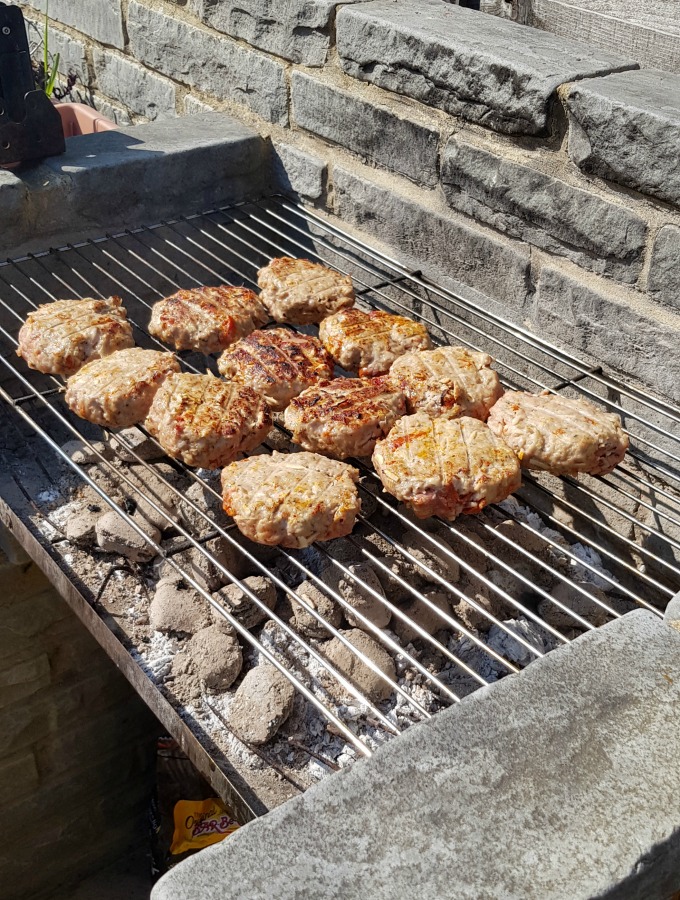 A burger is a must have BBQ food.
Yes, it's easy enough to buy a pack of premade ones from the supermarket, but you'll never regret making your own.
Cost-wise, it works out cheaper in the long run.
Plus, any burgers you make can be frozen so you can pull them out when we finally get a bit of sunshine.
Instead of using just pork in our burgers, adding some chopped chorizo gives such a fantastic flavour.
The burgers are moreish and make your mouth water while they're cooking.
How to make homemade burgers
One of the things about making your own burgers is how simple it is.
Essentially, you pop everything into a bowl, get your hands in and mix it up, then shape your burgers.
You want to aim that each burger is the same size and width. It's essential to do this, so the burgers cook evenly.
To get the same shape burger, measure out a portion into the palm of your hand and roll it into a ball. Then, gently flatten the meatballs, so it's a round burger.
This post contains affiliate links. Find out what this means.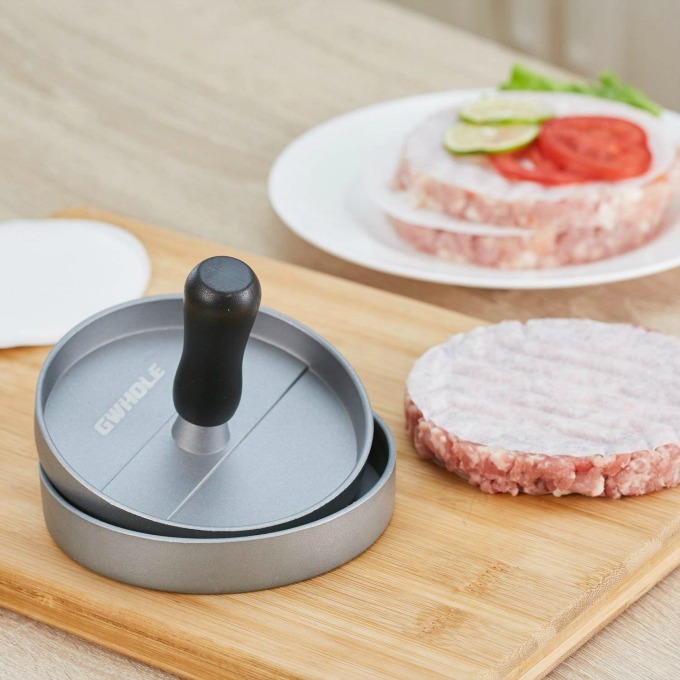 If you don't want to get your hands mucky, or you struggle to get burgers the same size, look to use a burger press like this one on Amazon.
You will get the same sized burgers, with ridges on the surface, so it has a seared effect when cooked.
Using a burger press can also save you time as you can make the burgers a lot quicker.
WANNA SAVE MORE MONEY ON YOUR SUPERMARKET FOOD BILL?
Who doesn't?!
Come and join our Facebook community, Reduce Your Supermarket Spend.
Come and join thousands of people who share their best tips and real-life ideas to keep your costs down.
This is now the biggest supermarket community on Facebook!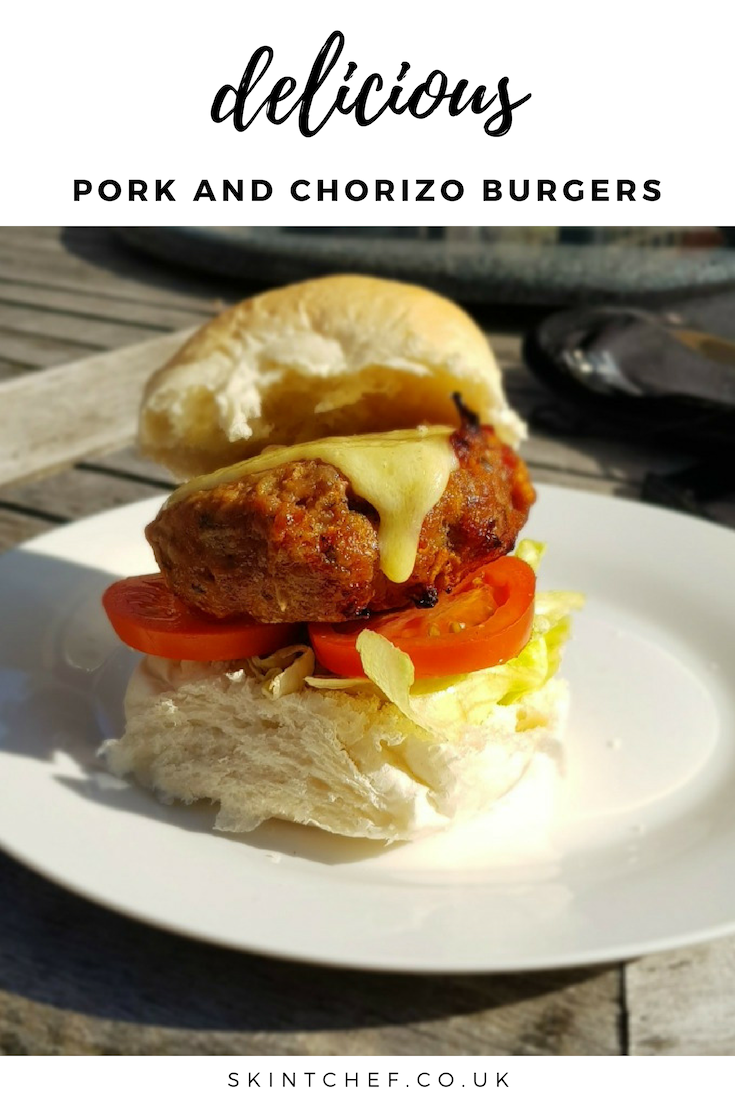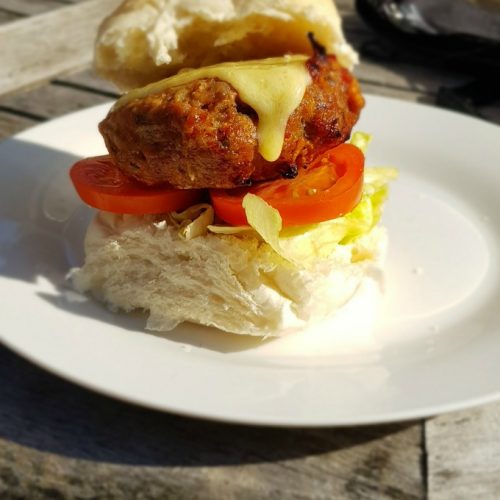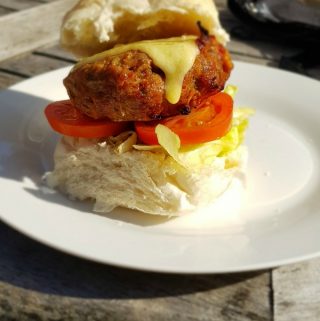 Pork and Chorizo Burgers
Not your average burger! These Pork and Chorizo Burgers are a must have for the BBQ and are delicious, with the Chorizo adding so much flavour.
Print
Pin
Rate
Ingredients
65

g

chorizo

500

g

mince pork

1

slices of bread into breadcrumbs

1

egg

1

teaspoon

garlic granules

1

apples

peeled and finely grated

1

tablespoon

parmesan

1

teaspoon

sage

salt and pepper to taste
Instructions
In a large bowl add all your ingredients and thoroughly mix.

Compact into whatever sized patties you want, preferably the size of your burger buns. Chill for at least 2 hours.

When ready to cook leave at room temperature for at least half an hour, then grill, BBQ or fry until thoroughly cooked.