Try this easy Satay Chicken Curry in a deliciously thick and creamy peanut butter sauce - the whole family will fall in love with it!!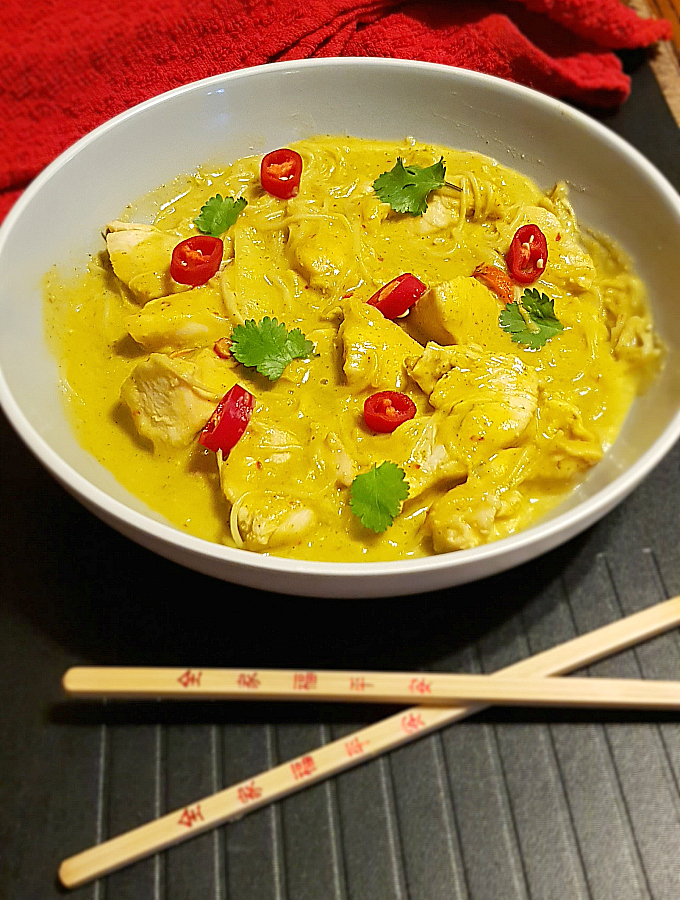 Satay Chicken Curry
When I think of chicken satay, my mind immediately thinks of skewers, but this is far easier.
This recipe is about having a delicious satay sauce and cooking your chicken in it. Rather than the sweet peanut sauce you get from a Chinese takeout, this is a curry - and one you will fall in love with when you try it 🙂
It's not just any curry; adding a Thai red paste gives this recipe such a WOW factor!
It's a straightforward recipe to make and is done in three parts.
First of all, you need to make the marinade for the chicken. It's best if you can leave this for a few hours in the fridge, but overnight is best to allow all the flavours to intensify.
When it's time to start cooking, you next need to get your curry sauce ready. The sauce is delicious peanut butter, with curry infusion that will make the whole family want to eat this curry time and time again!
Finally, when it's time to start cooking the chicken, mix in the creamy sauce.
Ok, so it's probably not the most authentic Thai dish, but it tastes delicious, and it's easy on your budget 🙂
WANNA SAVE MORE MONEY ON YOUR SUPERMARKET FOOD BILL?
Who doesn't?!
Come and join our Facebook community, Reduce Your Supermarket Spend.
Join thousands of people who share their best tips and real-life ideas to keep your costs down.
This is now the biggest supermarket community on Facebook!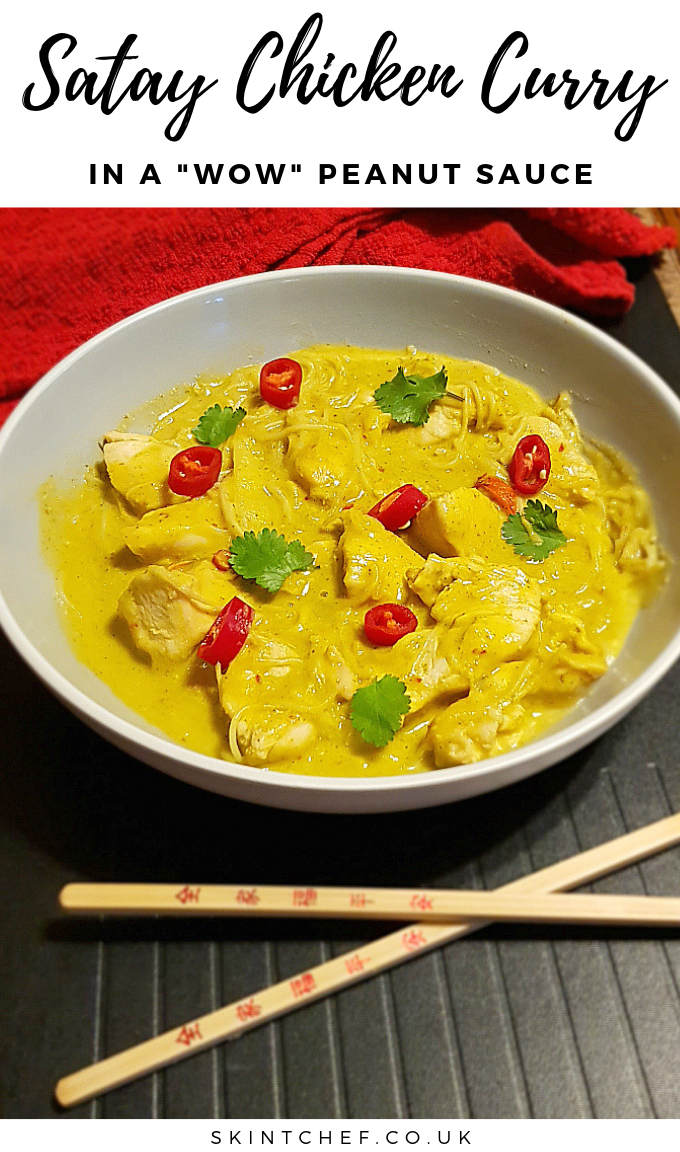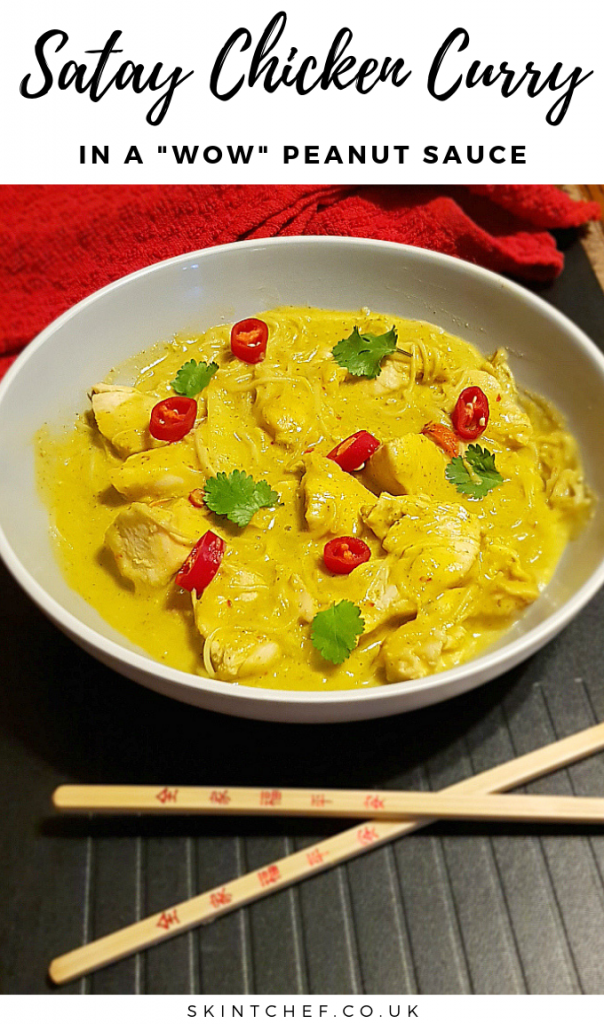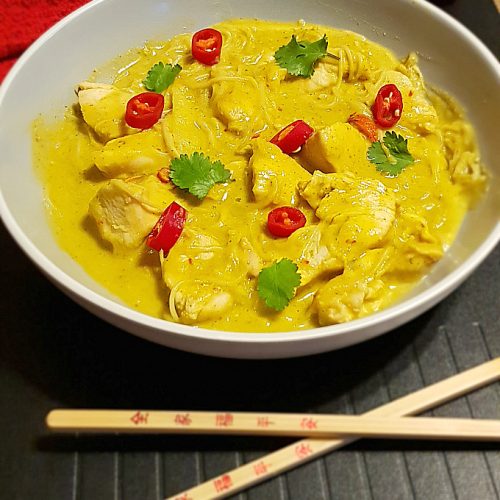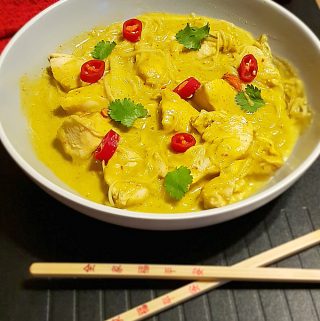 Ingredients
2

teaspoon

light soy sauce

400

g

tinned coconut milk

2

teaspoon

red curry paste

2

teaspoon

brown sugar

2

teaspoon

fish sauce

2

tablespoon

smooth peanut butter

600

g

chicken thigh

chopped

1

teaspoon

garlic granules

30

ml

lime juice

bunch fresh coriander

fresh chillies
Instructions
Marinade
Add 1 teaspoon soy sauce, 100g coconut milk, 1 teaspoon red curry paste, 1 teaspoon brown sugar, 1 teaspoon fish sauce, 1 tablespoon peanut butter, and salt and pepper to taste, in a bowl and mix well. Add the chicken and marinade in the fridge for at least an hour, preferably overnight.
Sauce
Put the remaining coconut milk, soy sauce, red curry paste, brown sugar,  fish sauce, peanut butter, as well as garlic granules, lime juice and ⅔ of coriander in the blender. Blitz in the blender with salt and pepper to taste.
Chicken Satay
Take the chilled marinated chicken and transfer to a non-stick frying pan. Gently brown on medium heat until the chicken has a light brown coating. Pour the sauce over and simmer gently on a low heat for 20-25 minutes until chicken is fully cooked.
Notes
Garnish with coriander, fresh chillies, a wedge of lime and enjoy with noodles or rice.