Save yourself time when making mash swede by getting it to sing to you while it cooks!
You don't even need to peel your swede.
I don't know about you, but I'm thankful to never peel and chop a swede again as it's so tough to do - I just wish I started doing this sooner!
You can easily cook your singing swede in the microwave without all the faff, here's how.
Can you cook Swede with the skin on?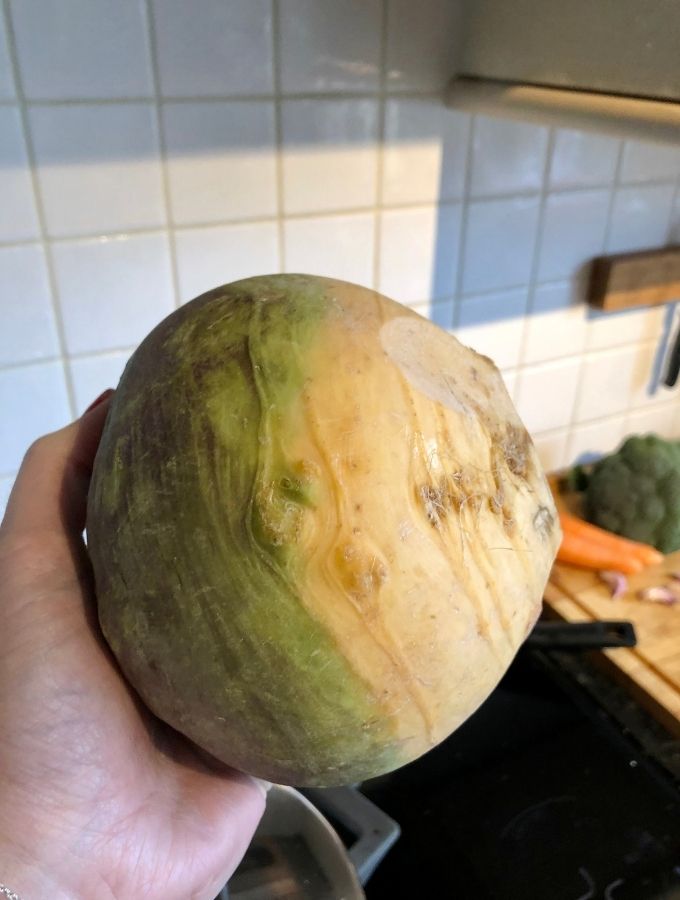 I know there is a worry that the swede might explode, but it doesn't happen.
As the root has already been cut, there is a break in the skin already.
You may have heard of baked potatoes exploding when they are cooked, as they've not been pricked. As steam builds up inside, it explodes. This doesn't happen with a swede as the skin lets the steam escape.
Can you cook Swede in a microwave?
Cooking a swede in the microwave is the only way you'll want to cook them from now on.
It's a fuss-free way to get your side dish to the table so you can concentrate on other things in life.
My favourite thing is that you can cook the swede in the microwave with the skin on.
I HATE trying to peel a swede. It's a hard job and puts me off buying them. The skin is so tough, and it's an awkward shape and wiggles all over the place. I'm surprised I've not cut myself badly in the past!
Cooking your swede in the microwave also means you don't need to bother boiling a pan of water. Plus you also save money as using your microwave is cheaper than using your hob.
How to cook singing swede
Without peeling the swede, place the whole thing into the microwave. Don't place it on its side, or it will roll around.
Be sure to put it onto a plate first as the swede releases sticky-ish liquid. The stickiness washes away easily enough in the sink or dishwasher.
Cook the swede for 15 minutes, then turn it over and cook for a further 10-15 minutes. You can push a skewer through the whole thing to test it's been cooked.
Singing swede
While it's cooking, you will be serenaded by your "singing swede".
It's not exactly singing, but it makes a kinda whistling noise while it's cooking.
Once cooked, let it sit for about 5 minutes as it will be really hot. Cut off the top and you will easily be able to scoop out the soft swede from the skin. Or, cut the swede in half, which may be a little easier.
You will be able to peel the skin straight off.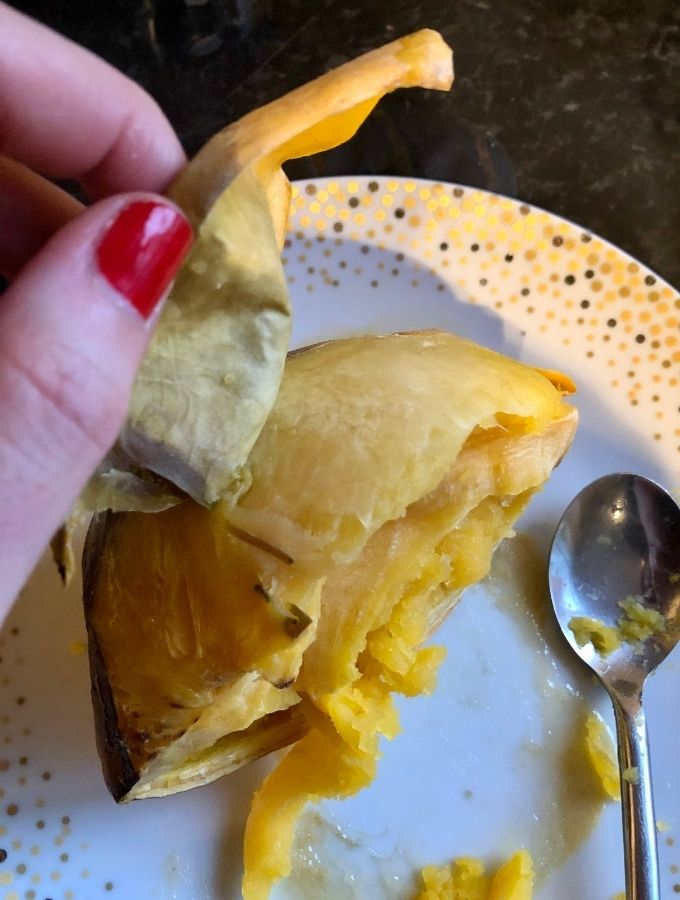 If you want, add a small knob of butter and season with salt and pepper, then enjoy.
I quite like carrot and swede mash, so add cooked, softened carrot to ours too.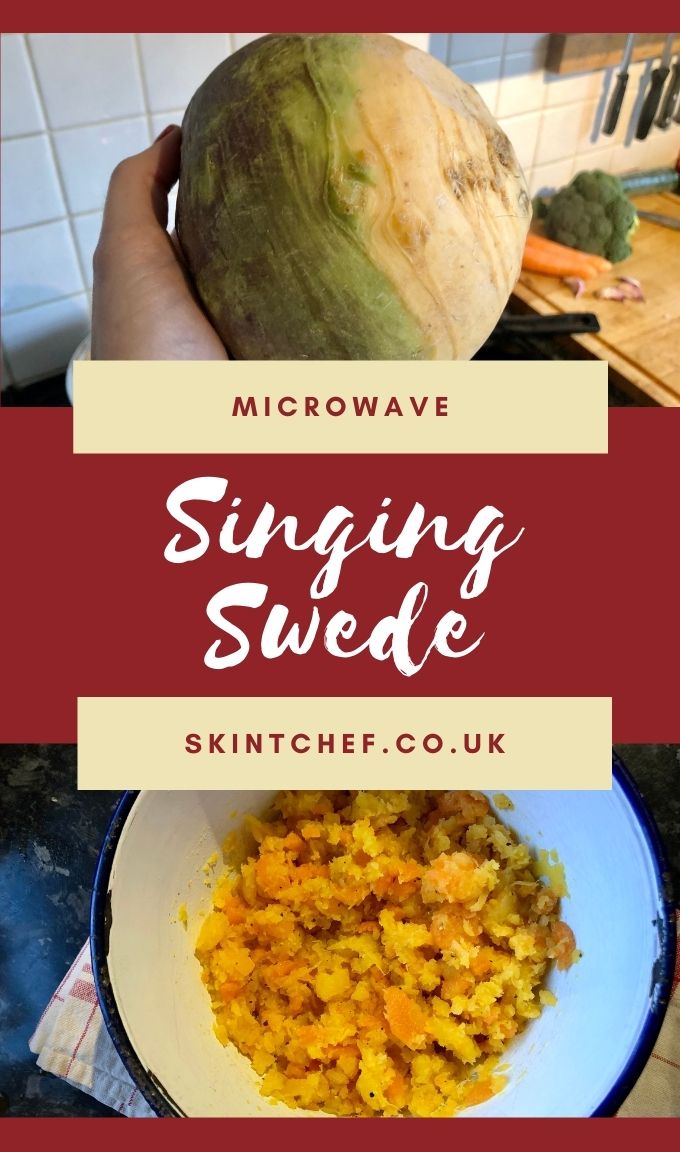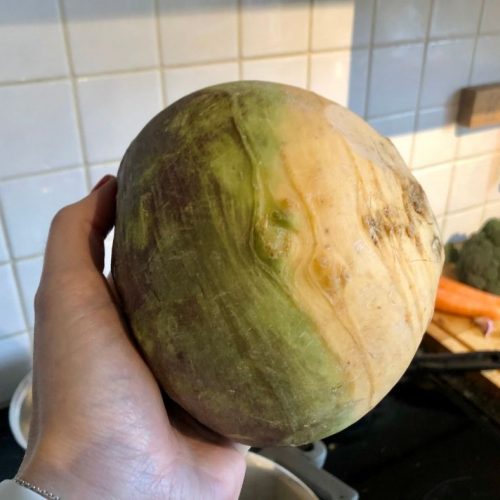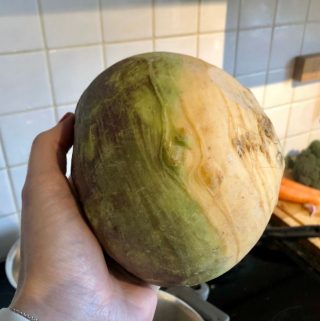 Microwave singing swede
You won't peel or chop another swede again! This is a no prep way to cook mashed swede in the microwave - also known as the Singing Swede.
Print
Pin
Rate
Instructions
Place the swede in the microwave

Cook for 15 minutes then turn

Cook for a further 15 minutes

Allow to cool for 5 minutes before scooping out the swede

Add a knob of butter and seasoning, if you want
Notes
Total cost 90p, 23p per serving
Figures are correct at the time of calculation. Prices are based on a generic, mid-price range supermarket, choosing their own value brand.
Nutrition data provided is provided as an estimate only. It is the reader's responsibility to calculate the nutritional information with the actual ingredients you use in your recipe if you need to follow a particular diet or for medical purposes.
Serving:
4
g
|
Calories:
143
kcal
|
Carbohydrates:
33
g
|
Protein:
4
g
|
Fat:
1
g
|
Saturated Fat:
1
g
|
Sodium:
46
mg
|
Potassium:
1177
mg
|
Fiber:
9
g
|
Sugar:
17
g
|
Vitamin A:
8
IU
|
Vitamin C:
97
mg
|
Calcium:
166
mg
|
Iron:
2
mg