For a no-fuss dinner, try slow cooking your roast pork (plus, you can still have crackling!). Cooked long and slow, your pork will be tender and delicious.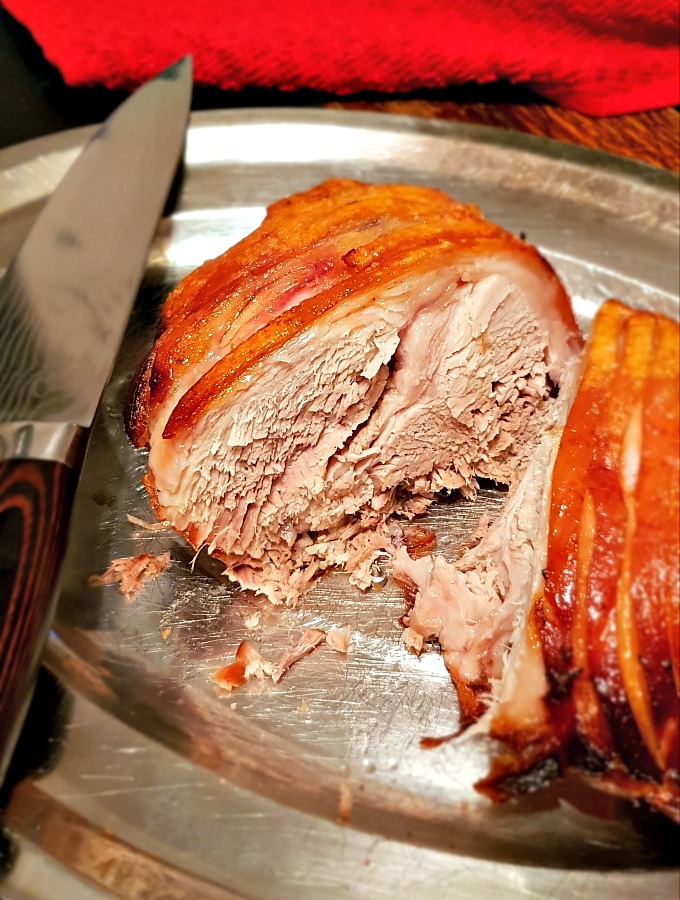 Cooking a roast dinner can take a lot of time.
When you're rushed in the week, the last thing you think about doing is a pork roast dinner.
However, bring out your slow cooker, and you could have a roast every night of the week.
It's totally no fuss.
What I love about cooking a whole joint are all the leftovers.
Yes, it costs a little more money upfront, but you'll feed your family for more than one meal.
The leftovers can do sandwiches or rolls for lunch the next day, get added to a pizza, or why not stretch it and make a pork risotto or pasta bake.
Just remember that this roast pork tastes best with fresh meat – make sure to use a pork joint that has only been bought a couple of days earlier.
How do I slow cook roast pork in the slow cooker?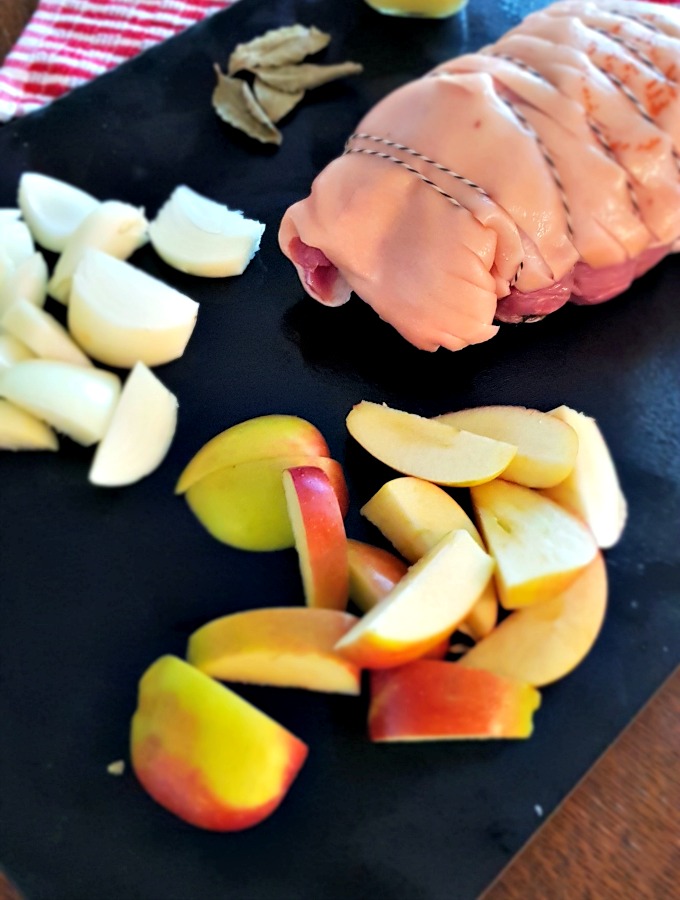 Cooking roast pork in the slow cooker is one of the easiest ways to make dinner.
It uses one of my very favourite methods of cooking ... dump it all in, turn it on and come back hours later.
The pork is deliciously tender, but still firm enough to cut through - perfect!
Hands-off cooking is why my slow cooker is so well used and an essential kitchen gadget.
I even remember the first time we got a slow cooker. I had never used one before then. It's totally changed how we cook pretty much everything.
A family member got us this one about seven years ago and, other than a few dents on the outside; it's still going strong.
Do you remove the skin from pork before slow cooking?
Keep that skin on the pork. Yes, it's not going to look nice, and you'll certainly not want to eat it...yet.
You can cut it all off first, but it's such a faff!
It'll be difficult to do a good job of it unless you spend a bit of time (and who has the spare time?!)
Instead, cook it in the slow cooker with the skin on, and the fat will help enhance the flavours and keep the pork tender and juicy.
You can then cook the whole joint in the oven to make it crispy and make crackling.
Alternatively, you could slide the skin off when it's finished in the slow cooker, and bake it to make cracking on its own.
How long does pork take in a slow cooker?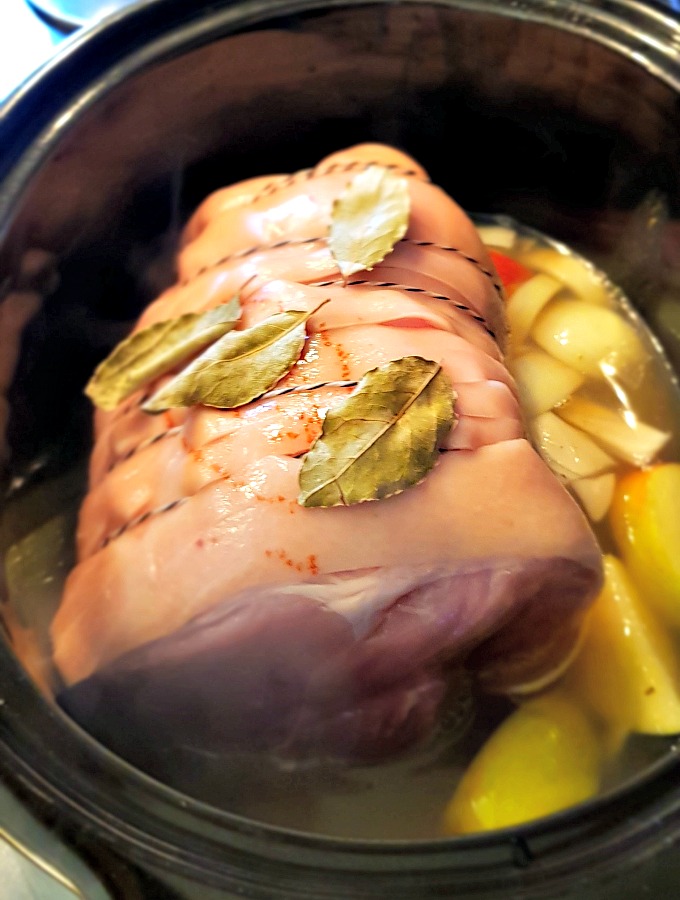 The best thing about the slow cooker is that you cook it slowly.
As you're cooking a large joint, it does benefit if you can leave it as long as possible.
If you cook it on hot for the whole time, you're going to overcook the joint, and you won't enjoy it (and will need double-extra gravy!)
What's best is to start it off on hot for 20 minutes, then turn it to low for the rest of the cooking time.
The time to cook your pork will all depend on the size, so be sure to make your own calculation.
Remember, no matter how tempting it is, keep the lid on. This will keep the temperature and humidity consistent.
If you need to cook it quicker, cut your pork in half as they cook faster.
WANNA SAVE MORE MONEY ON YOUR SUPERMARKET FOOD BILL?
Who doesn't?!
Come and join our Facebook community, Reduce Your Supermarket Spend.
Join thousands of people who share their best tips and real-life ideas to keep your costs down.
From the best time to grab those yellow sticker bargains, sharing meal plans, and even discussing the best supermarket wine offers - the group has a topic for anyone looking to save a few quid.
This is now the biggest supermarket community on Facebook!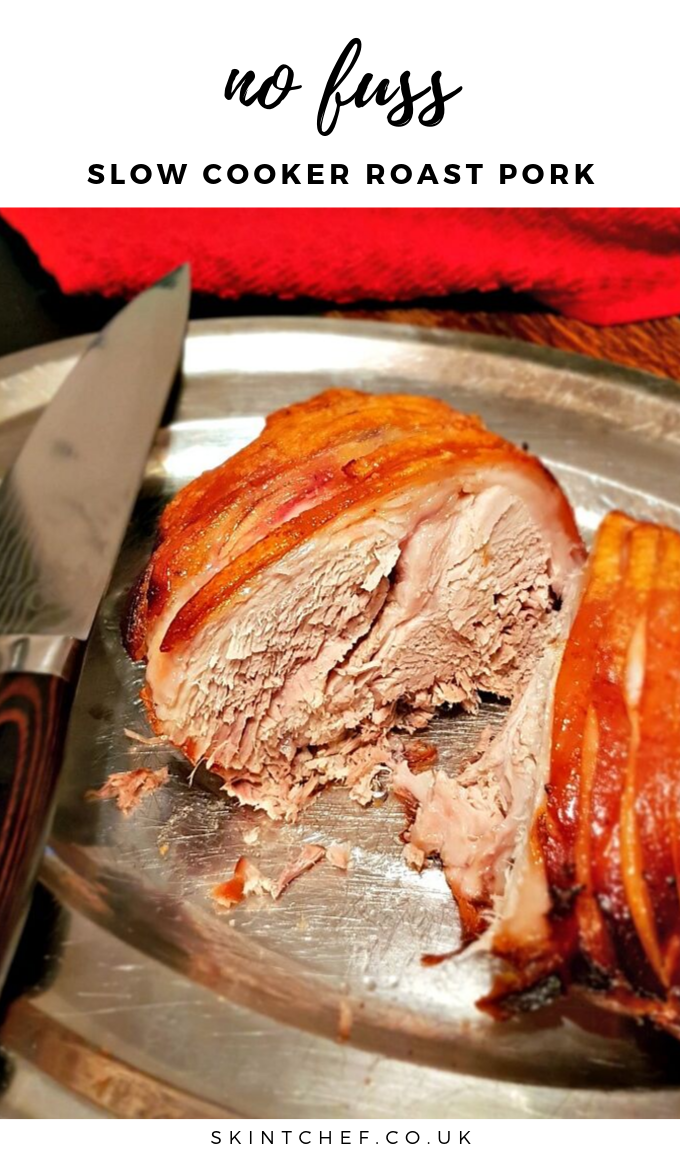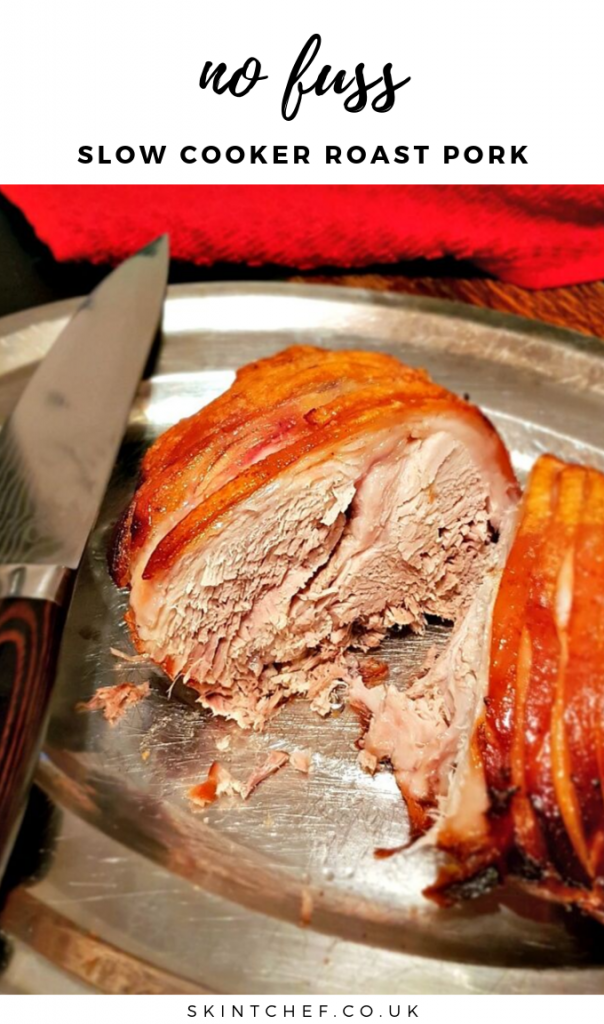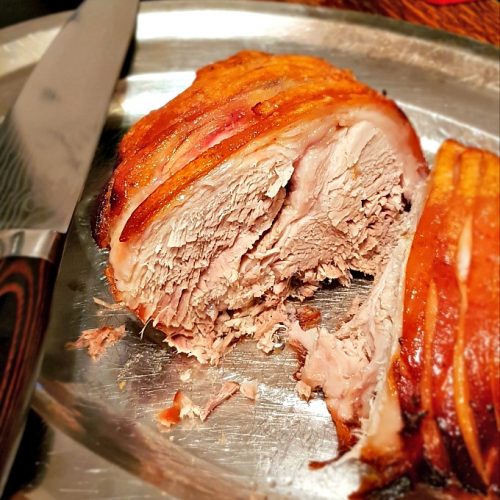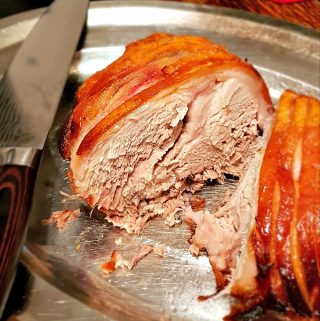 Ingredients
1.5 – 2

kgs

pork joint

4

large cooking apples. cored and chopped

2

medium onions. peeled and roughly chopped

chicken stock, enough to cover the pork meat below the skin

bay leaves

salt & pepper
Instructions
Cut the onions and apples into large chunks and place in the bottom of the slow cooker.

Place the pork on top of the apples and onions and pour in the stock to cover the joint.

Season with salt, pepper and bay leaves and cook on a low setting for approximately 8 hours.

Once done take out and place on a roasting tin. Rub salt over the skin and place in the oven at 190C/gas mark 5 for about 30 – 40 minutes until the skin has nicely crackled!
Notes
Serve with crispy new potatoes, vegetables and gravy – delicious!
And, don't forget the apple sauce.