This stuffed pork loin is filled with spinach and cheese, and is tender, juicy and has a wonderful flavour. It's super easy to make and is a crowd-pleaser.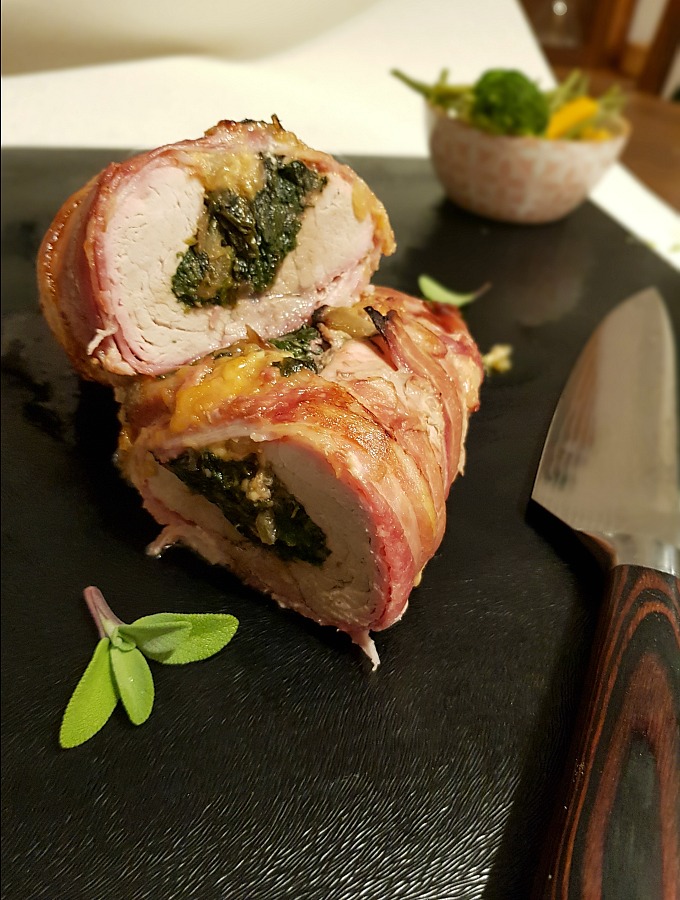 While you may worry this will be hard, this is a straightforward recipe to follow.
And, then you'll have a dinner that is tender, juicy, and wonderful flavour!
Stuffed pork is excellent for a Sunday roast, and it's far more interesting than having a bog-standard roasted joint.
This recipe is easy to love.
How do you butterfly pork loin?
Don't let having to butterfly the pork put you off - once you've done it once, you'll want to do it again and again.
Make sure you've got a sharp knife and, starting at one end of the pork, insert the knife ¾ of the way into the meat. Don't cut all the way through or you'll have two separate pieces.
Continue to cut down the whole length of the meat and open it up, like it's a book.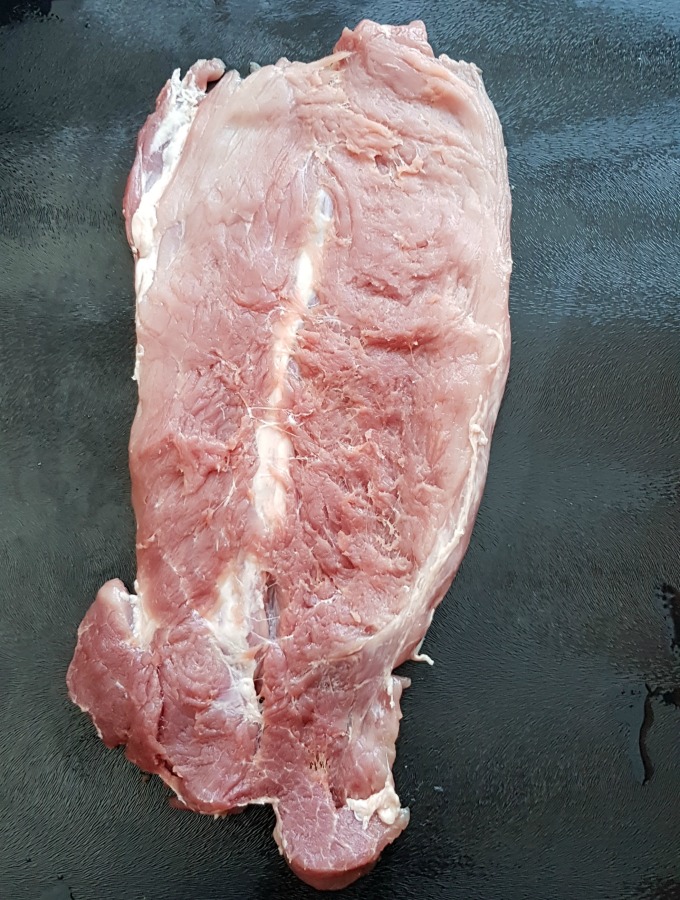 It's best if you flatten the meat down after you've butterflied it, so the filing sits better.
Do you need to tie a stuffed pork loin?
This post contains affiliate links. Find out what this means.
Once your pork loin has the stuffing inside, and you've rolled it up, you will need to secure it. Doing this will stop it from falling apart during baking.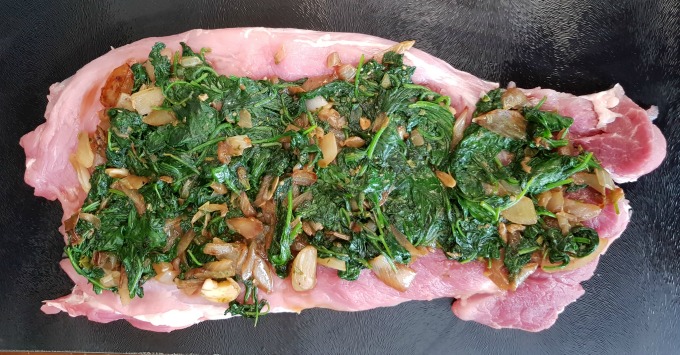 You could use cooking yarn to tie everything together, but that gets complicated.
Alternatively, you could use cocktail sticks through the edges.
However, for this recipe (and because it's delicious) wrap the stuffed pork in bacon.
By doing this, it will allow the pork to be more tender and juicy when it's cooked.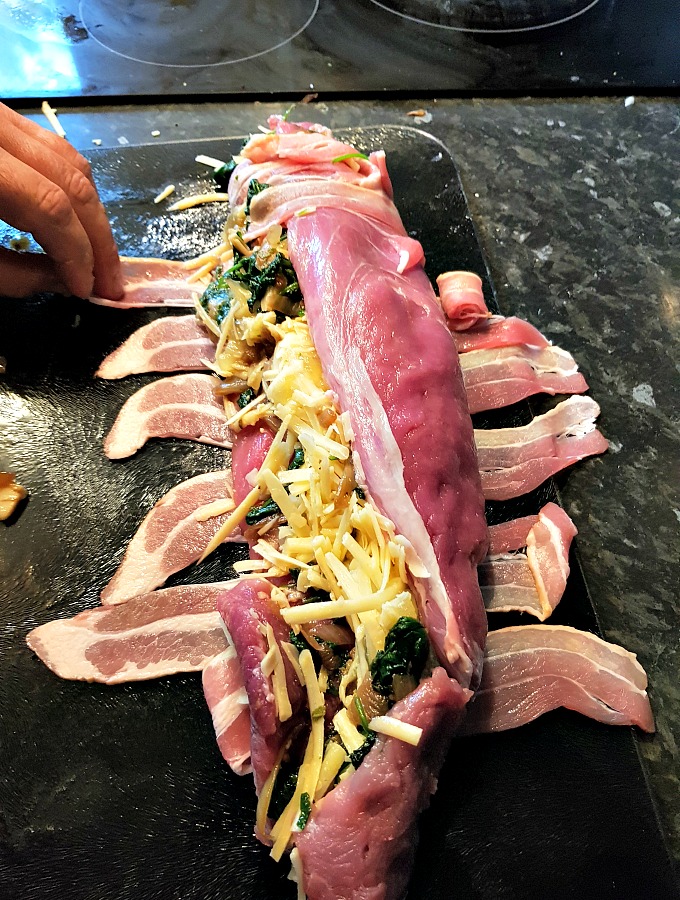 How long do you cook stuffed pork tenderloin?
Make sure to preheat your oven to 190C or gas mark 5.
Before you cook the stuffed pork loin make sure to cover it in foil.
Cooking the pork in foil will allow it to stay juicy and will prevent the wrapped bacon from burning.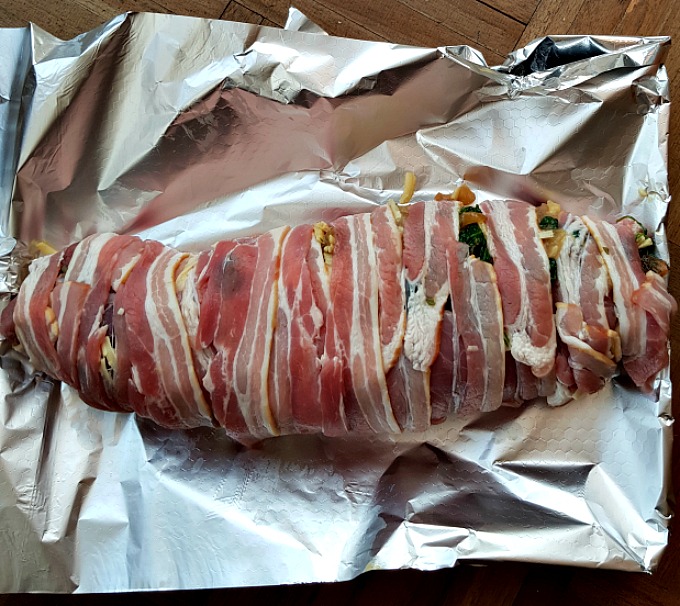 Take the foil off for the last 15 minutes to allow the bacon to crisp up.
WANNA SAVE MORE MONEY ON YOUR SUPERMARKET FOOD BILL?
Who doesn't?!
Come and join our Facebook community, Reduce Your Supermarket Spend.
Join thousands of people who share their best tips and real-life ideas to keep your costs down.
This is now the biggest supermarket community on Facebook!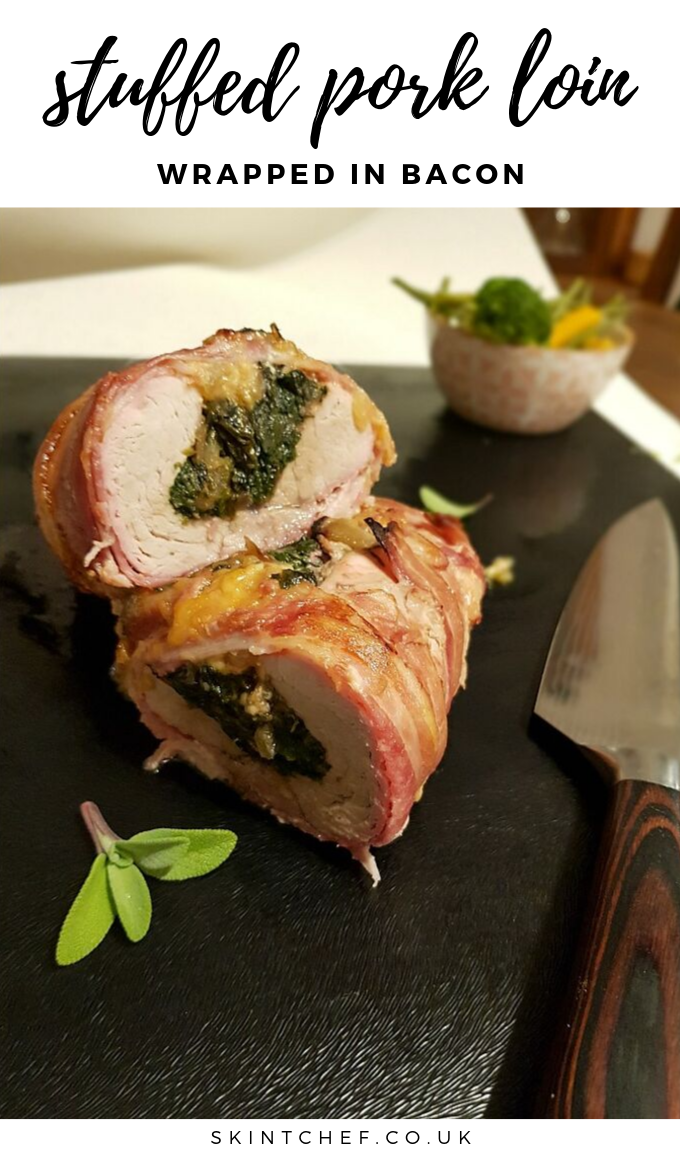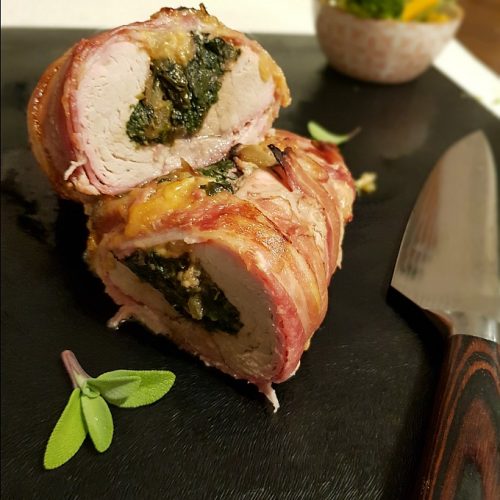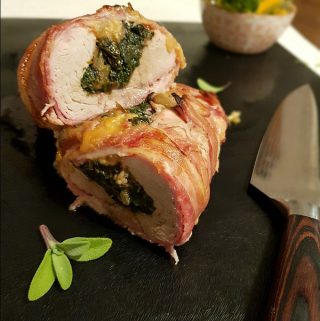 Stuffed Pork Loin Wrapped in Bacon with Spinach and Cheese £1.78 per serving
This stuffed pork loin is filled with spinach and cheese, and is tender, juicy and has a wonderful flavour. It's super easy to make and is a crowd pleaser.
Print
Pin
Rate
Ingredients
650

g

pork loin fillet

£3.60

Dash of oil

1p

1

onion

10p

2

garlic cloves

2p

Handful fresh parsley

free from herb garden

Handful fresh sage

free from herb garden

200

g

spinach

£1.26

1

tablespoon

apple sauce

4p

150

g

cheese

68p

12

slices

streaky bacon

£1.40
Instructions
Butterfly the pork by making a slit along the middle and open it up. Gently beat to flatten.

In a non-stick pan heat the oil and sauté the onion and garlic. Then add the spinach, finely chopped parsley and sage and wilt the spinach.

Remove from the pan and evenly lay on the pork fillet. Top with a layer of apple sauce, then a layer of cheese. Add salt and pepper to taste.

Lay the streaky bacon on a sheet of tin foil. Roll the pork fillet into a sausage shape and place on top of the streaky bacon then fold the bacon over the pork to make a parcel. Cover in tin foil and cook in the oven at 190 C/gas mark 5 for 45 minutes. Remove the foil and then cook for a further 15 minutes to crisp the bacon.
Notes
Serve with mash potato and fresh seasonal vegetables.
Total cost £7.11, £1.78 per serving
Figures are correct at the time of calculation. Prices are based on a generic, mid-price range supermarket, choosing their own value brand.
Nutrition data provided is provided as an estimate only. It is the reader's responsibility to calculate the nutritional information with the actual ingredients you use in your recipe, if you need to follow a particular diet or for medical purposes.
Calories:
648
kcal
|
Carbohydrates:
7
g
|
Protein:
53
g
|
Fat:
45
g
|
Saturated Fat:
19
g
|
Cholesterol:
189
mg
|
Sodium:
795
mg
|
Potassium:
1125
mg
|
Fiber:
2
g
|
Sugar:
2
g
|
Vitamin A:
5089
IU
|
Vitamin C:
17
mg
|
Calcium:
342
mg
|
Iron:
4
mg