Our Chicken Saag Recipe is not too spicy but has delicious flavours. The chicken and spinach curry is a perfect healthy midweek meal.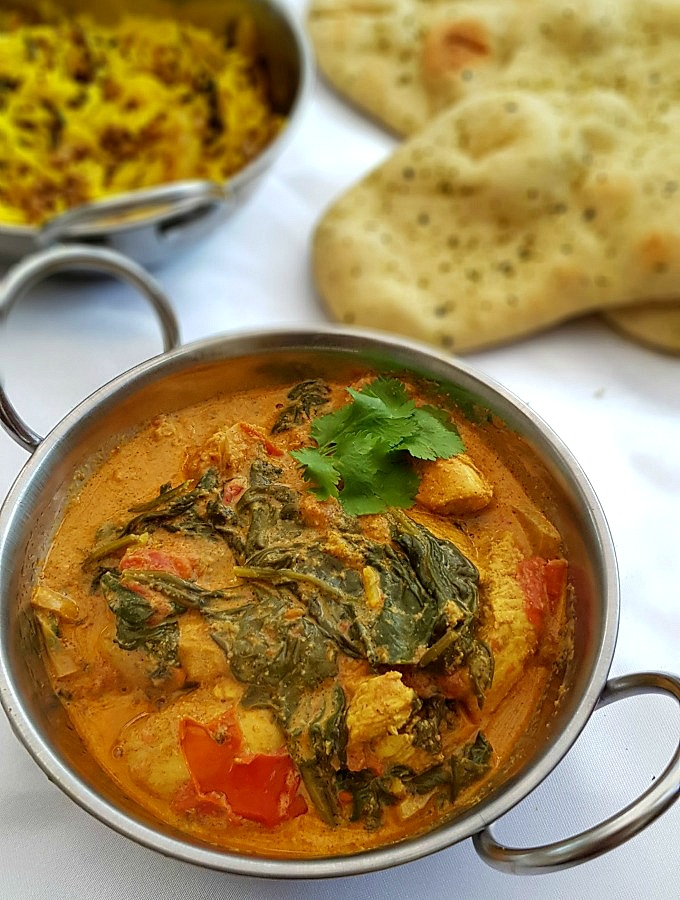 This is a very easy medium spice curry dish that combines chicken and spinach.
It's a recipe that you will often see on an Indian restaurant menu but may have overlooked it (you may have seen it as chicken saagwala instead). Now it's time to change that, by bringing this scrumptious dish into your home.
You'll want this fakeaway recipe to make a regular appearance on your meal plan!
Chicken Saag Recipe
What I love about this recipe is that it's easy to change things up.
For the chicken, I much prefer to use thighs. They are cheaper to buy (#winning), and when you cook them a little longer, they don't dry out as much as chicken breast.
Obviously, it's down to you if you want to use chicken breast, but why not try both and see if I'm right 😉
Other than the delicious blend of spices, the other main ingredient is saag - also known as spinach.
Frozen is always a safe bet when it comes to cooking with spinach. It stores pretty much indefinitely in the freezer and cooks perfectly.
If you'd prefer to use fresh spinach (admittedly, we did for this recipe, as we had a bag in the fridge and didn't want to waste it), then it's a good idea to chop the leaves before cooking.
Now, this is quite a healthy dish, but you can add some cream in at the end if you want a bit of a treat 🙂
I love to eat this curry with a side helping of keema rice, which is simple to make while your curry is cooking.
WANNA SAVE MORE MONEY ON YOUR SUPERMARKET FOOD BILL?
Who doesn't?!
Come and join our Facebook community, Reduce Your Supermarket Spend.
Join thousands of people who share their best tips and real-life ideas to keep your costs down.
This is now the biggest supermarket community on Facebook!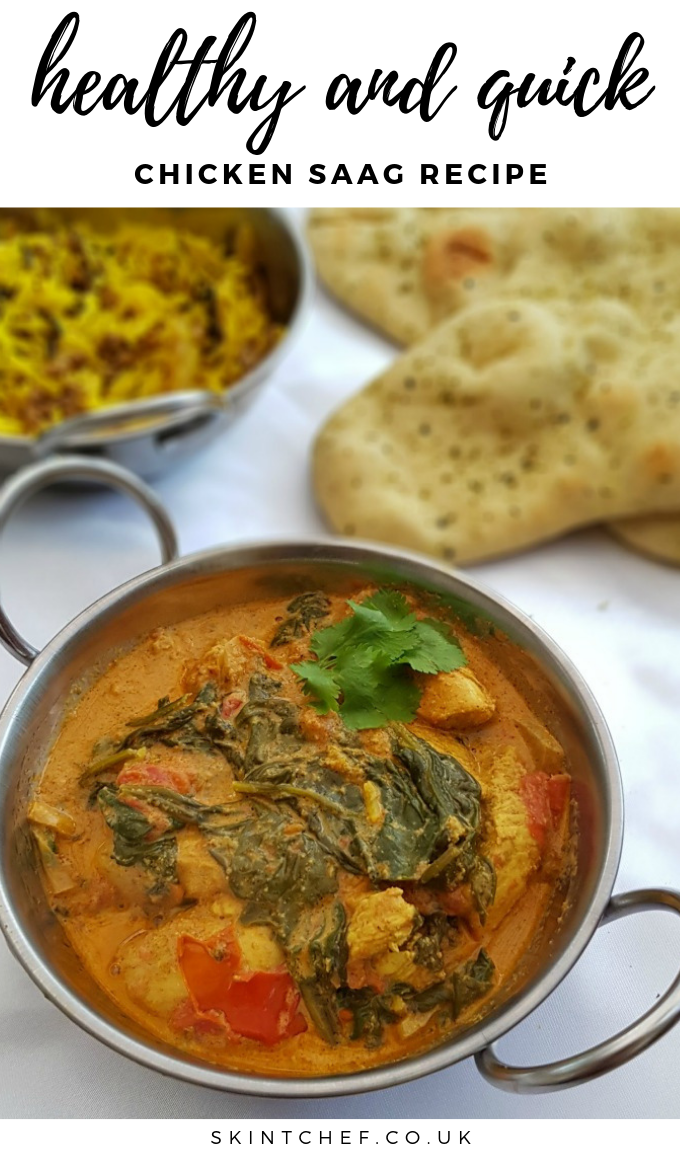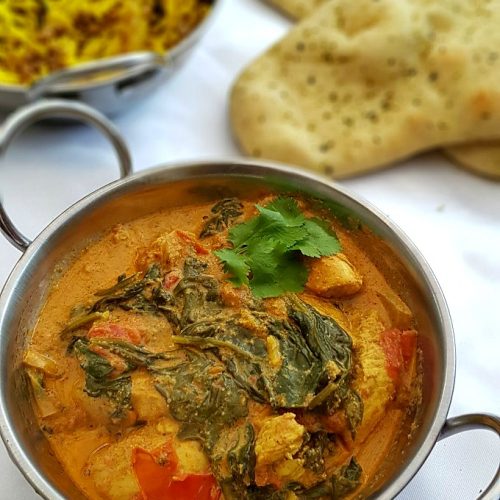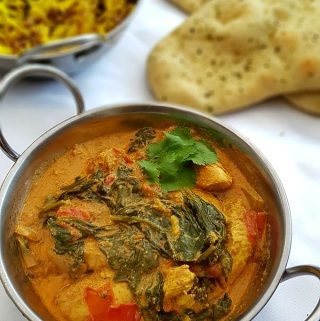 Ingredients
Chicken saag paste
4

garlic cloves

2

cm

fresh ginger

1

bunch fresh coriander

1

teaspoon

cayenne pepper

1

teaspoon

garam masala

1

teaspoon

cumin

1

teaspoon

turmeric

1

teaspoon

paprika
Chicken and spinach curry
500

g

chicken

diced

1

large onion

chopped

400

g

tin of chopped tomatoes

500

g

spinach
Instructions
In a blender place the garlic, ginger, coriander, cayenne pepper, garam masala, cumin, turmeric, paprika, salt and pepper to taste, and blend into a paste.

Place the chicken in a bowl with the spice mix, cover and leave in the fridge for at least an hour, preferably overnight.

In a non-stick pan heat the oil and brown the chicken, then set to one side.

Add a little more oil (if needed, to the same pan and soften the onion for 5 minutes. Add in the tomatoes and spinach, and place the lid on, cooking until the spinach has wilted down. Add the chicken, cook for 10 minutes, then remove the lid and simmer gently until the chicken is thoroughly cooked.
Notes
Serve with delicious homemade keema rice and naans!