You'll want to make this Chorizo Risotto recipe time and time again for an easy midweek meal! It's a big bowl of comfort food!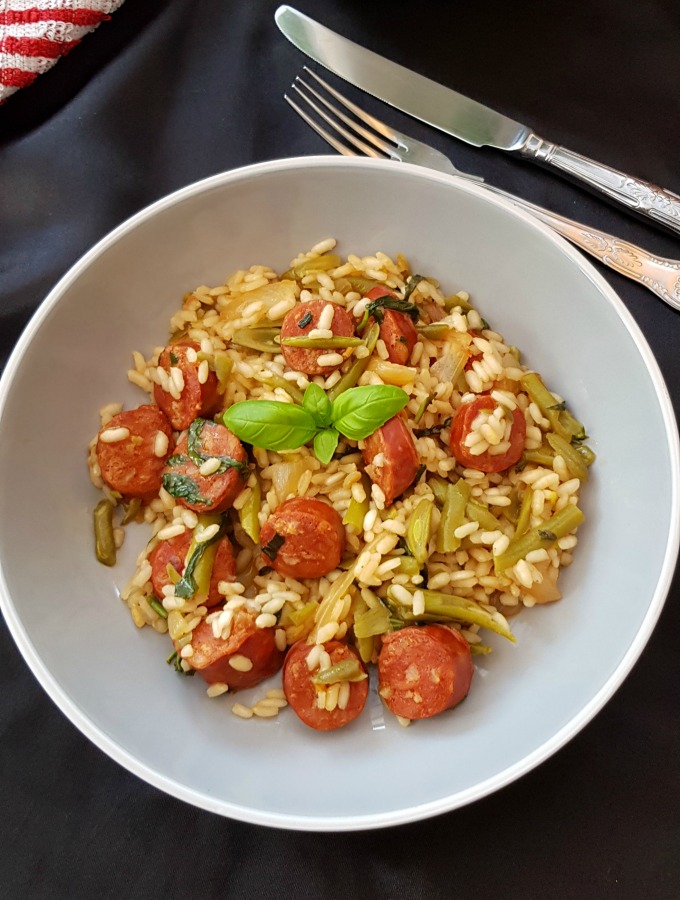 Risottos don't need to be fancy, and they don't really take that long to make.
I used to be put off by the idea as I wanted faster food during the week so we don't fall behind with the bedtime routine. So, I was really surprised how quickly you can have a big plate of chorizo risotto ready to eat.
One thing to mention though is about the rice.
You don't need to go out and buy special rice as plain rice is fine too. You can buy risotto rice if you really want, but it's more expensive than standard plain rice.
Sure, you could pay £2 for a kilo of risotto rice versus 45p per kilo for a "normal" bag of plain rice; but, you can use plain rice for pretty much any dish, rather than having to save it for one particular meal.
There's no competition on your budget, plus it tastes the same 🙂 so why waste your money?
Chorizo Risotto Recipe
You can add pretty much whatever you want to a risotto recipe as it's all about the stock absorbing the flavours into the rice.
For me, I love using chorizo for a few reasons:
Firstly: when I buy chorizo, there is too much in a pack to use for one meal. I HATE food waste, so this recipe makes sure I use it up (why not look to use the rest of it for this delicious Pork and Chorizo Burgers recipe).
Secondly: it's all about the flavour. The chorizo gives a risotto an amazing rich flavour.
As a head's up, you need to take it easy on the salt - really, consider using none to season this recipe as the Spanish sausage naturally contains salt.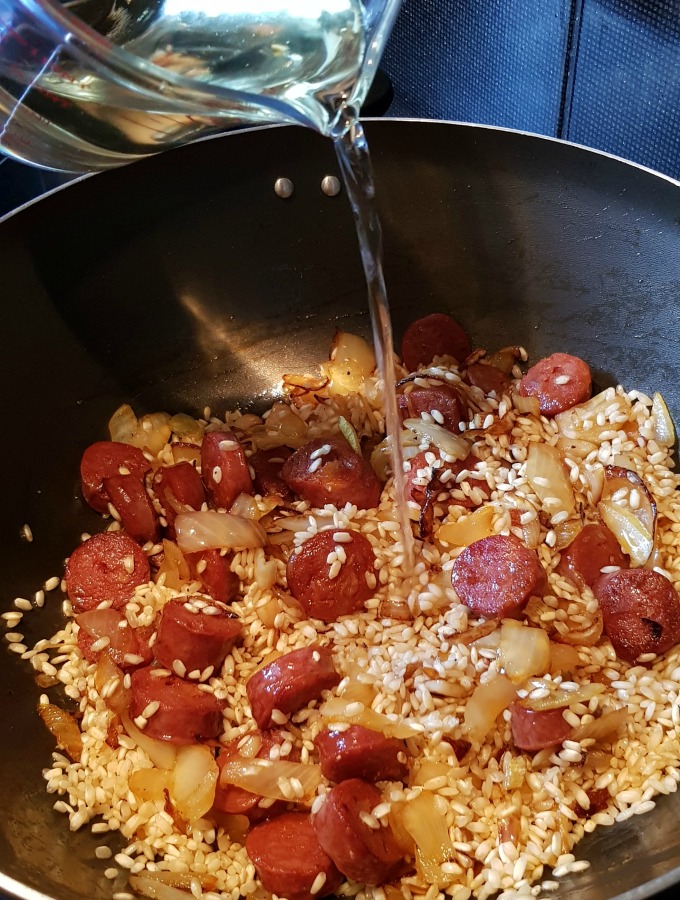 I love a good risotto and I think it makes a great centrepiece on the dinner table.
Instead of dishing everything up, serve your chorizo risotto straight from the pan.
That way, everyone can have the portion they want (plus seconds) and you can mop up any leftovers from the bottom of the pan with a bit of crusty bread. (Please tell me I'm not the only one who does this??!)
WANNA SAVE MORE MONEY ON YOUR SUPERMARKET FOOD BILL?
Who doesn't?!
Come and join our Facebook community, Reduce Your Supermarket Spend.
Join thousands of people who share their best tips and real-life ideas to keep your costs down.
This is now the biggest supermarket community on Facebook!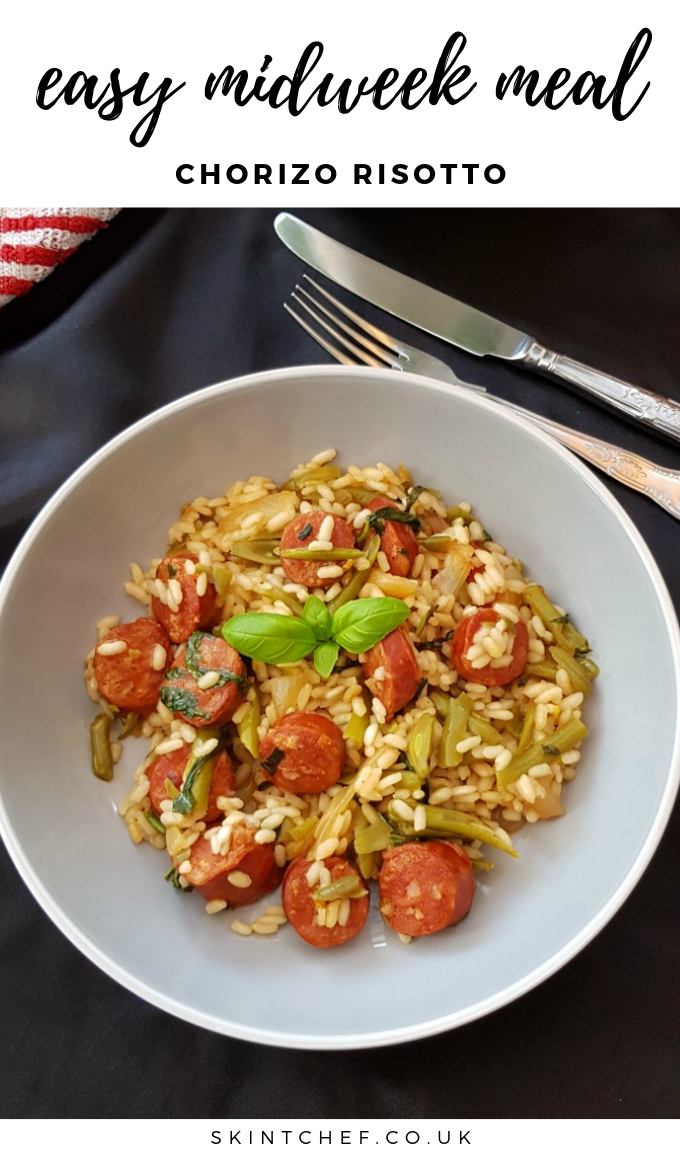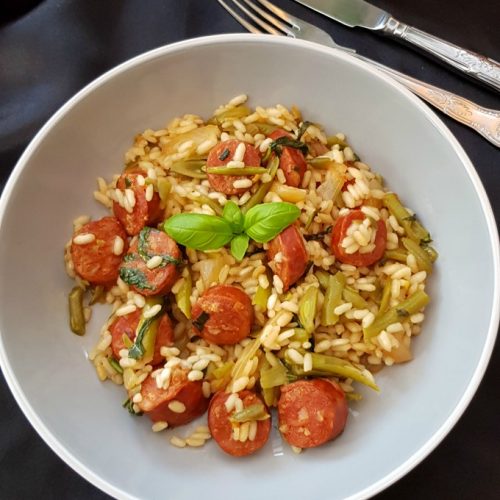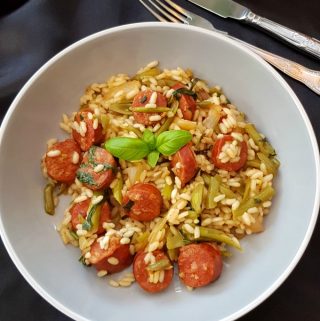 Ingredients
1

tablespoon

oil

2

garlic cloves

chopped

1

large onion

chopped

400

g

chorizo

chopped

300

g

risotto rice

150

ml

white wine

220

g

green beans

1,000

ml

chicken stock

made with 2 stock cubes

bunch chopped basil

1

tablespoon

grated parmesan

1

tablespoon

butter
Instructions
In a non-stick deep based frying pan heat the oil and sauté the onion and garlic until lightly brown.

Add the chorizo and cook for a further 5 minutes.

Add the risotto rice, making sure you stir the rice round the pan till all the oils are absorbed (approx 2-3 minutes). Then add the white wine, green beans, salt and pepper to taste, and cook until the fluid reduces down.

Add 250 ml of your stock. Cook until this has reduced right down (about 6-8 minutes), and then use another 250 ml of the stock, reduce, add 250 ml of stock and reduce. Add the last of the stock and the basil, and cook until the stock reduces down. Then sprinkle the Parmesan, add the butter and mix thoroughly. Take the risotto off the heat, place a lid on the pan until the butter is melted, then serve!
This recipe calls for wine. Usually, I'd say to not bother, but it does help bring the dish together. Don't just buy a bottle, wait until you can make some huge savings like the 25 off wine deals.