There's nothing better than a homemade lasagne! This is a classic, yet basic and easy lasagne recipe that the whole family will love.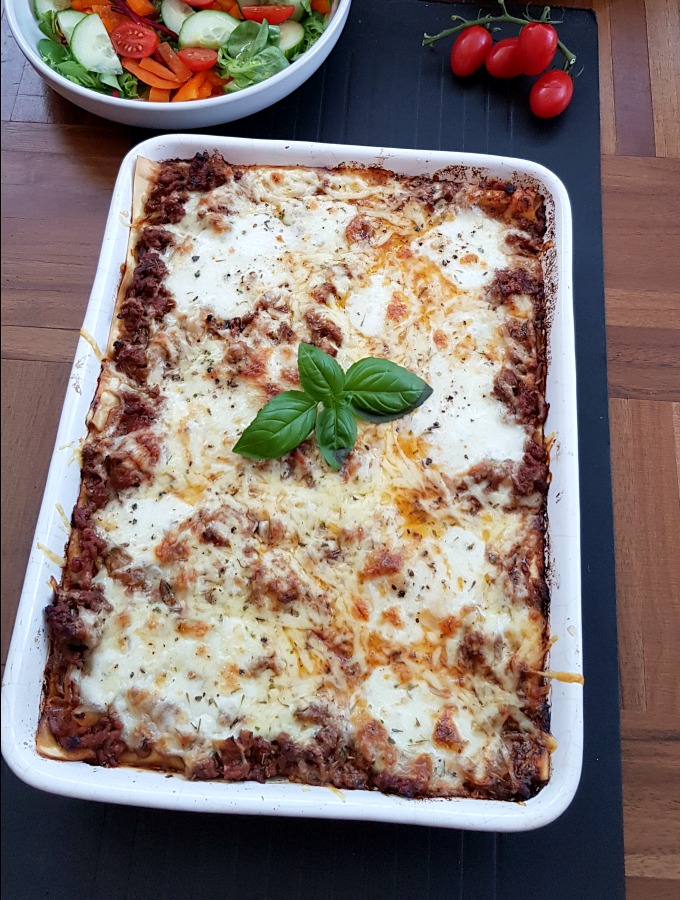 Making a lasagne from scratch can take a bit of time, but it is still easy to do.
Sometimes, I wonder whether it'd be easier to keep it as a Bolognese; but then I remember how delicious it is when it all comes together, and I carry on.
Easy lasagne recipe
Think you're too busy to make a lasagne? Think again.
Leave that pre-made meal on the supermarket shelf and try this!
And, don't even think about wandering down the sauces aisle - yes, I'm talking to you 😉 . Keep those pennies in your pocket as it's super simple - and really cheap - too cook this dinner from scratch.
The whole family will love how scrumptious your homemade lasagne is and will want to eat it, time and time again.
When we can make this, and it can be ready to serve up in about 30 minutes - probably about the same time as it takes to reheat a supermarket ready meal.
The trick is to use your time wisely.
White sauce
You can make your white sauce (also known as béchamel sauce) at the same time while cooking your lasagne sauce.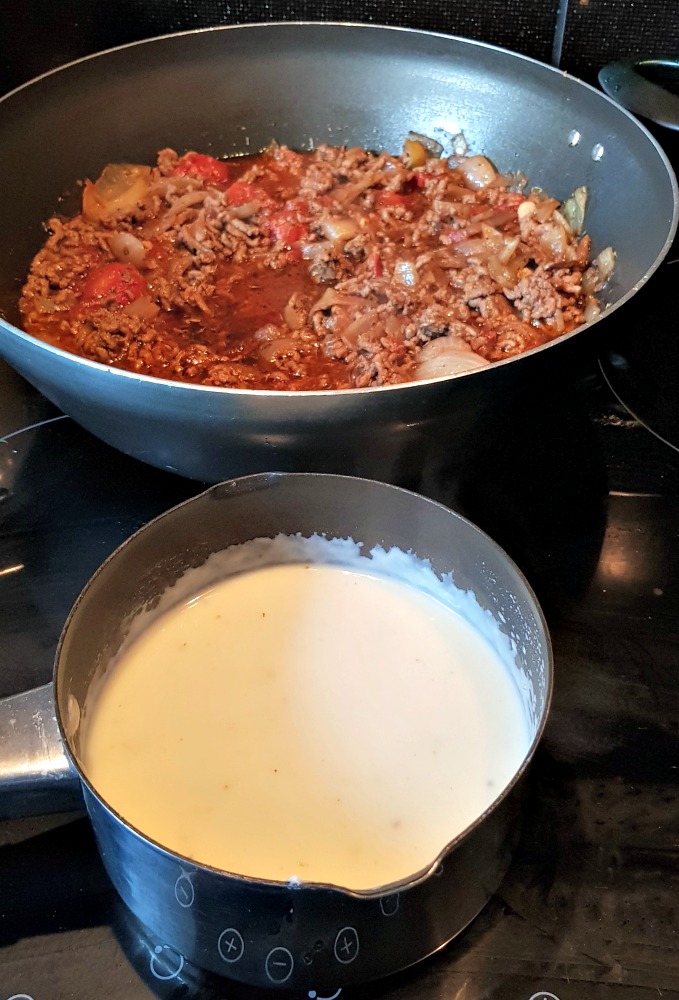 A basic white sauce does need a bit of attention to stop it from sticking and going lumpy. It won't take more than about 10 minutes of stirring to get it ready (and it's worth it!).
There is no reason you can't start frying your onions, and browning your meat while you're cooking your white, silky sauce. And, as an added bonus, it speeds up how much time you need to spend in the kitchen and get dinner on the table quicker 🙂
A simple white sauce is made using butter, flour and milk. They are all store cupboard basic ingredients, so it's an easy thing to make up.
Making the lasagne
When you've got your fillings ready, it's then just a matter of layering everything up.
Place enough lasagne sheets on the base of your dish, add a layer of mince, then a layer of your smooth white sauce.
Repeat this until everything is used up.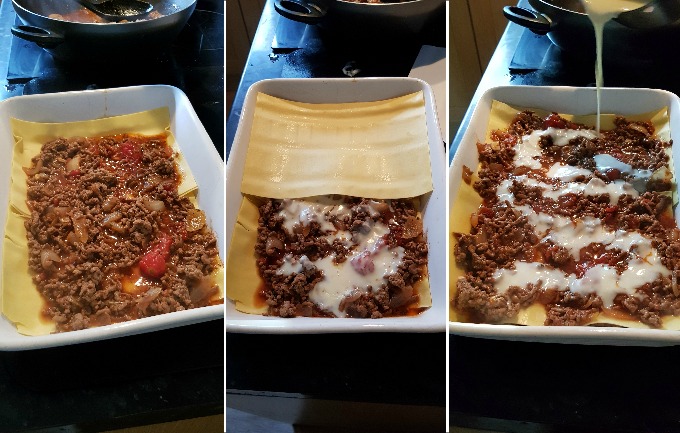 On the top, scatter over your cheese (trying not to eat too much (guilty!)) and cook in the oven until the cheese is a lovely golden colour.
For the pasta, you can use either dry or fresh pasta sheets.
Dry lasagne sheets will work out cheaper; however, you will either need to cook your lasagne for longer or boil the sheets for around 8 minutes first.
If you're going to add them to your lasagne dry, you need to cover the lasagna with foil and cook it in the oven for around 20 minutes. At this point, take it out and check the sheets using a sharp knife. If it goes through easily, they are cooked (if not cook for a further 5 minutes). Then remove the tin foil and cook for a further 10 minutes to allow the cheese to brown.
WANNA SAVE MORE MONEY ON YOUR SUPERMARKET FOOD BILL?
Who doesn't?!
Come and join our Facebook community, Reduce Your Supermarket Spend.
Join thousands of people who share their best tips and real-life ideas to keep your costs down.
This is now the biggest supermarket community on Facebook!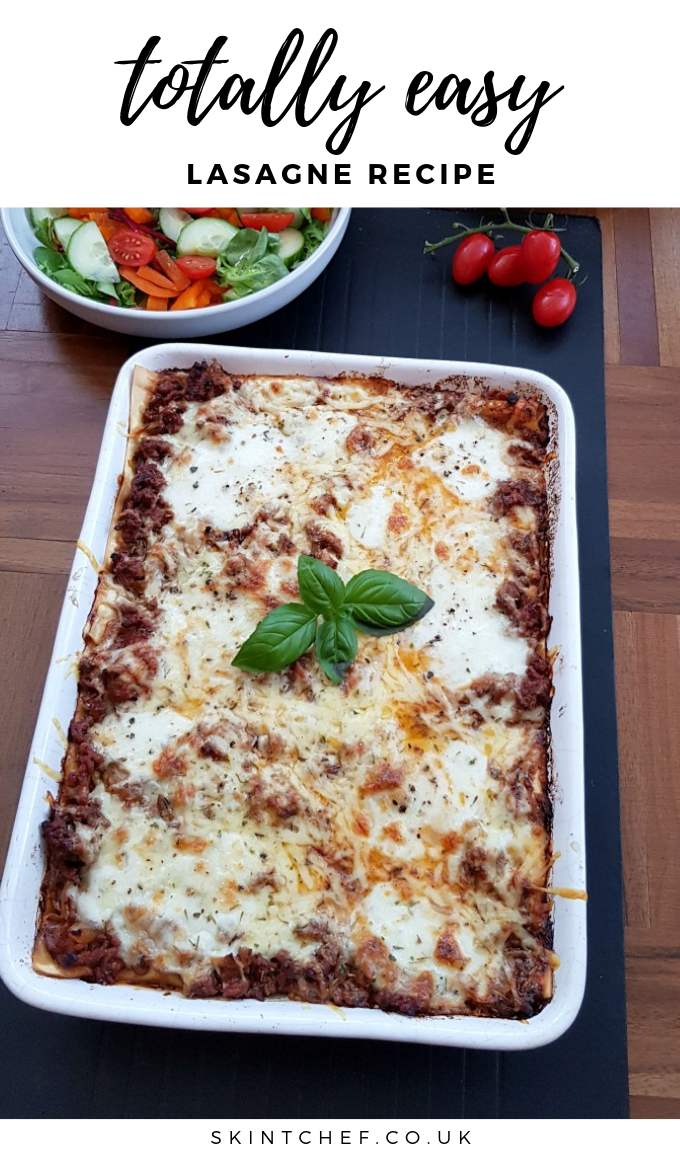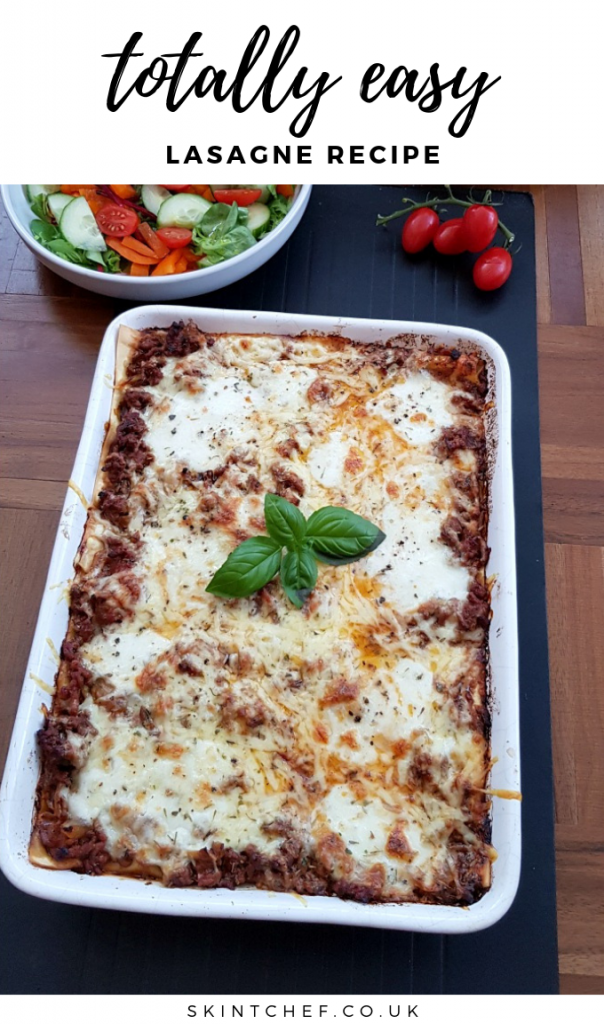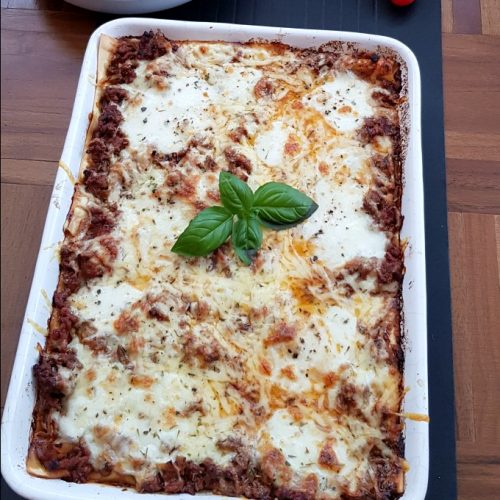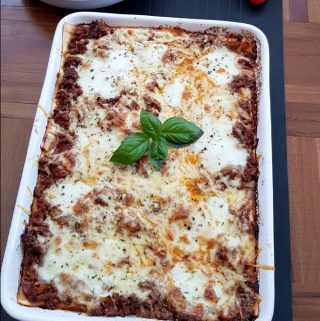 Easy Lasagne Recipe
There's nothing better than a homemade lasagne! This is a classic, yet basic and easy lasagne recipe that the whole family will love.
Print
Pin
Rate
Ingredients
White Sauce
25

g

margarine/butter

25

g

plain flour

1 ½ tbsp

1

garlic clove

500

ml

milk
Lasagne filling
1

large onion

chopped

2

garlic cloves

chopped

500

g

minced beef

400

ml

beef stock

400

g

tinned tomatoes

1

teaspoon

mixed herbs

1

tablespoon

tomato puree
Lasagne
6

lasagne sheets

200

g

grated cheese

1

ball of mozzarella

optional
Instructions
White sauce
In a non-stick pan melt the butter on a medium heat and then add the flour to make a thickening agent for the sauce.

Add the garlic clove and then slowly add the milk constantly stirring. Add salt and pepper to taste and stir until thickened. Remove the garlic clove.
Lasagne filling
In a non-stick pan, sauté the onions and garlic until lightly brown.

Add the mince and cook until mince is browned. Add the beef stock, tinned tomatoes, tomato puree, mixed herbs, and salt and pepper to taste, and cook for a further 5 -10 minutes until bubbling gently.
Easy lasagne
In your dish place 2 lasagne sheets, then a layer of mince, then a layer of white sauce, repeat the layers until all the mince and sauce are used.

On the top place your grated cheese (and mozzarella, if usinand cook in the oven at 190 C/gas mark 5 until the cheese is browned on the top.