This easy Chicken Korma Recipe with coconut milk is a rich and creamy curry, without too much spice. It doesn't take long to make so is perfect as a family-friendly mid-week meal.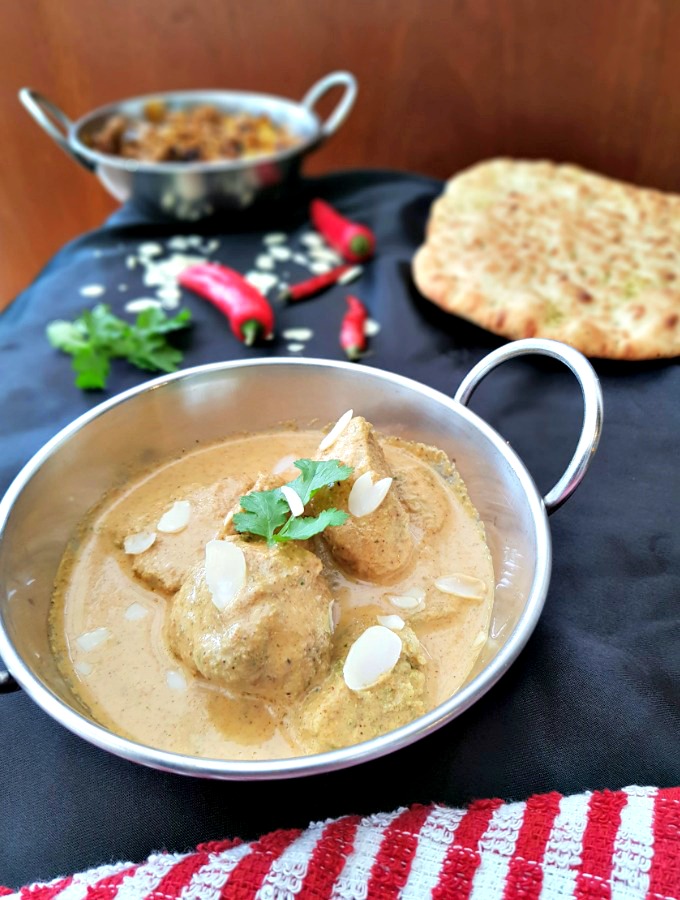 Making a good fakeaway curry at home may sometimes feel like a bit of a faff. If you look down the ingredients list, it does look like a lot of things to add, but it's so worth it for the flavours.
Plus, a lot of these ingredients last for pretty much ever. You can use the spices over and over again for this recipe and for all sorts of other dishes so that nothing will get wasted, and it's always useful having essentials in your store cupboard so you can whip up a tasty meal from scratch.
One of the things I love about this delicious korma is that it doesn't take a whole lot of preparation time – other than chopping up an onion and blitzing the spices to make the korma paste.
Because this curry doesn't take long to make, it's a perfect mid-week meal. It's also very mild, which means it's a great curry to introduce to younger children.
---
For the full list of ingredients and printable instructions, please see the recipe card at the end of this post. But, before you scroll straight there, take a look at the useful info just below.
---
What is korma made of?
A korma is a mildly spiced curry that has a thick sauce – which makes it perfect for kids (or grown-ups) who aren't great with very hot foods.
While this may not be an authentic chicken korma recipe, I find it hard to work out what is!
There are so many recipes out there, with some many different variations. But our chicken korma recipe has been tried and tested to get a great balance of flavours and spice that the whole family love!
The korma sauce a mix of coconut milk and almonds, which get blended with Indian spices including ginger, cumin, garam masala and turmeric.
How do you make an easy chicken korma recipe coconut milk?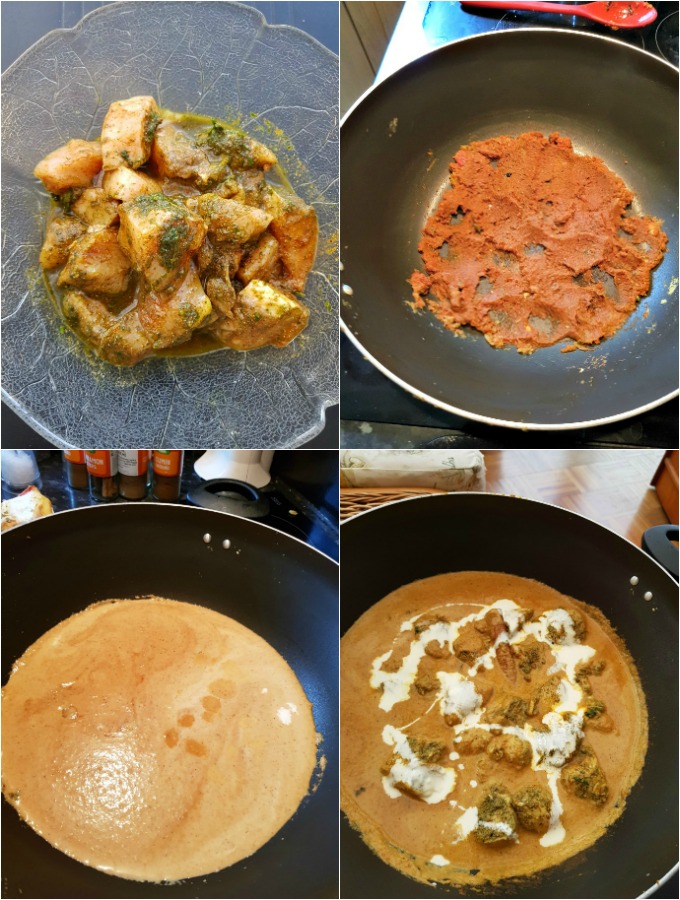 Making a chicken korma doesn't take long.
Take a minute or so to blitz spices together in a blender to make a paste to marinate your chicken.
You can then cook part cook the chicken and set it to one site. If you cook it too long, you may find the chicken dries out.
We usually use chicken thighs. Not only does it work out cheaper to cook than other cuts, but it stays really moist after cooking.
We then start to make the korma sauce, stirring in the coconut milk and adding the chicken towards the end, letting it gently simmer and thicken up.
What do you serve with chicken korma?
Personally, as the sauce is thick, I think this curry calls for both rice and naan bread.
You can go simple and serve with Basmati rice, but I love keema rice, which is super-simple to make too.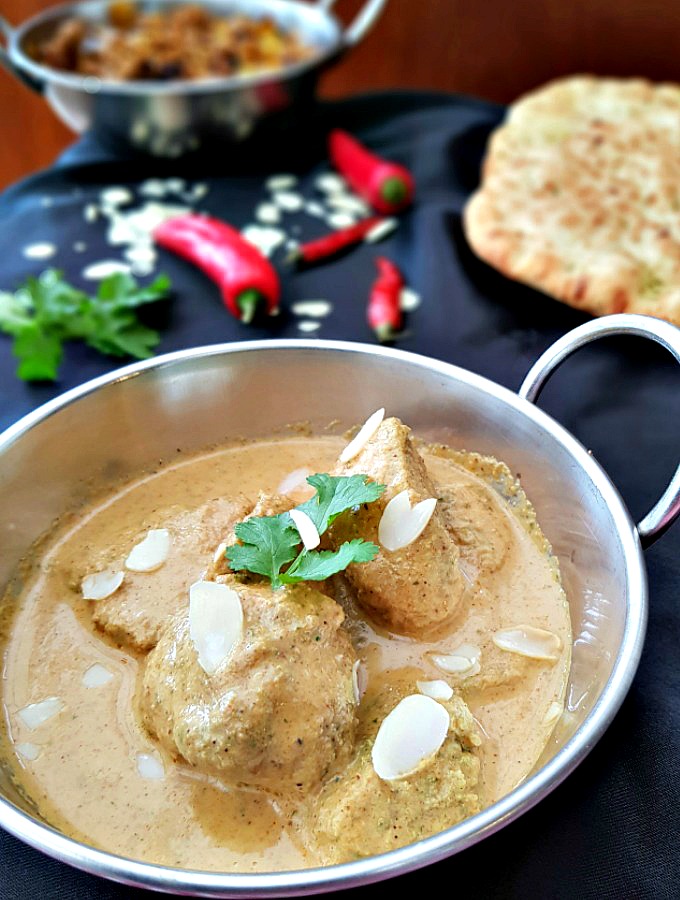 Why not add some poppadums, a yoghurt and cucumber dip, along with some mango chutney as an appetiser for hungrier tummies while you're serving up.
(Parenting tip: be sure to keep some poppadums back so you don't miss out 'cause they get eaten far too quickly in our household!)
Can you freeze chicken korma?
This post contains affiliate links. Find out what this means.
Curries are usually great to freeze as there is enough liquid to prevent any freezer burn.
However, a chicken korma contains milky ingredients from the coconut and cream so you might have different results.
If you freeze and reheat chicken korma, it will still be fine to eat, and the milk should stabilise as it's mixed with other ingredients. But, sometimes, it may look a little grainy and it there is a potential for it to split slightly as it thaws.
Make sure to cool the curry before you put it in the freezer, making use of freezer-safe airtight boxes (like these ones on Amazon), and label them, so you don't have freezer surprise! Store them in the freezer for no more than 3 months and make sure to reheat the curry until it's very hot.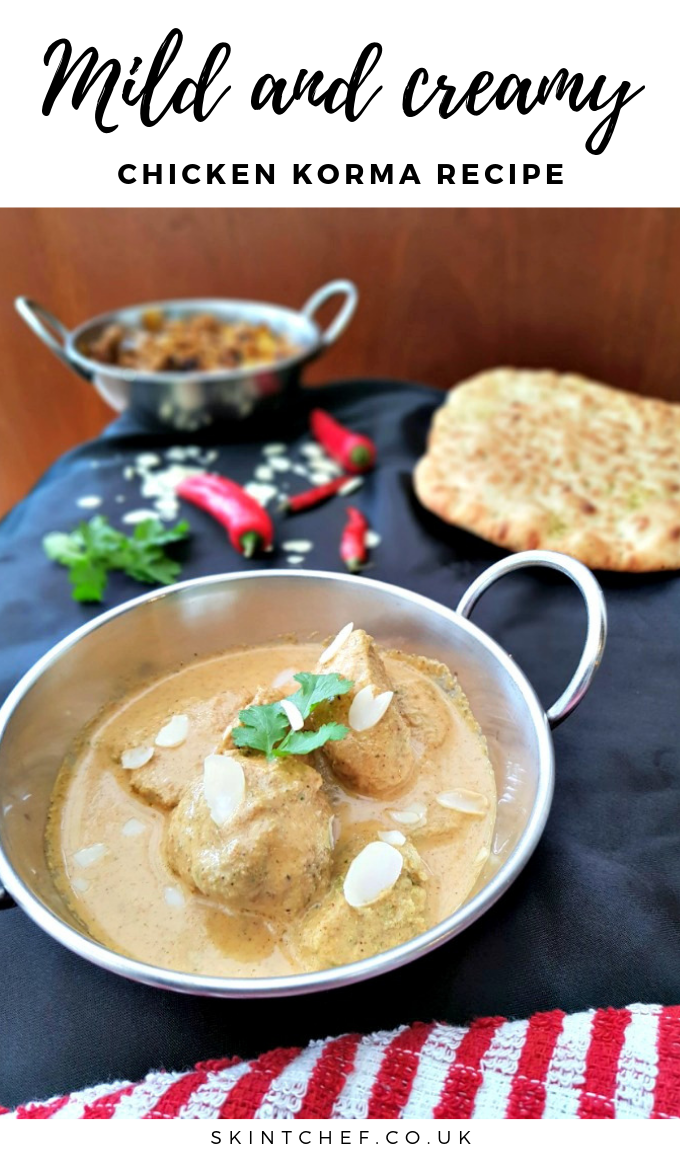 WANNA SAVE MORE MONEY ON YOUR SUPERMARKET FOOD BILL?
Who doesn't?!
Come and join our Facebook community, Reduce Your Supermarket Spend.
Join thousands of people who share their best tips and real-life ideas to keep your costs down.
This is now the biggest supermarket community on Facebook!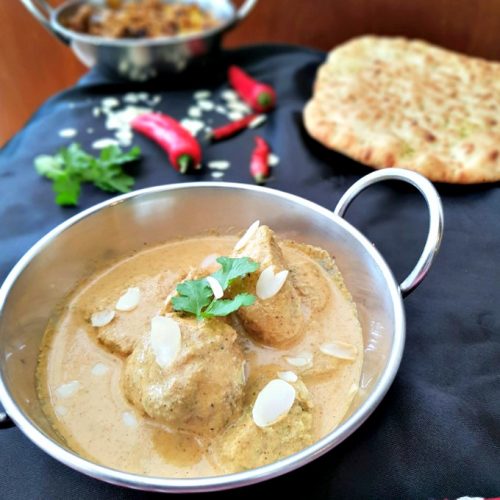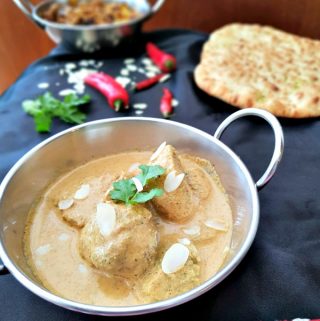 Easy Chicken Korma Recipe with Coconut Milk £1.12 per serving
This easy Chicken Korma Recipe with coconut milk is a rich and creamy curry, without too much spice, that doesn't take long to make so is perfect as a family-friendly mid-week meal.
Print
Pin
Rate
Ingredients
Korma paste and marinade
Bunch fresh coriander

(free)

1

inch

stalk fresh ginger (about 5g)

(2p)

1

teaspoon

hot curry (or 2 teaspoon mild curry powder)

(7p)

1

teaspoon

garam masala

(13p)

700

g

chicken thighs

(£1.24)
Korma curry
2

tablespoon

oil

(3p)

4

garlic cloves

(4p)

1

large chopped onion

(10p)

2

tablespoon

tomato puree

(13p)

½

teaspoon

crushed cardamom

(10p)

1

tablespoon

all spice

(13p)

½

teaspoon

nutmeg

(7p)

1

teaspoon

cumin

(10p)

1

teaspoon

turmeric

(10p)

1

tablespoon

white sugar

(1p)

400

g

tin coconut milk

(90p)

1

cinnamon stick

(45p)

60

g

flaked almonds

(75p)

2

tablespoon

double cream

(10p)
Instructions
Korma paste
In a blender add the fresh coriander, ginger, curry powder and garam masala, and a couple of tablespoons of water, blitz to make a korma paste. Transfer onto your chicken and marinade for at least 30 minutes, but ideally 2 hours.

Add a little oil to a non-stick pan and cook the chicken for 10 minutes until mostly cooked. Put it to one side to finish cooking later on.
Korma curry
In the blender add the garlic and onion, with a couple of tablespoons of water and blend to make a puree.

While the chicken is cooking, fry the garlic and onion puree in the remaining oil over a high heat for 10 minutes until it starts to brown, stirring to make sure it doesn't dry out.

Add the tomato puree, cardamom, all spice, nutmeg, cumin, turmeric and sugar, then stir through for 2 minutes, making a dry paste.

Slowly start adding the coconut milk, then stir, add the cinnamon stick, salt and pepper to taste and almonds, then cook for a further 5 minutes. Transfer the part-cooked chicken and simmer for 15 minutes. Stir in the cream before you serve.
Notes
Total cost £4.47, £1.12 per serving
Figures are correct at the time of calculation. Prices are based on a generic, mid-price range supermarket, choosing their own value brand.
Serve with homemade Peshwari naans and keema rice.
We have free herbs as we've got a herb garden, otherwise use dried leaf and add 25p to the overall cost.